The Inspiring Journey of a Spartan-Wolverine Psychiatrist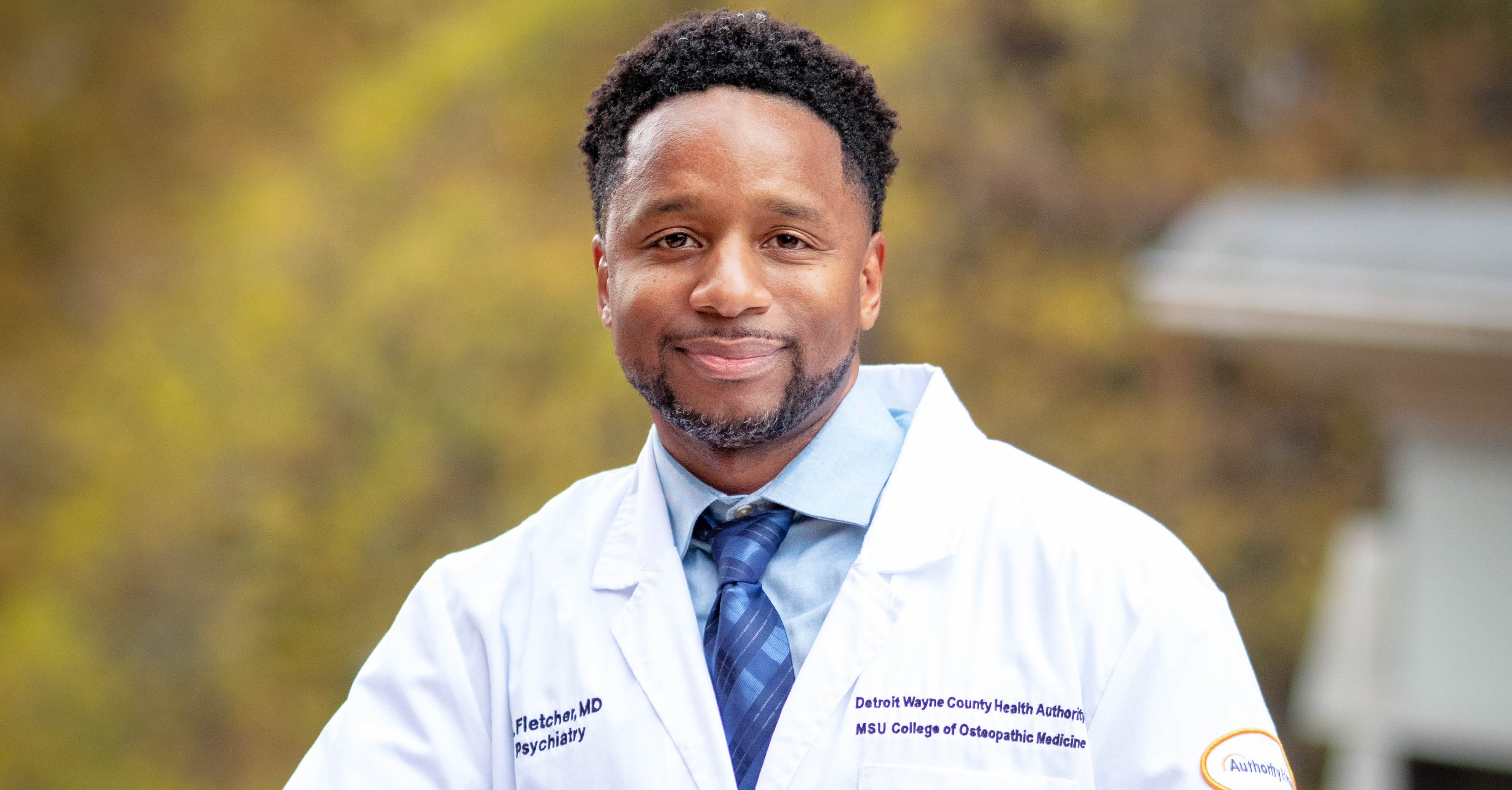 Nicolas K. Fletcher
MHSA '21
There are three interesting facts about Dr. Nicolas K. Fletcher's circuitous path to his current occupation as a psychiatrist serving patients in Detroit.
The first is that he started medical school with the full intention of becoming an orthopedic surgeon—a far cry from psychiatry. The second is that Fletcher received his master's degree in public health after he earned his MD. Third and certainly not least is the fact that the South Jersey native is an alum of both the University of Michigan and (perpetual rival) Michigan State University.
The Winding Road to Psychiatry
Fletcher was inspired to become an orthopedic surgeon by watching his father recover from car accidents and ending up with plates, pins, and everything else that goes into physical recovery. Eventually, that morphed into a desire to become a vascular surgeon, but that goal evaporated too once Fletcher found himself balancing his growing family and reflecting on what he wanted out of a career in medicine.
"I decided to stop letting medical school dictate my life, and so I took my time with it and realized I needed to make a change," explains Fletcher. "A friend asked if I had ever considered psychiatry and I hadn't. I was so focused on becoming a surgeon. Once that idea locked in my head, everything came together. I was done swimming upstream. I was done blocking my blessings."
Fletcher changed gears and applied for a psychiatry residency with the Detroit Wayne County Health Authority better known as Authority Health. He was accepted and that is where he practices today. Fletcher considers the switch to psychiatry one of the best decisions he has ever made.
"I love talking to people, I love digging into stories, and I love being solutions-based," says Fletcher. "At the same time, it allows me to pursue my other interests simultaneously, like health policy and my work with Young Black Physicians, a collective of resident physicians whose focus is conquering health inequity through community engagement." Additionally, Fletcher adds that many of his patients are pleasantly surprised to have a young Black man as their psychiatrist.
A Master's after an MD
Fletcher's journey to psychiatry is made even richer by the fact that he obtained his master's degree after his MD, an uncommon course.
"Since my time living and working in the D.C. area, I have been interested in the role of policy in medicine. My Master's program gave me a unique deep dive into the field of health administration, with an emphasis on public policy that has prepared me very well to help my patients navigate an increasingly complex healthcare system," says Fletcher, "I really look forward to connecting what I've learned from MSU and UM with my community-focused residency program, essentially working from within the healthcare system to help shift mental health treatment to a more integrative, diverse, and equitable landscape."
Happy Wife, Happy Life
Now living in Grand Rapids, Michigan, with his wife—a psychology professor—and three children, Fletcher has learned to incorporate good mental health practices into his home. With two doctors in the house and three growing kids, peace and solid communication are key.
"My wife and I do our own counseling and we've learned a lot about each other. We've figured out our own love language and how we best communicate," shares Fletcher. "It's taught me a lot about myself and about our relationship."
Even the little things can make a big difference. Fletcher and his wife are both Howard University graduates (though they did not meet until years after their respective graduations). Her doctorate is from the University of Michigan, his from Michigan State University. His master's degree from Michigan has been a balm for the household.
"My master's degree from Michigan Public Health has paid for itself in more ways than I can say," jokes Fletcher. "We're a split graduate household and all of our close friends are somewhere between Michigan and Michigan State, so I thought I would just bring it all together. I'm a peacemaker—I figured I'd be the glue between all of our associates."
---