Social work leader integrates public health knowledge in the pursuit of social change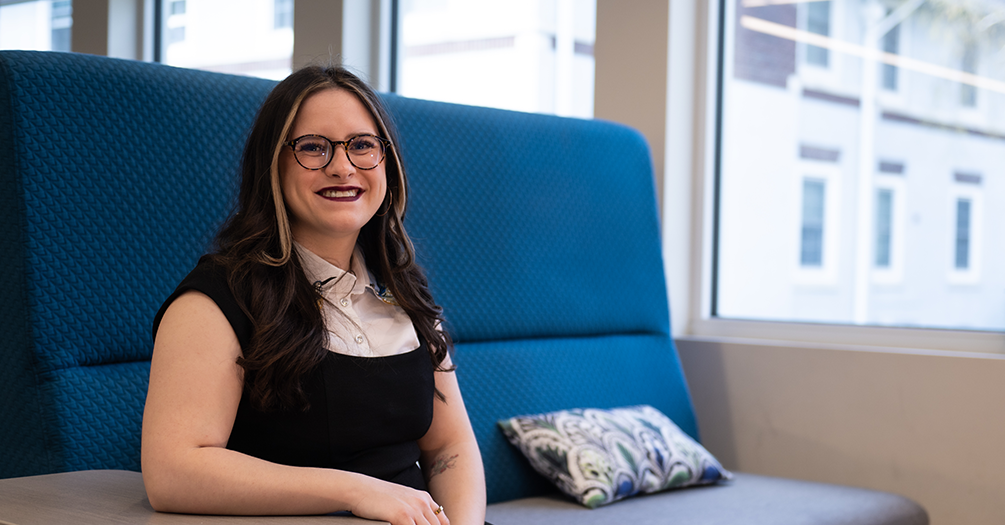 Shayla Zimmerman, MPH '23
Online Population and Health Sciences Degree Program; Associate Director of Special Projects in Community Impact, United Way for Southeastern Michigan
After several years of on-the-ground community organizing work, Shayla Zimmerman's dedication to social equity led her to the University of Michigan School of Public and the fully-online Master's of Public Health program. Six months following her graduation with the Class of 2023, she's reflecting on how she has incorporated public health into her career as an Associate Director of Special Projects in Community Impact at the United Way and how she has grown as a professional.
Why did you choose to pursue a graduate public health degree as a social worker?
I began community organizing when I was 15 years old, and have done this ever since; the pursuit of social justice is lifelong.
Despite my on-the-ground work in communities and having a bachelors in social work, a lot of large, notable organizations I wanted to work with were requiring a master's degree. In order to move into leadership or research positions in my field, I had to consider taking this step. So, it was the right time for me to check out programs.
While public health isn't social work, the values of public health aligned with my values and with the work I wanted to be doing. Choosing public health also gave me the opportunity to pursue research skills I was ultimately seeking, while also being mindful of my needs as a disabled person.
The values of public health aligned with my values and with the work I wanted to be doing.
Has anything changed for you since graduating?
Quite a few things have changed for me since I've finished the program, but the most exciting one came pretty quickly after.
Shortly after graduation, I was honored with the Emerging Social Work Leader Award from the National Association of Social Workers. It recognizes the contributions of social workers who are new to the field, acknowledging their leadership and impact throughout their early career.
I began my current job with the United Way for Southeastern Michigan right as I was starting the MPH program and had, of course, been working throughout the time I was earning my degree. I received the award, in part, for the flood relief work I helped manage since joining the United Way and for previous anti-violence work I'd done over the years with various community organizations.
I felt very honored to be nominated by my peers. Often, when you're doing community organizing work and advocating for change, it's easy for that to go unnoticed so it just felt really good to be 'seen' and recognized for that.
My spirituality and my connection to my ancestors is something that's important to me and, when I was honored in this way it was a wonderful moment. It felt like what I called a 'loud whisper' from my ancestors - a nudge to keep going, an affirmation that I'm doing good work.
How have you been able to impact that work with public health knowledge?
I began at United Way shortly after the devastating floods throughout Southeastern Michigan in the summer of 2021. Thousands of peoples homes were flooded and we knew they would flood again due to aging infrastructure and climate change, so we were working to support these issues and figure out how to mitigate future flood damage in these communities.
We realized that we needed to be able to assess needs more quickly. Needs and health assessments are planning tools that we discussed a lot in my courses. It spurred me to start an internship program for bachelor's level social workers. The Community Impact Internship was created to train social workers to provide needs assessments, including information related to health, services, infrastructure, and more for the flood survivors we were supporting.
Another part of the flood relief project included examining the problems of aging infrastructure that would continue to be a threat to health and safety. Through community-led initiatives, we used radar to look at underground pipes and other structures to determine the future risks related to flooding.
I'd been a part of this project at work throughout my master's program and I was learning about things like health geography and risk mapping. In my mind, I could see the value and connection between mapping methods and the work we were doing. I've become interested in how we can use predictive map making, as in epidemiology, for mitigating and supporting relief for disasters like flooding and the health risks that come with flooding.
My program gave me an understanding of health issues and their prevention strategies that will inform my work supporting and advocating with historically-oppressed communities.
Your personal values led you to public health. In what ways have you been able to impact the social equity issues that you care about?
My program gave me an understanding of health issues and their prevention strategies that will inform my work supporting and advocating with historically-oppressed communities.
Recently, I was happy to demonstrate how public health insights can be combined with social work principles to address social injustice. This summer, I was asked to write articles for United Way's 21-day Equity Challenge — our organization's annual series of community building conversations around equity. I wrote about violence and how we view and perpetuate violence as a society, and another blog focused on health equity and the built environment.
In the latter, I used real relief work done in my current role as an example to educate others on how the built environment related to infrastructure can cause damage to people in our communities and instigate or exacerbate health risks from things like financial stress, chronic illness, air pollutant exposure, and more.
I was able to use this platform to combine public health ideas with my social work efforts in order to educate others about social and health equity issues that mean a lot to me.
What motivates you to do work that serves others?
I spent most of my life living with my grandparents and young parents on the eastside of Detroit. I grew up in poverty, I had family members who were incarcerated. I was raised in a working family, who experienced a lot of struggle but prioritized taking care of our people - taking care of our family, friends, and neighbors. My dad and grandpa were heavily involved in unions so we just didn't sit back and let things happen to people. Looking out for others was simply how I was raised.
My ancestors - the people who came before me - motivate me. So, the mentality I bring into my work is to try to build off the values and traditions they've ingrained in me that align with my values of justice and care, while addressing harmful ones that do not align.
Shayla shares more of her story in this video. Find out how learning in an online degree program helped support her needs as a working professional and a person with disabilities.
---