Bharathi Ramachandran - We Are Public Health - U-M School of Public Health
Bharathi Ramachandran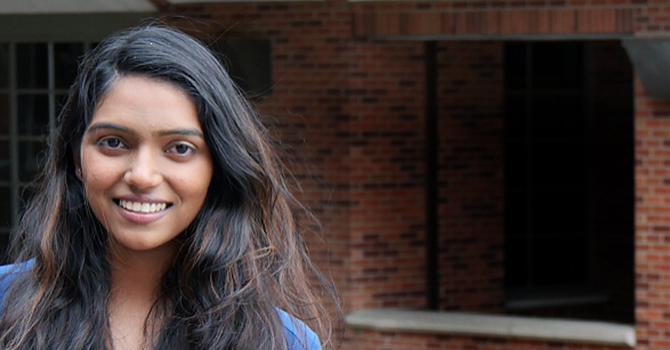 Bharathi Ramachandran
MPH '17, Epidemiology
I come from a scientific background. I studied biochemistry in undergrad. It helped me see how the human body functions at a micro level. But I realized that if I wanted to help more people, I needed to look at things from a macro level. After college, I worked in clinical and epidemiological research at Stanford School of Medicine, where I was working on a NIH-funded study to research risk factors for postpartum hemorrhage. That's what led to my interest in epidemiology and women's health.
When I first came here, I came to be involved in research, which I loved. But I wanted to see if there were other ways I could get involved. I really just went through Maize Pages to look for organizations outside the School of Public Health that interested me. That's where I found M-HEAL. I emailed the president and said I wanted to get involved.
Through M-HEAL, a global health engineering organization at the university, I got involved in Project MESA. We're aiming to improve access to health care for women in low-resource settings. Our team has designed and built a portable gynecological exam table that can be used to conduct cervical cancer exams in rural communities in Nicaragua, which has the highest cervical cancer rate in the Americas.
I led the business team in working to sustainably implement our project in Nicaragua. In 2016, our team participated in the Ross Michigan Business Challenge Social Impact Track and advanced to fourth place out of more than 50 teams. Most recently, we won a $25,000 grant from the Ford C3 Community Challenge, which will aid us in our pilot launch.
I was very grateful to be a part of this multidisciplinary team and travel to Nicaragua—with some funding provided by the Epidemiology Department—and use my practical public health skills to conduct needs assessments and data collection, as well as interact with the public health officials there. I think it's important for organizations like M-HEAL to get public health students involved, and for public health students to seek out these multidisciplinary opportunities.
I was born in India, and my family moved to Northern California when I was 6 years old. From a young age, my parents got me involved in singing Indian classical music. They thought it was a good way to keep me in touch with my culture, and I still enjoy singing as a hobby.
I'm motivated by challenges and setting goals for myself, so I thrive when I'm working in goal-oriented projects like Project MESA, as well as researching complex scientific questions with the Center for Midlife Science, where I conducted women's health research while at the School of Public Health.
The most important thing I've learned here is that there are so many ways that public health impacts people's lives and it is important for us to work across and among the multiple disciplines to come up with creative solutions to address these public health challenges. I would like to take this knowledge and implement my skills in the health care industry or in the research space and continue to be involved in social impact projects like Project MESA.