Quanshay Henderson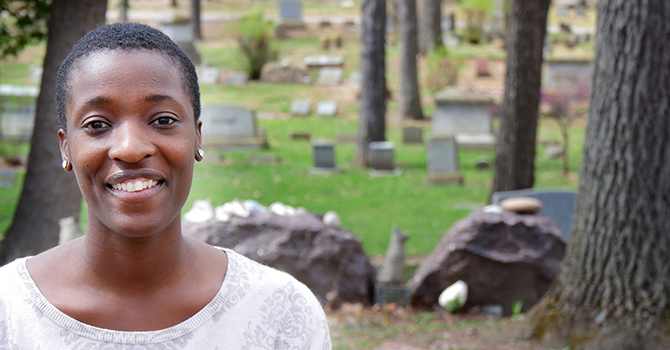 Quanshay Henderson
MPH '17, Health Behavior & Health Education
I'm interested in death and dying. I want to destigmatize mortality. It's a topic that I don't think many people talk about. Ironically, I believe that thinking about our own mortality can help us to live more fully.
I attend a monthly Death Café here in Ann Arbor. People come together and talk about death from all different perspectives. Some people have lost a loved one or witnessed a death, some are health care professionals, some have worked in a funeral home, some just want to talk about their own life and eventual death.
At the end of each Death Café session, we gather in a large circle and sum up how we feel in one word. This past session, words such as "relieved," "peaceful," and "understood" were offered. My word was "reverent." I'm amazed that after two hours of contemplating death, people leave feeling much lighter than they came in. It's like attending church or some other healing experience!
I've been interested in public health for a long time. I majored in Health Education and Promotion in undergrad. I became aware that health is more than just eating healthy and exercising. There are structural issues that also need to be addressed to make a positive impact on health outcomes.
One of my professors encouraged me to apply to Michigan. I was content with being a Certified Health Education Specialist (CHES), but she had the foresight to know that I would be a perfect candidate for graduate studies. I don't think I would be in grad school if it weren't for her. One day, I want to be to other students what she has been to me.
One thing that drew me to the School of Public Health was its emphasis on health disparities and social determinants of health. I participated in the university's Minority Health and Health Disparities International Research Training (MHIRT) Program. I was selected to go to Mongolia to study environmental health issues.
I like anything that will introduce me to other cultures. I feel most comfortable when I'm surrounded by students from a variety of cultures and countries. In those spaces, I rarely have to fight to get out of the box that someone has decided to place me in, because they don't have a strong concept of what they think it means to be black. They understand that I am just as much a part of the puzzle as they are, in all of my uniqueness.
I'm one of eight children and I was the first in my family to go to college and the first to go to graduate school. Now, I have two siblings who are in college and am hoping for the others to follow our footsteps.
Growing up in Baltimore City has informed my outlook on life. Attending funerals of young family members and friends is not uncommon there. I want to use my public health training to work with communities to make meaning out of death and use its power to live more fully. I want to start with Baltimore. It's important for me to give back to the city that birthed me.
After graduation, I'm starting an internship with the National Institutes on Aging. I took Cathleen Connell's class on aging and health, and it has opened my mind to broadening my perspective on death and loss to include older adults. After all, aging is a part of the dying process.
I'm not afraid of dying. I'm more afraid of not accomplishing the things that I set my heart out to do. Someone once told me that the richest place on earth is the cemetery, because there lie the ideas, dreams, and intentions that never got carried out. It's odd to think I could carry so many dreams and desires with me that never get carried out. When I feel overwhelmed with those thoughts, I remind myself that goals do not have to be huge. Sometimes my goal is just to intentionally connect with at least one person throughout my day.