Leadership, Public Health, and Michigan: Supporting the Next Generation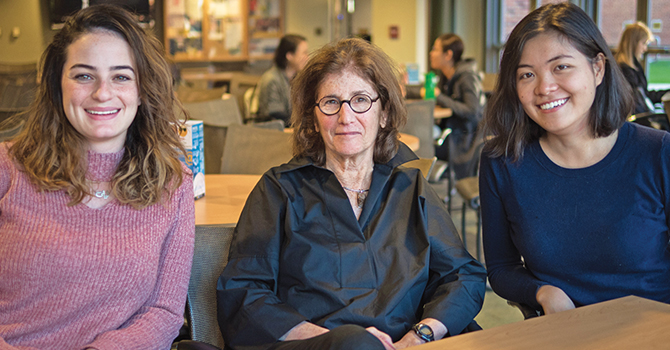 Elizabeth Wainstock
Elizabeth J. Wainstock, BA '68, MA '70, MPH '75
Health care in the 1970s," says Elizabeth J. Wainstock, BA '68, MA '70, MPH '75, "was a time of immense change and innovation and an exciting time to be studying public health. The federal HMO Act was passed in 1973, and I thought the School of Public Health was spearheading some of the most advanced thinking on health policy and administration."
Wainstock had originally planned to attend medical school. "My father was a big influence," she remembers. A prominent physician, inventor, teacher, and research scientist in the field of diagnostic ultrasound, Michael Wainstock taught on the faculty at Michigan Medicine. He was the first to apply ultrasound technology to ophthalmology for use in the US—an innovation for which he received the Smithsonian Institute's Pioneer Award.
But a fortuitous encounter between the younger Wainstock and Eugene Feingold, a political scientist on faculty at Michigan Public Health, changed her mind. Feingold, who subsequently became president of the American Public Health Association, recognized Wainstock's activist nature and pressed her to pursue public health instead of medicine because she could have a broader impact on large populations and larger scale health efforts.
According to Wainstock, we are again in an era when health activism is needed. "The long-simmering debate over whether health care is a privilege or a right is back boiling at the surface. With the Affordable Care Act, Medicaid, Planned Parenthood, and other programs under assault," Wainstock says, "the very foundation of the federal government's response to health care is jeopardized, and the future of health care finance and delivery for low-income women in particular is threatened."
Wainstock's advisor at Michigan was Sy Axelrod, one of the founders of the School's health policy and management program. "Sy opened my mind to public health's potential. HMOs were in their infancy, and he had the foresight to know managed care was going to play a major role going forward." Axelrod advised her to take an internship at Harvard Community Health Plan, which evolved into Harvard Pilgrim. "People forget what a revolutionary concept managed care was when first introduced, and now it is a pervasive part of the health system—for better or worse. Some view it as expanding access while others see it as a restriction. Unfortunately, the important role efficient health care delivery systems can play is still not well understood or accepted."
During Wainstock's career, she held key positions at HIP (Emblem-Health), Prudential Insurance Company, Blue Cross Blue Shield, Columbia University, and Pfizer, served on the boards of several nonprofits in the field, and consulted widely. One of her first positions was director for planning and development at Detroit's Health Care Institute (HCI). This involved consolidation of outpatient services delivered through the six member hospitals of the Detroit Medical Center. At HCI, she invited a curandero from an Ontario Indian tribe to join the staff to help with outreach to Native Americans. At 32, she became HIP's first non-physician deputy medical director and vice president for medical affairs.
"What I love about Michigan Public Health is our mentoring and teaching," Wainstock says. "We're lucky to have a vast network of professors and alumni who can help students achieve their goals." As a beneficiary of this tradition, Wainstock became a mentor herself. "Actually, one of my earliest mentors— Gloria Steinem—was not someone in the health field." They met in Boston in 1971, just as Steinem began capturing national attention for her positions on the status of women in society. Wainstock invited Steinem to Ann Arbor to help raise money and awareness for women's health issues. With permission from the university and the Power family, Wainstock organized a benefit event at the Power Center for Performing Arts, which later funded a women's crisis center.
"Gloria's activism energized me and my generation of women in a whole new way," Wainstock says. "She taught me women can't get anything done until they become leaders and advocates for their own interests. We must empower ourselves before we can empower others. It inspired me to make a commitment to the field of public health, where I thought I could make the most difference."
Axelrod and other faculty members at Michigan Public Health also made a lasting impression on Wainstock. "They were truly concerned with our learning and how we develop into professionals. They were active collaborators doing great research who stayed genuinely involved in the field."
In the late 1990s, Wainstock became a founding member of the School's Dean's Advisory Board, which today is increasingly concerned about the cutbacks and scarcity of funds from government sources. "Government, by definition, should provide us with those services we can't provide to ourselves, and public health research and teaching falls into that category," says Wainstock. "The best years of public funding might be behind us, and yet public health research and service is needed more than ever."
Wainstock feels fortunate to have had a stimulating career doing work she loves. "I've been able to combine my interests and skills in management and policy in different areas of need—from inner-city, low-income populations in Detroit to global health in Indonesia." But the driving force behind her recent gift to the School is her concern for women's health. Wainstock represented Pfizer's president speaking about women's health before national groups, such as the Department of Veterans Affairs, and successfully lobbied Pfizer to donate money to Michigan Public Health's Women's Health Initiative and Bellevue Hospital's Department of Pediatric Medicine. "I learned at Pfizer what sadly is still true today—many women's health problems are under-researched and underfunded."
Michigan Public Health will dedicate part of Wainstock's gift to an annual scholarship for students to study women's health. "Training leaders in the field who understand women's health care benefits everyone who receives care. I want these scholarships to ensure interested students receive all the tools and opportunities they deserve to become leaders."
Wainstock knows that giving to Michigan, and to public health specifically, is a great investment in our future together. "There are few fields in which you can make such an enduring difference on large numbers of people, where you can say, at the end of the day, you did something meaningful," Wainstock says. "That's the spirit in which I give this gift, and in thanks for all that Michigan has meant to me."
This article first appeared in the fall 2017 issue of Findings, the magazine of the University of Michigan School of Public Health.
Support student scholarships at Michigan Public Health.