How the "Queen of Foam" Found Her Life's Passion in Infection Prevention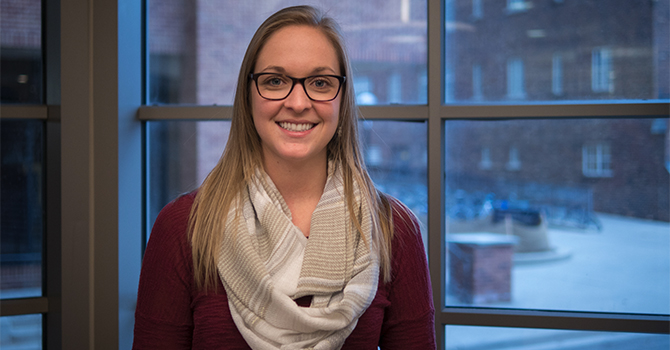 Mica Blauw
MPH Candidate, Epidemiology
I grew up in Saline, Michigan, but moved to Canada for my senior year of high school. My father received an international assignment with Ford Motor Company, so we moved to Vancouver, British Columbia. I returned to Michigan for college and attended Grand Valley State University.
Science had been my thing in high school, so I majored in biology and biomedical science at Grand Valley. While there, I was able to participate in an HIV research project in South Africa. I worked with a pediatrician named Barbara Laughton who was studying the physical and cognitive development of children at different exposure levels of HIV.
During my first job out of school, I felt like something was missing. I was working at a microbiology lab doing routine and repetitive work, and compared to the work I had done in South Africa, I knew I needed more. But for many reasons, I was grateful for this opportunity - and especially because I met my now-husband while working at that lab!
I took a job at Ford and became the "Queen of Foam." My title was technically Biomaterials Research Engineer, but everyone knew me as the "Queen of Foam" because my job was making plastic and foam materials out of non-petroleum-based products. I expanded our use of soy oil in seats by experimenting with materials like algae oil. I was afforded the opportunity to really expand my skills, plus travel on behalf of Ford across North America to give presentations and speak to the media.
Even with these experiences, I still wanted more. Working in research at Ford gave me that mental challenge, but I still lacked the who is this going to impact? sense that I'd had in South Africa. I loved the health care work I did in college, but I didn't want to be a doctor and I can't be a nurse because needles terrify me. I decided to pursue a career in epidemiology and applied to Michigan.
After attending a few classes on health care infection control and prevention, I finally had that this is what I want to do moment. The CHIP (Certificate in Health Care Infection Prevention and Control) program has made a huge directional change for my life. I've found something that is going to help me make the impact that was missing before. I was also missing that personal touch, but this is for the general good of everyone.
My CHIP internship during the summer of 2017 was absolutely incredible. I worked at St. Joseph Mercy in Ann Arbor on a project with peripheral IVs and various bloodstream infections. I was also able to sit in on meetings with the infection preventionists to learn about reporting to health departments and the CDC. I attended meetings about construction projects—all these things that I didn't know an infection preventionist would have a role in—because we needed to figure out how to make sure none of the patients got sick from the construction. I thought, This is what I need to do with my life.
What I'm most excited about is being able to have an impact on people while using my education and being challenged by my job. The infection prevention field is constantly changing. You never know when Ebola is going to spread; you never know when new research will come out that changes the direction of your work. There are always things to learn and new ways to better protect patients.
Interested in epidemiology? Learn more about our program.