Perseverance: Turning Challenge into Opportunity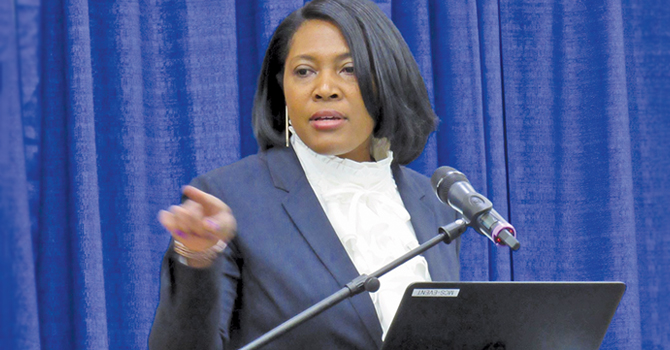 Pamela Pugh
DrPH '14
Michigan Public Health alum Pamela Pugh was recently appointed chief health advisor to the city of Flint. An outside observer might assume a clear path from an advanced degree in public health to this role. But Pugh's story of what brought her to her current position is filled with challenge, perseverance, and unending dedication.
As a high school student, Pugh was ambitious. She was concurrently enrolled in Saginaw High School and Delta College, where she earned an associate's degree. As an African American woman excelling in math and science, Pugh was encouraged by her parents and teachers to pursue a degree in chemical engineering. She went on to Florida A&M University, knowing that this was a promising career path for her. Beyond these words from her mentors and her aptitude for the field was an interest in environmental engineering, to which she felt chemical engineering could serve as a gateway.
After her first year in the program, she became extremely ill and was diagnosed with multiple organ failure. The impact of this experience and the significant time she spent recovering in the hospital solidified her passion for the environmental health side of chemical engineering. When she resumed taking classes, she says, her path to public health began to become definite in her mind.
After graduating, Pugh spent time working with several chemical companies, including working on a Dow Chemical radioactive cleanup project. In 1997 she returned home to begin work at the Saginaw County Department of Public Health, where she remained for 14 years, devoted to promoting health in her community. Here she saw firsthand what environmental health really looked like for people and how it affected their lives. She learned much from colleagues and community members and was inspired by their dedication. It was a "phenomenal experience," she says.
Not long after Pugh began working in Saginaw, she attended a prospective student seminar at SPH. She met Professor Jerome Nriagu, who urged her to apply to the graduate program in Environmental Health Sciences. In 1999 she did just that. In keeping with her energetic and determined approach to life, Pugh decided to continue working at the Saginaw County Health Department while she earned her degree, taking advantage of SPH's On Job/On Campus program. She began as a master's student, then continued her research in childhood lead poisoning and other neighborhood health factors in the DrPH program, earning her doctorate in public health in 2014.
As a non-traditional student, Pugh certainly faced challenges. But she believes that her decision to pursue a doctorate was right for her goals. And she found that working and getting hands-on experience while learning in the classroom truly enriched both her studies and her professional life. Pugh advises more traditional students to take advantage of a variety of learning experience to enhance their SPH education. "I'm not telling everyone to go out and get an illness," she jokes, referencing her life-changing stint in a U-M hospital years earlier, "but soak up everything you can from every experience. Make learning multifaceted." She urges students not to take any experiences for granted, even when the path ahead is blurry.
Following her own advice, Pugh recently took the opportunity to volunteer in Flint, where she met Dr. Mona Hanna-Attisha—the pediatrician who exposed the Flint water crisis and the high levels of lead in Flint children. Hanna-Attisha suggested that Pugh pursue the open position of chief health advisor to Flint. As she read the job description, Pugh felt as though she were looking in the mirror. Every experience, every twist and turn her path had taken was reflected in the needs of this role. This was where she was meant to be.
Today Pugh strives to improve the health of the citizens of Flint, fighting inequity with strategies of community inclusiveness and a holistic approach to public health. As she completes her first year as chief health advisor to Flint, she also heads the company Regeneration LLC, which she started to create smooth, professional interfaces between neighborhood organizations and stakeholders with similar community health goals. And she serves on the Michigan State Board of Education, to which she was elected just months after her 2014 graduation from SPH.
Much of Pugh's zeal and her commitment to public health come from her desire to honor her parents and her SPH mentors, such as Nriagu. They "really took the time to help me succeed," she says, and now she wants to pay it forward. Surely none would deny that she is doing that and more as she finds new ways to advocate for the health and well-being of the Flint community.
This article first appeared in the spring 2017 issue of Findings, the magazine of the University of Michigan School of Public Health.
Support student scholarships at Michigan Public Health.