Diversity Is Good for Us and Good for the Data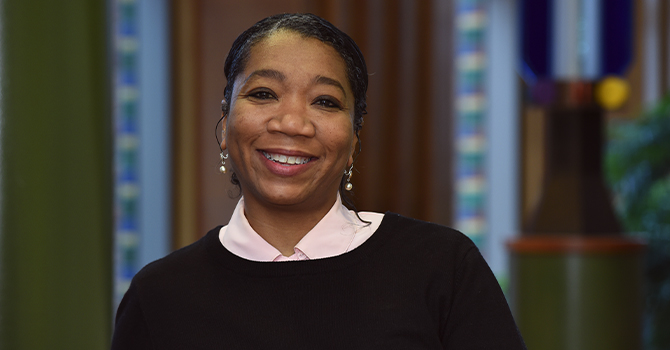 Amanda Dudley
Program Manager, Center for Social Epidemiology and Population Health
Amanda Dudley was recognized in December for her contributions to a healthy and constructive campus climate with a 2017 Distinguished Diversity Leaders Award. These awards recognize individual staff members and teams for extraordinary commitment and dedication to diversity at Michigan. Dudley is known around Michigan Public Health for her professionalism and hospitality and for her ability to connect people and groups and help them understand one another.
For nearly a decade, Dudley has served as program manager for the Center for Social Epidemiology and Population Health. As an experienced data analyst and public health leader, we asked Dudley to share her thoughts on how she sees diversity and equity in public health and how that impacts her management of two research centers.
Diversity is good for community. There are plenty of ways to bring diversity into this school and this community. And everyone will benefit from it. Everyone learns from diverse voices. A diverse, equitable, inclusive school of public health is our goal, and we are well on our way to achieving that goal.
Diversity, equity, and inclusion is still in its infancy, here at Michigan and around the country. In some ways, that's a good thing. I've just celebrated my tenth year here at Michigan and have seen tremendous change, and I appreciate all that's happened. Am I satisfied with where we are now? No. We still have many issues to address. But we have the benefit of being in a community that is going in the right direction—forward. We've acknowledged that there are problems and we're all moving this school and university into the future.
We don't have to accept the status quo. Many of the perceived barriers should not slow us down. For example, recruiting a diverse faculty pool may be difficult because of our location and history, so let's start simple. We can increase our sample size by updating our recruitment process—which we are working on. These steps put us proactively ahead of the process and will pay dividends. We all need to keep working at it because in the end, it will benefit the institution and every one of us.
Hostility does not have to be the norm for us. I'm from Baldwin, a small town in northwest Michigan and a predominantly white town. We all cared for each other and respected each other. A shared history and shared goals knit that town together, and we defined our community the way we wanted to define it. And our definition didn't involve any assumptions about racial tensions. Having grown up in that setting, I just know that some of the things we see today don't have to be that way. We can all do a little more to refuse that narrative.
I know how overwhelmed we all feel right now, but I stay hopeful. It can take courage to speak out, but as soon as you do, you realize you're surrounded by people who believe in the same things you do. I started out in kindergarten with most of the 42 people I graduated with, and many of us are still in contact today. We have a lifelong bond because of the challenges we faced together. At times, we did have racial tension pushed on us by surrounding communities who didn't understand us or didn't like something about us. But those situations only made our town stronger, and I draw on that strength all the time in my work now and in the hope I have for the university community and our community here at the school.
I love seeing participants get really engaged with the research we do. My first job as a data analyst was at Henry Ford working on a community-based research project. The participants could tell our survey was important to their community, and they knew their participation could help make a change. They believed that research would lead to new ideas and improved situations. It was eye opening for me to see that level of engagement with research.
The person conducting an interview influences the data they're collecting. Henry Ford was forward-thinking not only in reaching out to underserved communities but in ensuring that our methodologies worked for that community. In having me collect data in communities of color, it actually improved the comfort level of the interviewees and therefore the accuracy of the data. I saw in a prostate study that having men interview male participants really helped the participants reply more openly. Interviewers can misinterpret responses, even more so when they don't understand the participants in their context and in the context of the survey.
I still love analyzing data. Occasionally I have the opportunity to get involved with how we're collecting data, advising students or supporting investigators with troubleshooting. My background in data helps me every day, especially in pushing students to validate research questions with a little more scrutiny and help them understand how survey methodology translates best to various communities.
Public health has been ahead of the diversity and equity conversation in many ways. If you look back at the field's history, we are always asking questions about the distribution of various health burdens and how we might best address and prevent problems. In other ways, of course, we have a lot of work to do. I'm proud of this school and how far we've come. I am glad to be working with these colleagues and students as we move forward together, and I'm fortunate to have a role where I know I make a contribution every day.