A Public Health Path of Discovery that Led Back Home to Zambia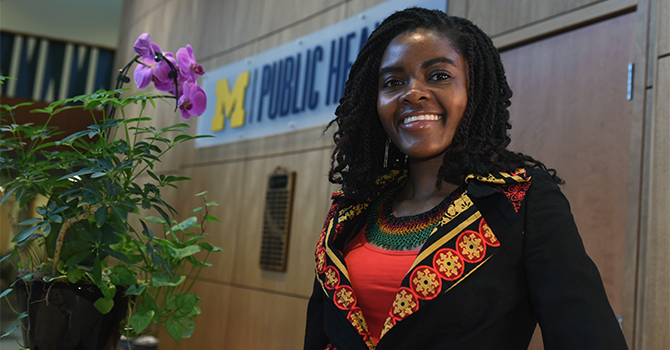 Lukonde Mulenga
MPH Candidate, Health Behavior and Health Education; Leonard and Marjorie Tappe Fellowships
My family is originally from Zambia and most of them still live there. My father was a journalist in his hometown of Kitwe, Zambia. He was dared to go to the US by Mayor Musonda, during an interview, and he embraced the challenge. He headed to Kitwe's sister city of Detroit for two weeks in the mid-80s. Once here, he was encouraged to attend journalism school at Wayne State University, but he had a degree from Zambia and was certain he'd return home. However, he did end up coming back for a degree in 1990 and then graduated three years later. All this time, he was engaged to my mom, who was a maternity nurse in the Copperbelt Province. After graduating, my father went back to Zambia to marry my mom.
My parents returned to the US for good when my father took a job with the Times Herald in Port Huron. That's where I was born. A year and a half later, he accepted a job offer in Rochester, New York, which is where I spent most of my life growing up. I did come back to Michigan to study at the University of Michigan, where I earned my bachelor's degree in biopsychology, cognition and neuroscience.
After graduating in spring 2016, I chose to stay at U of M because it's the place where my love of public health began. I originally planned to attend medical school and become an OB/GYN. As a junior, I realized that I was no longer interested in medical school, but I didn't know exactly what to do next. The work of my mother and grandmother, a midwife in Mufulira, gave me a partially genetic love for maternal health. With that in mind, I was confident that I wanted to pursue something in women's health, preferably with mothers, but I had no idea how to approach that. A friend suggested a class in public health, but I didn't even know what public health was at that time.
Still, I took my friend's advice and enrolled in Professor Ken Warner's Public Health 200 course. I enjoyed learning that we can have an impact on the health of communities before people actually go to the doctor. I became interested in prevention and being proactive instead of reactive. Within the next year, Professor Vic Strecher's Public Health 300 course taught me how we can influence people's behavior to help them stay on a healthy track, which deepened my interest in public health.
This course also launched by interest in the intersection between public health and communications. Communications isn't something I've studied formally, but it's a hobby and interest of mine. Growing up, my father encouraged me to write and helped edit my stories. For the past couple years, I've been intrigued by the way we communicate messages, how people interpret those messages, and how we can adjust our delivery to convey the specific information we want an audience to receive.
I am currently on the executive board of Public Health Students of African Descent (PHSAD). As the student organization's social media and marketing chair, I manage the group's Facebook, Twitter, and Instagram accounts. I joined PHSAD because I wanted to meet people in our community with a similar background to mine. But I discovered so much more. I want people to know that you don't need to have an African background to join, and that we're focused on school-wide engagement.
Choosing Health Behavior and Health Education (HBHE) clicked for me at Prospective Student Day. When I was looking into public health, I was very interested in epidemiology, partly because I had a mentor who was earning her master's degree in epidemiology. But once I really thought about my path in public health, I realized that HBHE serves my interest in psychology and social science, fits my background, and provides the opportunity to work with communities, which is something I wanted to do.
I've always had a desire to work in Zambia. One of my lifelong goals is to implement something that improves the health of the people there. For example, my cousin and I have had conversations about starting a "mommy and me" class that would allow moms to deepen bonds with their children and create a space for mothers to bond with each other. I'm very interested in social support for mothers, especially those who don't have those support systems.
Last summer, I completed an internship in Lusaka, Zambia, with the Population Council, which focuses on reproductive health research. My project was working on a systematic review pertaining to the second delay in obstetric emergencies, which is the delay of getting to a health care facility once the decision to get care has been made—whether that's due to bad roads, lack of funds, or one of the many reasons that delay can occur. I was very excited to do an internship near family while working on reproductive health and getting a foothold of the working environment in Zambia.This experience reinforced for me that upon graduation, I'd like to work in maternal health care, sexual education, or health and communication.