Preparing the Best Minds for Health Care Leadership Today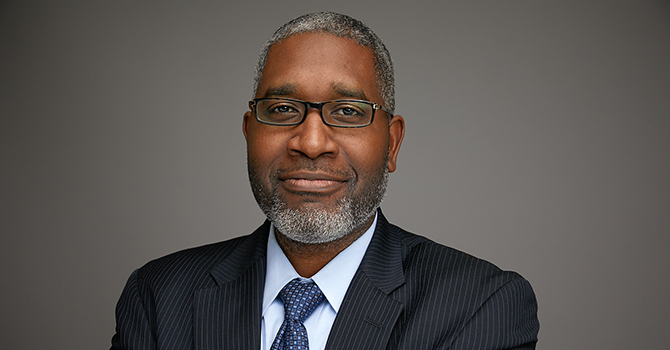 Ebbin Dotson, MHSA '01
Assistant Professor of Health Management and Policy; Faculty Director of the Summer Enrichment Program
Ebbin Dotson was going to be a radiologist, for all the wrong reasons. "Highly paid physicians made decisions around where and who provided care," says Dotson, assistant professor of Health Management and Policy and faculty director of the Summer Enrichment Program (UM SEP). "So in my head, that was the role I needed to impact the health care delivery system. All through high school and into my undergraduate studies, I just had to be a physician."
Then in organic chemistry one day, he sat next to someone who had a UM SEP flyer. "This was a fellow African American student and friend. He was someone I knew and trusted and had had similar experiences to mine. He said I should look into this program. So I did, and then I met with Dr. Lichtenstein, who was the UM SEP director. During that conversation, everything came together in my mind—click, click, click."
Physicians impact health care one patient at a time. Administrators have the potential to influence population health.
The clicking was Dotson realizing that influencing health care could happen with an administrative role. "That would be just as good, if not better, than a clinical role. Physicians impacted health care one patient at a time. Administrators had the potential to influence population health. Finding this program was a revelation. Learning that public health and health management were taught here at Michigan was icing on the cake," Dotson says. "I just assumed that physicians did it all, so the UM SEP program really opened my eyes."
All Boats Rise
Dotson's vision for health care delivery is that physicians, clinicians, and administrators from communities of color would serve not only communities of color but all populations. "I get excited about this because I know all boats rise. I know that health care for communities of color means better health care for everyone."
Health care for communities of color means better health care for everyone.
Dotson works to normalize the issues communities of color face, because other vulnerable populations face them too. "Whether I'm looking at Detroit or at rural regions of Michigan, many of the issues are the same, especially access to care, whether that's geographical distance and driving or when services are offered for those working odd shifts or caring for school-age children." Issues around access to care affect almost every population, and leaders from communities of color, he says, "will understand those issues and potentially have creative, new approaches to fixing them."
There is also a traditional business case for increasing diversity in health care leadership. "Our data suggest that diversifying leadership teams generally leads to better financial performance for the organization," Dotson says. "Without data to support new paths, they'll likely continue to make decisions the way they have in the past."
So Dotson works to share that data while also working to develop new leadership pipelines.
Get the Pool Ready
There are 6,000 health care organization leadership roles in the US. "Currently, research from the American Hospital Association tells us we're looking at 6 percent of those roles being filled by people of color," says Dotson. "That's not a good or bad number until we put it in context. The context is that people of color constitute way more than 6 percent of the overall patient population."
Patients are more likely to follow provider recommendations when the patient understands the provider and the provider understands the patient.
If you have leaders of color working in the industry—addressing things they know and understand culturally—and they are trained well, Dotson believes we will get that 6 percent to move. "Clinical studies tell us that patients are more likely to follow provider recommendations when the patient understands the provider and the provider understands the patient," he says. "Health care is relational and cultural, so we have to change this narrative. But you have to start with a pool."
By "pool," Dotson means the talent pool of leaders from diverse backgrounds. "We put as many students out there as possible who are ready to become excellent health care leaders," he says. Dotson focuses on augmenting the workforce to the point where, even with dated hiring and leadership practices, the right leaders will develop and find their way into the right roles to eventually change the narrative. "We do have to change the mind-set of boards and hospital leaders and health care executives to hire the right people. I can't really control those decisions directly, but I can influence them by getting the pool ready."
A Beautiful Struggle
A large part of getting the pool ready is identifying the best minds early on. "We look for students who are passionate about health care and then work to get them into graduate schools that understand how to train leaders in health care," Dotson says. This is where UM SEP comes in.
The Summer Enrichment Program is essentially a preparation program for graduate school. Much of the process for participants focuses on building professional skills. "I don't think people realize what a barrier the application process is—for grad school, on the job hunt, and applying to UM SEP," Dotson says. "We know students come from first-gen and other familial settings where college is new to them. Yes, UM SEP applicants are already in an undergraduate program, but graduate school is a different level, and it's an opportunity for us to build skills while they're actually applying to the program."
Dotson and his colleague Christopher Clarke, UM SEP program director, have developed what they call an "application bootcamp." They offer mock interviews before the in-person interview. They send out the notices about getting recommendations and purpose statements, then they follow up to make sure applications are working on them.
Education at this level is always a struggle, but we try to make it a beautiful struggle.
They make themselves available throughout the process for nearly any question about anything. "We just keep asking if they have everything set," Dotson explains. "This is a service we're offering to make sure all the students have a great experience. Even if a student isn't accepted into an UM SEP cohort, they've still had a great experience and hopefully learned a lot about the graduate-level application process and application processes in general."
And then there is the so-called moral support, the pep talks, working through the self-doubt. "We do have a lot of students saying they can't get into Michigan. They're worried about the GRE. Graduate school will be too hard. Michigan is too prestigious—I can't get in," Dotson reports. "All the ways we talk ourselves out of being as good as we are. We all know that process, and many of us had support along the way, friends and family cheering us on. Education at this level is always a struggle, but we try to help—we try to make it a beautiful struggle."
Board with Diversity
Dotson's research is taking him into a study to understanding the board structure of health care organizations. "In my work as a hospital management researcher, I see why we focus so much on CEOs and presidents of health care organizations," he says. "But then our lens is so myopic. I want to know who hired these people? What was the dynamic on the board? What is their approval process?"
You have to be courageous as a board member to change the culture of an organization.
Dotson wants to take a close look at gender and racial diversity on boards. "Diversity dynamics on boards is so important. It's those 6000 positions—for CEO, President, CFO—around the country, and they all report to boards in one way or another. Here is another opportunity not only for diversity but to vastly improve the system."
How will diversity help us change the system? Boards can provide guidance but so often they are asked simply to support, Dotson says. "You take cues from the culture, and you have to be courageous as a board member if you need to change the culture of a board and an organization. You have to realize you're fighting upstream against the rubber-stamp mentality."
The rubber-stamp mentality, Dotson says, tends to come with board members familiar with a particular system. "But if you introduce a new voice, someone who doesn't take certain things for granted or doesn't even know the system," then you have a better chance at implementing effective, positive change.
Leaders of color have the experience and perspective to leverage diversity as a lived experience in managerial roles.
To make these changes, Dotson believes, you need board members focused on service and organizations responsive to their boards. "My research vision is to show where it works well and where it works well with diversity. If increased health equity is a goal, as many organizations suggest, the tough question of leadership experience with health equity is important. Understanding the value of leaders of color in this situation is important, because they do have the experience and perspective to leverage diversity as a lived experience in their managerial role. Most are not going to take anything for granted—they're going to ask those questions."
In board rooms and across the health care landscape, Dotson wants to make sure persons of color are prepared to ask those questions and are given the opportunity to do so.