A Family Passion for Public Health and Service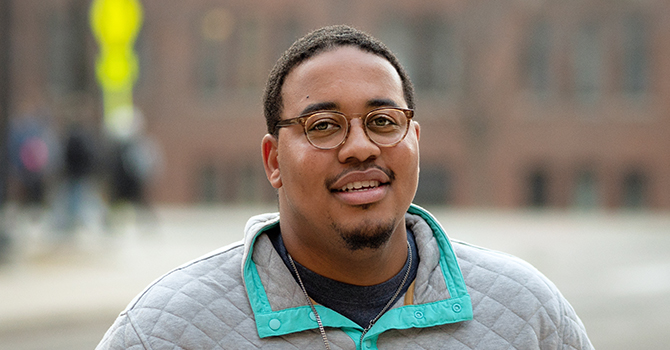 Lloyd Lyons
Bachelor's Student in Public Health
Though he didn't realize it right away, the field of public health was right in front of Lloyd Lyons from an early age. For years growing up, he watched his brother go to work at a hospital—but his brother wasn't a physician. As Lyons got older, he learned more about his brother's path to health care. Part of that story is how his brother had earned a master's degree from Michigan Public Health.
After connecting the dots between his brother's education and career, Lyons began to understand what public health was all about. When he arrived at Michigan, Lyons began to focus on public health as his long-term career goal and settled on biomedical engineering with a focus on prosthesis for his undergraduate studies.
"After contemplating a few pre-med routes, I realized I wanted to work in the fields of health and medicine but not as a doctor," Lyons says. He was not only discovering his true passion but was seeing the world around him differently—learning about health disparities and other important elements of public health. He decided eventually to follow in his brother's footsteps and earn a master's degree from Michigan Public Health.
But then he realized his public health education could begin as an undergraduate student.
Lyons is one of 95 students in the first cohort of bachelor's students at the School of Public Health, all majoring in public health. He will graduate this May 2019, and being part of the first cohort is a distinction Lyons considers a great honor.
Lyons has been intentional about providing feedback about the undergraduate experience at Michigan Public Health, working to help shape it for future students. "I came into the program with an open mind, knowing that it wouldn't be perfect in its first year and that we had an opportunity to set standards for new students," he says.
Lyons volunteers his time for discussions with administrators and staff members. Some of the feedback provided during the program's first year has been applied to the second cohort.
I want to combine my education and passions to do work that will leave a lasting and positive impact on the communities I serve.
Reflecting on his decision to attend Michigan, Lyons says, "Michigan was the outright winner." Lyons felt Michigan would challenge him to break out of his comfort zone and give him access to a vast amount of resources. He also admits that having older brothers graduate from Michigan helped him feel secure in these sentiments about the university. Now in his fifth year, he feels those assumptions proved true.
Lyons refers to Michigan as a "great a university" where his journey has lived up to expectations. He also admits that his identities as a black male have created certain challenges. "My high school has a demographic makeup similar to Michigan, but it's on a larger scale here. I've had to get comfortable being uncomfortable at times, and that was a big adjustment for me." Lyons says that he was able to overcome these obstacles by building community not just within his academic cohort but also by finding people around campus he can relate to on a personal level.
The group he's surrounded himself with has helped him navigate life as a student, despite some rough times, and find the life-work balance necessary to succeed in the classroom and to graduate. Lyons says he's concluded that "the campus is big but can become small very quickly when you find a niche within activities and interests that you can enjoy."
Lyons helps build communities he and others can enjoy by getting involved. He is a Diversity Peer Educator within the University Housing System and Executive Diversity Officer for the university's Central Student Government. He pursued these roles because of his interest in "engaging and conducting diversity and inclusion work around marginalized communities and making the campus an equitable and welcoming space for all."
After graduation this May, Lyons plans to tap into his passion for diversity, equity, and inclusion work by pursuing a graduate degree in health management and policy. He wants his professional life to positively impact people of color and communities that lack access to good health and health care. With Lyons' love of tech, he is also excited to explore how emerging technologies play a role in addressing health issues.
Longterm, he thinks the technology sector of health or even law school may be good fits for him. "I want to combine my education and passions to do work that will leave a lasting and positive impact on the communities I serve."