From Syria to Michigan: A Long Journey to Public Health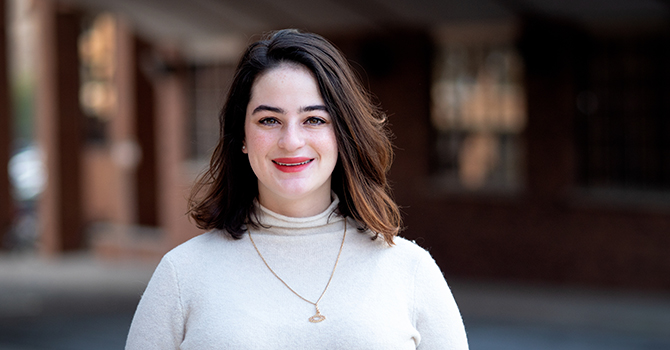 Lilah Khoja
Master's Student in Epidemiology and Health Behavior and Health Education, Elizabeth Wainstock Scholar
Lilah Khoja's path to public health wasn't a straight one. Originally from Syria but raised in Los Angeles, she had hoped to return once she had completed her degree in international development studies from UCLA. However, as the political situation in Syria steadily worsened, she was at a loss for what to do.
After graduating from UCLA, Lilah joined a Los Angeles-based development agency and worked on Syrian governance projects. Then, she went to Turkey where she taught English for a couple of months. When she returned to the United States, she joined the Committee to Protect Journalists in New York City and worked one-on-one with journalists on press freedom issues. She also spent time in Chicago, working for Karam Foundation, a nonprofit that works with Syrian refugees.
It was her work in Turkey that convinced her that public health was the best next step to make a positive impact on the world. While teaching girls between the sixth and ninth grades, Lilah became dismayed at the condition of their school, the disparities between the students, and hearing about the trauma that they had endured.
Public health felt right because it's so all-encompassing.
"I remember having conversations with my students about their futures, and they had no idea what was out there in the world. They thought their future would be bleak. It made me start thinking about ways that I could help," says Lilah. "I started thinking, well maybe I should go into education, or this or that. I looked into all sorts of different programs before I settled on public health. Public health felt right because it's so all-encompassing."
Lilah was impressed with Michigan Public Health's faculty and their dedication to students, but ultimately her decision to choose the University of Michigan was much more personal. "I felt more comfortable here than anywhere else because Michigan is home to the largest concentration of Arab-Americans. It's also a resettlement state for a lot of Arab refugees, which is in line with what I want to study."
While at Michigan Public Health, Lilah is pursuing a joint track in Epidemiology and Health Behavior and Health Education in the hopes of one day working on Arab health issues, particularly in relation to women's health.
"I realized that the skills I was looking for belonged in two different departments. Epidemiology has the methods and the kind of scientific thinking that I didn't study in my undergraduate program, and health behavior and health education really looks at how systems work with each other to affect health," says Lilah.
In September, Lilah was in Washington, DC for the 8th annual Arab Health Summit where she presented a poster on mental health and discrimination among Arab-Americans in Southeast Michigan. She worked on the project with Carlos Mendes de Leon, professor of Epidemiology, and a team of master's students including Fatima Hassan, Farah Kader, and Latifa Bazzi.
"The conference was full of highlights, but something that has stuck with me was hearing about the lack of data on Arab-Americans and Arab-American health outcomes and better understanding the implications that it has across all aspects of what is considered public health," she says "All these people from different disciplines all talking about this huge problem really has made it that much more important in my mind about how important it is to just have the data."
Other projects Lilah's been involved with include a joint research project between ACCESS, the largest Arab-American community nonprofit in the US, located in Dearborn, and Leigh Pearce, associate professor of epidemiology at Michigan Public Health. This project will pilot a self-collection method for HPV testing among Arab-American women. "Every three years the Behavioral Risk Factor Surveillance System collects an over-sample of Arab-Americans, and they found that Arab-American women in Michigan have the lowest rates of cervical cancer screening and Pap smears out of any group, which is how this project came about," says Lilah.
Although Lilah is unsure about what will come after graduation, she is confident that the skills she gained at Michigan Public Health will come in handy no matter what. "I've gotten a good amount of skills here, and I know that no matter where I end up I'll do something fulfilling."