Engaging and Empowering Vulnerable Communities for Climate Change Action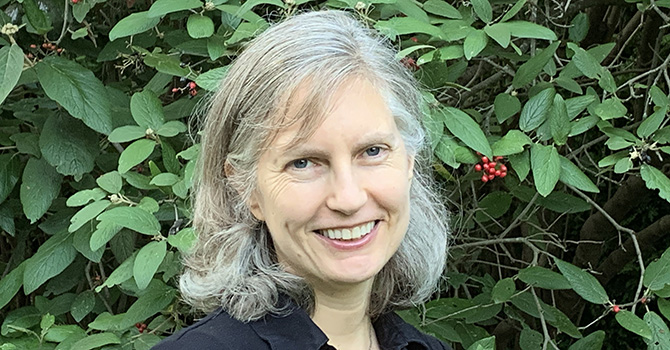 Marie O'Neill
Professor of Epidemiology and Environmental Health Sciences
Our health is directly impacted by the environment in which we live. Marie O'Neill, professor of Epidemiology and Environmental Health Sciences at the University of Michigan School of Public Health, uses this idea as a basis for her long-standing research on environmental and occupational exposures—and how they affect human health. More specifically, her work aims to understand the health effects of air pollution and extreme temperatures among vulnerable populations. Engaging in community-based participatory research to find out how these exposures contribute to inequities in health outcomes also plays a key role in her work.
Michigan Public Health alumna Katrina Burns wrote of Marie's work in 2018: "This research not only engages directly with communities of color to learn about their individual concerns, but empowers community partners to be involved in the research, give presentations, co-author papers, and take initiatives to seek out grant funding opportunities and continue to build and strengthen collaborations to support the educational, social, and financial needs of their communities in the context of climate change."
We spoke to Marie to learn more about her research and community-based work.
How did you become interested in this research?
After college, I worked in the public sector in environmental health for about five years. I was an intern in a wastewater treatment commission and later worked at the Indoor Air Division of the U.S. Environmental Protection Agency (EPA). At the time, environmental justice was a priority at EPA and we funded a project on environmental triggers of asthma that focused on reducing exposures and health disparities among urban children, primarily in communities of color. I really enjoyed working in partnerships on that project.
I also had the opportunity to deploy for four months to the Pan American Health Organization (PAHO) regional office for the Americas of the World Health Organization. During that time I learned about important air quality issues in Latin America.
After my five-year work experience, I obtained a master's degree in environmental health sciences and then a PhD in epidemiology. I did research on air pollution and socio-economic inequities in Mexico City, and lived there as a student, which was an amazing experience. I was inspired by the strong tradition of community-based research and addressing health disparities at the University of North Carolina-Chapel Hill, where I received my PhD. Ultimately these experiences led me to continue researching these topics and working with community partners.
You've done research around the environmental effects of climate change on urban areas and populations. How are they uniquely affected?
Heat waves are an environmental threat to public health, particularly for vulnerable populations including the young, elderly, communities of color, or those with chronic conditions. As we see climate change progress, the duration and frequency of these heat waves increases, putting strain on the communities most susceptible. In low-income or urban areas that may lack in infrastructure or support for these events, these vulnerable groups are left to face serious health outcomes.
Based on the need to create resiliency for vulnerable populations, a multidisciplinary group of researchers and community partners collaborated and created the Climate Hazards, Housing, and Health (CHHH) Partnership to explore how community programs related to housing may reduce health risk inequities during hazardous climate events in Detroit.
Our goal is to better prepare for heat waves and other climate hazards via improved infrastructure or refined interventions for how we warn the public of potential heat dangers. One challenge is that people don't necessarily think of heat waves as a problem and because of that, prevention programs are likely to be less developed than in a place like Phoenix, where heat is always a top-of-mind subject. As heat waves occur at a higher frequency or longer duration, it's necessary to put the proper systems and mechanisms in place to help protect the vulnerable.
In research such as CHHH, how does community based participatory research impact your work?
Collaboration with community partners who represent diverse backgrounds and diverse communities have offered new ways of framing research questions, provided useful suggestions on better ways to communicate research goals and findings, and other perspectives that have contributed to enhancing our research. Through this symbiotic partnership, we're better equipped to implement our research into action for the community it serves. Ultimately, we all want to better understand environmental effects to improve the health outcomes of vulnerable populations. To that end, our collaborative work helps to do just that as well as guide policy to complement individual interventions.
---