Shaping Science-Based Policy to Prevent Breast Cancer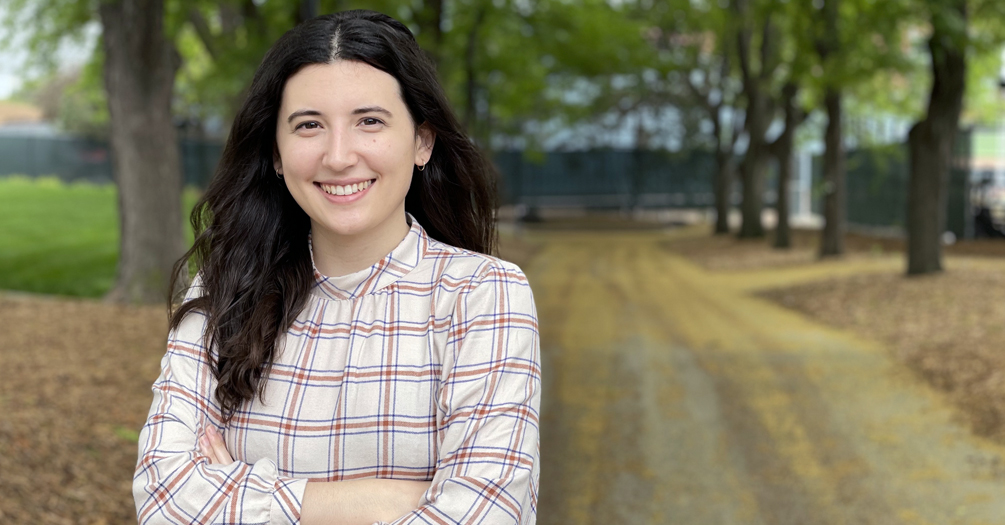 Brianna Siracuse
Master's Student in Environmental Health Sciences, Sunway Trust Scholar, Susan Crawford Scholar, Reproductive and Women's Health Intern
Last summer, Brianna Siracuse had a remote internship with Breast Cancer Prevention Partners, a San Francisco nonprofit addressing environmental and occupational exposure to chemicals linked to breast cancer. Siracuse worked on policy efforts around state and federal legislation and helped develop grassroots campaigns—a natural culmination of interests she's nurtured since high school.
Growing up in Omaha, Nebraska, Siracuse was drawn to study chemistry and toxicology. As an undergraduate at Loyola University Chicago, she took a class in soil ecology. "I saw how soil can affect people's diets and health," she remembers. "I knew I wanted to help people through a prevention lens, so I declared my major as environmental science with a concentration in public health."
I really felt like they wanted me here. That support allowed me to be more present in classes.
An internship with a nonprofit concerned with hazardous children's toys helped to confirm Siracuse's interest in environmental health. She did surveillance on injuries and policy advocacy work with elected officials. "Injury prevention related to the built environment interested me," she says, "and solidified my interest in environmental health. And I wanted to continue to influence policy. The public health field has great ideas, but the policies in place are a big hindrance."
For one of her Loyola public health classes, Siracuse read Our Stolen Future—a 1997 work in the vein of Rachel Carson's Silent Spring—by Theo Colburn, Dianne Duminoski, and John Peterson Myers. The book felt to Siracuse like a personal call to action. "We are exposed to synthetic chemicals every day, right now," she says. "I felt I had to do something."
Colburn, Duminoski, and Myers inspired Siracuse to come to Ann Arbor for an MPH. "I also wanted to stay in the Great Lakes region," she explains, "because I knew the local environmental health issues—like polychlorinated biphenyls (PCBs) and the repercussions of all the industrial activity here—and Michigan was the best school in the area for public health. They were able to provide me with the most financial support. I really felt like they wanted me here. That support allowed me to be more present in classes. The peace of mind the scholarships provide is the biggest impact I have noticed. I can focus on what I am learning, not on how I am going to pay for it."
Part of Siracuse's support comes from the Sunway Trust Scholarship and Internship Funds, established by Florence Lee, MPH '77, who makes a particular effort to stay current with her Sunway Trust beneficiaries.
"We had a Zoom meeting with Flo and all the scholarship recipients," Siracuse remembers. "It showed great solidarity between generations. It may seem the younger generation has all the passion. We have seen horrible environmental predictions coming true in our lifetimes. But there are older people, like Flo, supporting environmental health efforts, believing in these causes and doing all they can to help the younger generation address these issues. It is really moving to me. Flo and others believe in the power of the younger generation to solve those problems. It is good to know someone out there believes in me and the causes I am working for."
---