Master's student combines business skills with passion for thoughtful health care delivery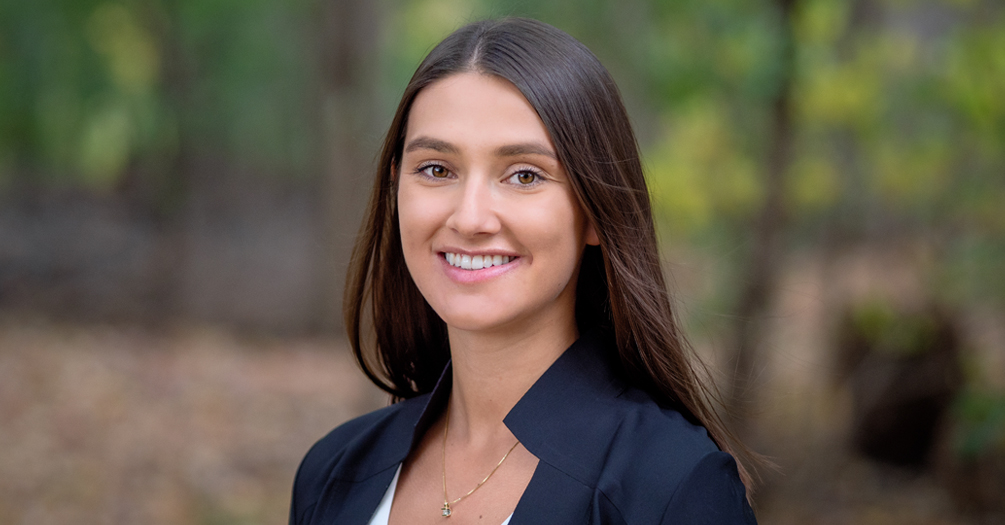 Elizabeth Lusk
Master's Student in Health Management and Policy
Elizabeth Lusk is happy to be back.
"We were completely online last year," she says of her classes at the University of Michigan School of Public Health. "This fall has been a social shock, but I am happy the university wrangled it together."
A born Ann Arborite, Lusk has felt the excitement and the sense of possibility inherent in many fall semesters at the university.
She began as an undergrad at the School of Kinesiology, taking health sciences courses and wanting to be a physical therapist. Toward the end, though, she had an "aha" moment, realizing she did not want to be a clinician.
As she prepared for jobs in the health care industry. She found an interesting one with Epic Systems in Madison, Wisconsin.
Lusk worked for Epic's electronic health record company, which stores medical records for over half of all patients in the United States.
"While implementing for different clients, I saw the good, the bad, and the ugly within health systems," Lusk said. "It sparked my interest in working within that system, being a player in helping to run it better. I realized, though, that I needed quite a bit of education to make this happen."
"Now at the School of Public Health, I am getting the didactic portion faster than I would have in the real world," Lusk said.
She is working toward a Master of Health Services Administration—"more business and finance focused," she said—in the Department of Health Management and Policy. She reflected on how her career path actually combines interests within her own family. "My mom was a nurse," she said, "and my business instincts come from my dad. He ran his own company and even today remains interested in helping other companies perform at their best. I owe both my parents a lot for my passions.
"I am not looking to start my own business. I did an undergrad minor in entrepreneurship and it taught me my first big lesson: The start-up world scared me. I am suited to better defined businesses. The health care and pharmaceutical industries interest me down the road."
Health services administration has to line up with what a community needs outside of the hospital walls.
Like most graduate degrees, Lusk's requires an internship, and she is thrilled to be doing it at Michigan Medicine. She is in the Quality Department's Continuous Improvement Division, an on-call problem-solving group for the hospital's clinical enterprise.
Among other things, she's worked on optimizing the turnaround times—from distribution to ultimate return and redistribution—of home kits that allow patients to measure blood pressure, oxygen saturation, temperature, weight, and other vitals and an iPad to help track them and communicate with their care team.
"My preceptors at Michigan Medicine have been able to get me involved in everything under the sun," she said. "I stayed on with them through the school year. It has been invaluable to have this insanely good medical center across the street. This is something I have personally been thankful for."
How is Lusk thinking about her future? She plans to continue combining health and business. In many universities, programs in Lusk's field are housed at the business school. At Michigan, they are housed in the School of Public Health, a distinction Lusk has found meaningful.
"It's important for me to look at proposed health care delivery ideas not just from a business point of view but through a global-social lens. Health services administration has to line up with what a community needs outside of the hospital walls. I want to help the system as a business but also in the context of its community. I must be intentional about this and know how local and federal policy affect decisions in health services."
In her final semester at Michigan Public Health, Lusk learned a lot more about insurance and the payer side of health care, an aspect of health care and policy that has newfound importance in how she thinks about the space.
"I'm looking to secure a job in the crosshairs of clinical care and technology, focusing on the efficient and ethical use of technology and data to solve the complex problems in health care," she said. "I'm really interested in the importance of spending on pharmaceuticals to the sustainability of the health care economy and advancements in pharmaceutical manufacturing, including biologics and biosimilars and trends among their prescription."
---