Addressing Violence with Multi-Faceted Solutions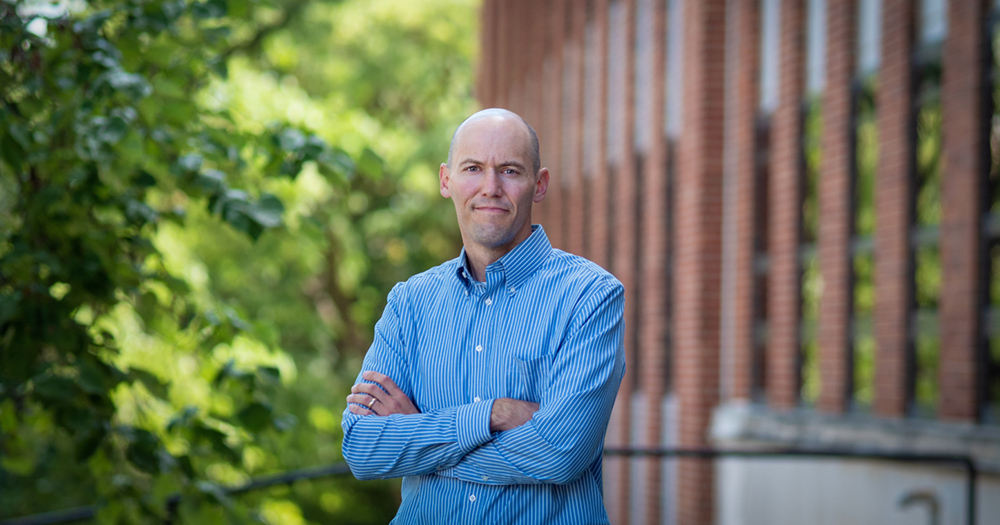 Justin Heinze
Assistant Professor of Health Behavior and Health Education
An unexpected connection led Justin Heinze, assistant professor of Health Behavior and Health Education, to pursue a career in public health. Now a rising scholar who researches various aspects of violence and its impact on health, Heinze is leading new projects and initiatives at the University of Michigan School of Public Health that aim to find solutions to the multifaceted topic of firearm violence and prevention.
How did you get your start in public health?
Interestingly, my academic career began in educational psychology, with the intent of pursuing a PhD as a credential so that I could be a dean of students. It wasn't until I was into my PhD program that I really started to enjoy the research process, and from there I wanted to pursue that aspect of my interests.
As it turns out, there is a sub-branch of educational psychology related to the measurement, assessment, and evaluation of programs, which falls in line with a lot of work conducted in public health. With my interest in adolescent and young adult development, it was a natural fit to move into a school of public health to look at the outcomes associated with adolescent health and expand beyond just the development component of the process.
What is your research interest?
I study adolescent and young adult development and some of the typical challenges they face such as substance-use and mental health challenges. In particular, much of my work involves researching youth violence and violence exposure, which means determining what violence exposure looks like for youth and what some of the long-term ramifications are.
Youth spend a lot of their time within classrooms and schools, so understanding how violence is affecting student outcomes and their development in a school context is a really important area of research I conduct. Ultimately, researchers in this space are looking to find ways to develop programs that make schools safer for all who attend and I want to contribute to that body of knowledge.
You've expanded your research to cover firearm violence and prevention as well. What inspired you to do so?
When the Sandy Hook Elementary school shooting happened in 2012, I had young children, ages 1 and 3. I spoke with my mentor about engaging in firearm violence research, and the message at the time was, "I'm not sure if that's going to be a sustainable career path. I don't know if there will be funding and I don't know if you will be able to engage enough partners in the research."
Since that conversation almost 10 years ago, the community of scholars engaged in firearm research has expanded exponentially. The University of Michigan has been at the center of that research, and now Michigan Public Health is well-positioned to join that conversation. For me, I want to take what I'm learning about firearm violence and apply it to the context that I'm most passionate about—schools. We can use this information to see how firearm violence affects students across the spectrum—elementary, middle school, high school, and even colleges. It is my opportunity to not only contribute to the firearm violence prevention conversation, but also translate that research into real world interventions.
How do you think we should approach firearm violence prevention?
What do you see when you close your eyes and think about firearm violence? Many may not realize that up to 60% of firearm deaths are related to suicide. It is the most common way in which firearms are killing Americans, exceeding interpersonal violence or intentional shootings, as well as mass violence events that are so salient in the minds of many.
Firearm violence is a multi-faceted problem and people are affected in a variety of ways. It is not unique to one population or sub-population. It impacts everyone, no matter your sex, race, age, or location.
A multi-faceted problem requires a similar sort of solution—we're not simply talking about individual-level solutions, but also solutions at the community and societal level that will create lasting change. We have to think about multi-level solutions and interventions to begin to address this.
The inclusion of diverse perspectives from stakeholders is also of incredible importance when developing programs and solutions. This type of strategy tends to be the most promising when you have more than one approach to try to reduce the level of violence.
How do you think Michigan Public Health is uniquely positioned to address firearm violence?
The scope of the firearm violence problem is unfortunately ever-increasing. I think the way we can address this problem is by leveraging the interdisciplinary strengths within our school. Each department and discipline at the school thinks about problems in slightly different ways, utilizing different theories and approaches.
With a multi-faceted problem like firearm violence, it is critical to have different people at the table looking at the same statistics, but perhaps drawing different conclusions or proposing different ways to address the problem. For example, I might look at the behavioral aspects of firearm violence and think about an individual-level intervention or a community-level intervention. Folks from Environmental Health Sciences might think about what's going on at the neighborhood level or at the state level around the physical areas where the violence is happening and what might be contributing to that. A biostatistician might be able to look deeper into the data and say, "Here are some trends or sub-trends we might not have noticed," or "Here is a way that we can predict some aspects of gun violence." Those in Health Management and Policy may look at the policies or laws that are contributing to firearm violence and determine whether they are effective.
In this example, each group is working toward the same objective of trying to reduce the number of fatalities and injuries related to firearms, yet each group looks at the issue through a different lens, which is central to a public health approach.
What would you like people to take away from the work that you do?
The lesson that continues to manifest itself is that violence exposure that happens early in life has long-term ramifications—whether it's the next year, four years, or even 10 or 20 years down the road. We're finding that exposure to violence does have these substantial influences on individuals, so it is imperative that we underscore just how much violence means not just for the victims, but also for the perpetrators and those periphery who are still impacted by exposure. The second thing is that violent injury is wholly preventable. The implementation of research-based programs and intervention strategies better tailored to reduce different forms of violence is critical in reducing violence to a number as close to zero as possible.
From a firearm injury prevention perspective, a new and exciting opportunity is the growing investment in research from the federal government and large organizations. This investment has allowed folks to start asking the tough questions related to solutions and is bringing a new generation of scholars who are looking to address the issue head on. I'll say it again, it's imperative to understand that firearm violence is not a specific problem to any one group of individuals—it's a societal problem. We need to think about solutions from different levels of society, from the individual, all the way up to the structural influences that could be contributing and sustaining this problem.
---