Global Health Epidemiology student's career path recalibrated after pair of internships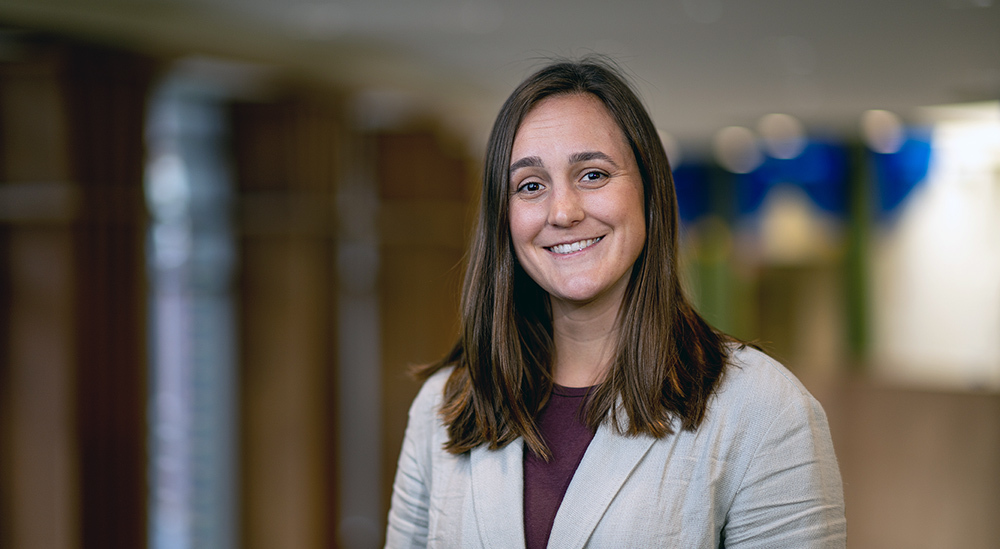 Abbey Hutton
Epidemiology
Abbey Hutton always believed that her future was somewhere in the health and medical field. In high school, she took advanced courses that included studies in microbiology, anatomy and forensic pathology.
"Ever since I was a kid, I had a passion for biology and it was my favorite subject in high school," said Hutton, an Ann Arbor native. "We had this big classroom that was a lab and I loved spending time in there."
A standout prep field hockey player, she was recruited by numerous schools but ultimately chose Michigan, where a strong family connection was present. Her father, Chris, is a Michigan alumnus and her older sister, Emma, was already a student at Michigan when it came time to choose a university.
I grew up in the Michigan culture. Everywhere I went, it became clearer and clearer that Michigan was the right choice for me."
There was still the issue of determining a particular area of study among the myriad choices in the health and medical fields. As an undergraduate student, she was a research assistant for Yehoash Raphael, the R. Jamison and Betty Williams Professor of Otolaryngology, at Michigan Medicine. The lab's work focuses on inner ear biology, protection and regeneration, gene therapy, genetic deafness and stem cell therapy.
"I didn't have one specific interest going into college, so I had an open mind as to what field I would go into," she said. "I tried to take every class I could to home in on what I wanted to do with my degree."
Then, during spring break of her sophomore year, something unexpected happened. Call it an epiphany, a light bulb being illuminated, serendipity, happenstance or fate—but it just happened.
Hutton signed up for a program that would send health science students to Vietnam, a country still recovering from the ravages of 10 years of war that took place long before Hutton was born. While in southeast Asia, she visited a safe haven for people suffering from HIV and AIDS and heard them speak about how they live with the disease and the additional trauma of stigmatization.
"It really opened my eyes to the many other aspects of disease," she said. "It opened my eyes to the social impacts of everything health-related, and it really sparked my interest in wanting to go into public health."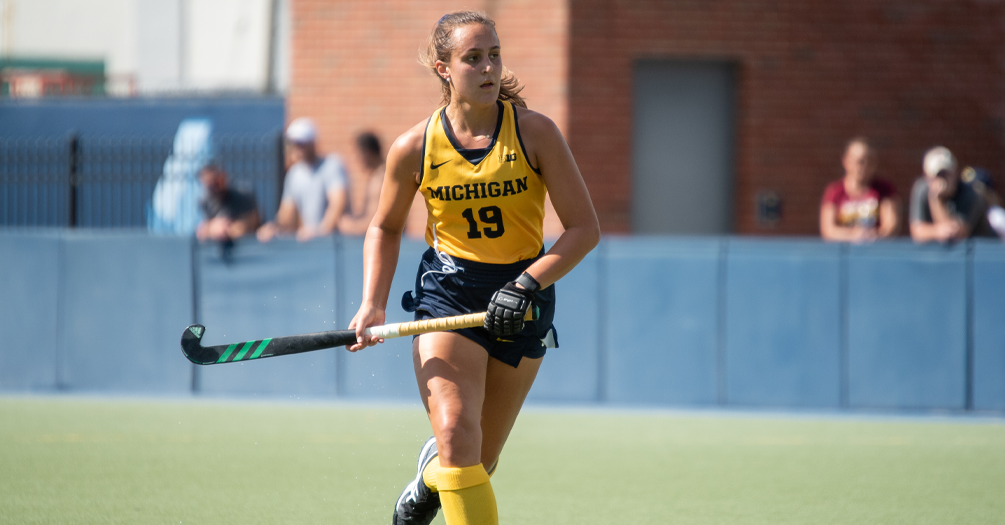 Hutton, who was an Academic All-Big Ten honoree for three straight seasons with the Michigan field hockey team, received the University of Michigan Athletic Academic Achievement Award in 2018. She was named to the National Field Hockey Coaches Association Collegiate National Academic Team following the 2020-21 season.
She received a Bachelor of Science in Microbiology, graduating in 2021. The next step was enrolling in graduate school at the University of Michigan School of Public Health in the Global Health Epidemiology track.
After getting into my graduate studies, it just reinforced that public health is where I want to be."
An introductory global health class in her first semester of graduate school introduced Hutton to the gender gap in health care, which is especially evident in epidemiology.
Her work outside the campus has excelled Hutton's passion for epidemiology and issues related to women's health. She spent the past year working remotely for the Colorado Department of Public Health and Environment as an intern. She conducted case interviews, worked on food-borne illnesses and food safety issues.
Hutton also worked as an intern remotely for Girl Effect, a London-based non-profit that has the goal of ending poverty on the planet. Girl Effect reaches young women and girls in 20 countries in Africa and Asia with media programs and digital products, working to connect them with education, health services and entrepreneurship opportunities.
"I think the most rewarding thing about my experience of working for Colorado Health and Girl Effect at the same time is that I realized the appreciation, interest and passion I had for social epidemiology," said Hutton, whose internships were supported through the Office of Global Public Health as a Gelman Global Scholar and through the Natalie and Jack Blumenthal Internship Fund. "I knew I wanted to keep working in the areas of women's health and gender equity."
While working with Girl Effect, Hutton got to be part of a project to improve girls' access to sexual and health reproductive services. She was actively involved in the research aspect of the endeavor.
"That was especially gratifying, having my ideas and skills be applied to something that important," she said. "I got to apply what I learned in my global health classes."
Hutton expects to complete her master's studies in the School of Public Health in 2023 and then hopes to secure a research role that will allow her to continue working in women's health. Medical school is also on the distant horizon.
"Michigan has 100% provided what I needed," she said. "I had a certain mindset going in, but then my eyes were opened as to just how many fields there are in public health. I am very excited about what lies ahead."
---