Alumna of bachelor's program hooked on public health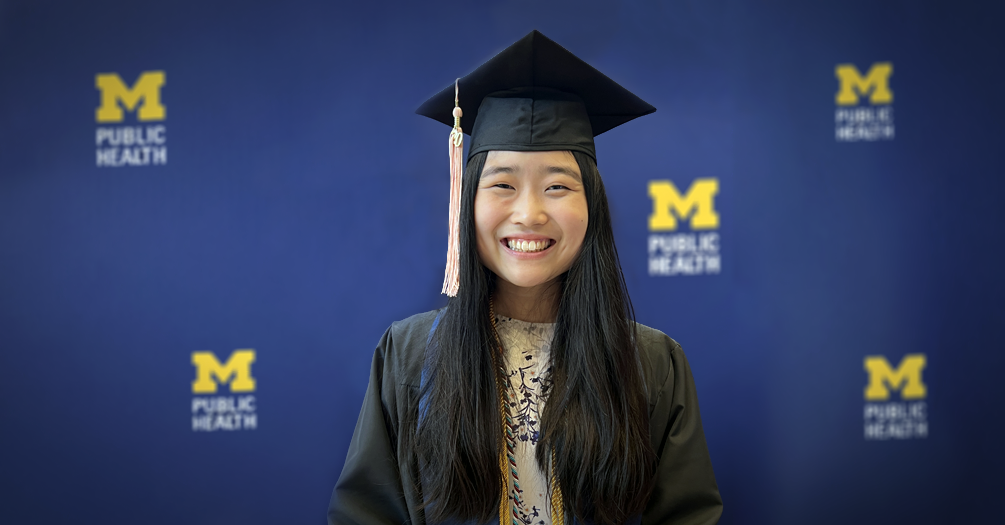 Josie Lee, BS '20
Public Health Sciences
In high school, Josie Lee was surprised by the lack of mental health resources and support at her high school. When she began her freshman year of college, she knew she wanted to improve the system. It wasn't until she took her first public health course at the University of Michigan that she knew how she could change the system.
It was during this class that she learned what public health meant. A brief story during a lecture became the catalyst for her decision to pursue a Bachelor of Science from the School of Public Health:
If there was a cliff with a group of people falling off it, the medical team rushes to the bottom of the cliff to treat the fallen, while the public health professionals hurry to the top of the cliff to stop others from falling.
"When I heard this story, it left such a strong impression on the power of prevention and addressing health and problems from a population point-of-view," Lee said.
After completing her freshman year, she volunteered for a summer at a nonprofit psychological clinic in Denver, her hometown.
I realized how much I enjoyed helping with the administrative aspects of the organization to support the therapists in helping patients more effectively. This got me interested in exploring healthcare management and policy.
"When I realized that there were ways to creatively think about issues in this way to make a more meaningful impact for more people, I was hooked," she said.
At that point, she added a minor in Business Administration from the Ross School of Business. Emily Youatt, director of the Office of Undergraduate Education, helped her switch from a Bachelor of Arts to a Bachelor of Science so she could meet both requirements and take the relevant coursework to graduate.
Lee also studied abroad in Switzerland and Morocco with a focus on Global Public Health and Humanitarian Aid, which further confirmed her decision to pursue a career in public health.
"I found myself unable to stop talking about public health once I took an initial course. It was so interesting thinking about how public health related to everything. And it is a great tool and field to think about making an impact on a large scale," Lee said.
Michigan right choice for great education
"Michigan was well-rounded in everything. I knew I would have a great education no matter what I decided to pursue. I also loved the 'work hard, play hard' culture and the school spirit," she said.
Her experiences, from courses to external volunteer opportunities, helped prepare her for life after graduating in 2020.
Lee started as a Fellow with enFocus, a nonprofit organization in northern Indiana that offers services and human capital to other local organizations. She worked in the Project Management Office in the City of South Bend Department of Innovation and Technology. From there, she gained valuable project management skills and built out some tools for the department.
She also helped with the Marshall County Crossroads Health and Wellness Committee, where she worked with doctors, social workers, mental health professionals and hospital administrators in the county's health and wellness space. She also garnered support and education about the possibility of bringing the Blue Zones Project to the county.
Working in these environments helped me realize how much collaboration is involved in order to make community change. Seeing businesses, nonprofits, schools, government and health systems come together to support quality of place was really cool."
Now, she is a Provider, Strategy and Operations Analyst with DaVita Integrated Kidney Care, where she and her team work to support an annual health evaluation to capture the comorbid conditions of their patients.
She helped deploy Dragon Medical One and streamline the medical records process for reference for clinical teammates. The work ties back to her experience at Grace Counseling, where she provided tools to help clinicians to be able to spend more time with their patients.
"I was curious about value-based care in college, so it is a valuable opportunity to work on something pivotal to the program. In my role, I support our nurse practitioners and clinical teammates to have the tools to do their work effectively and efficiently," Lee said.
Through her experience as a fellow in the non-profit and public space, she hopes to tie her experiences to help the common good.
"I would like to eventually hone meaningful skills that I can later bring to organizations that may have more limited resources but that are doing meaningful work for the common good," she said.
---
Tags