CDC fellow wants to help wide range of people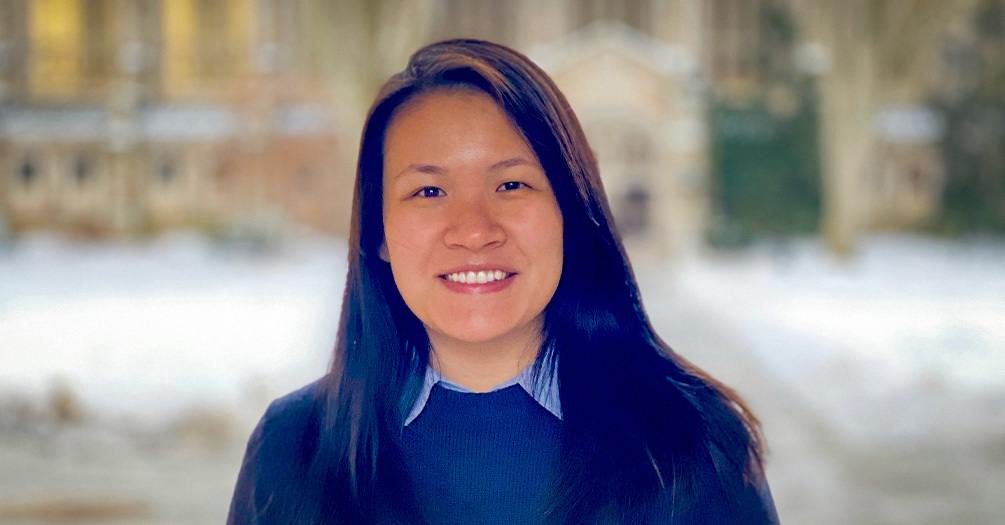 Stacy Huang, MPH '20
Epidemiology
Helping people is at the heart of Stacy Huang's career aspirations.
Every experience—from enrolling in the University of Michigan as an undergraduate and continuing her graduate studies in the School of Public Health, to working as a Surveillance Epidemiologist ORISE Fellow for the Centers for Disease Control and Prevention—has helped shape her career path.
The Michigan native started at the university as a biomolecular science major but realized early on that public health and epidemiology might be a better fit for her.
"I had heard about public health, but I hadn't really thought about it as a career until I learned about epidemiology in public health. It would allow me to study infectious diseases and microbial organisms, and it could involve numbers and statistics and math, my favorite subjects," said Huang, who earned a Master of Public Health in Hospital and Molecular Epidemiology in 2020.
With endless possibilities in public health, Huang was excited about being able to apply the skills and knowledge she learned from Michigan Public Health to do work that helps inform the creation of interventions or programs that help a wide range of people rather than helping one person at a time.
She chose the University of Michigan for her undergraduate degree, in part, because she was influenced by multiple relatives who graduated from the university and spoke highly of the education and the environment.
After receiving her bachelor's degree in biomolecular science in 2016, she knew Michigan's School of Public Health "was a great program, a great school where faculty were doing research related to epidemiology, infectious diseases and microbiology that have a big impact in the real world," she said.
Expanding interests beyond public health
At Michigan, in addition to discovering epidemiology and public health, Huang also developed an interest in Chinese languages and culture.
As a Chinese American, she grew up in a traditional family that celebrated many Chinese holidays by preparing and enjoying traditional foods. However, beyond her family's customs there were very few opportunities to explore her Chinese roots until she was in college.
She took some Chinese language and Asian studies courses as an undergraduate and found how much she enjoyed them. The courses offered insight into her heritage and provided a new sense of belonging. Asian studies, specifically with a focus on Chinese languages and culture, also became her minor.
Before starting her master's degrees, Huang traveled to China for a study abroad program. While in Beijing, she immersed herself in classes, the local culture and brief internships at two Chinese hospitals.
It was a part of growing up, being confident in who I am and embracing it. If I wasn't pursuing science, I might consider something in Asian studies."
Faculty connections open doors
When Huang returned to the United States, she enrolled in the epidemiology department at the School of Public Health with a concentration in hospital and molecular epidemiology. She started the MPH courses and worked in a School of Dentistry lab that studies an oral bacterial pathogen, where she gained important research and critical thinking skills.
She also discovered she was interested in working with statistics and numbers and wanted to add data management and analysis to her epidemiology toolbox. A School of Public Health professor connected her to a different faculty member who helped her find a second student research position, where she got to study respiratory viruses and work with epidemiologic data.
The experiences in the classrooms and labs as well as having Michigan connections and a Michigan education directly led her to the CDC fellowship.
"One thing I realize even more now is how many connections you can gain and have opened up to you as a Michigan student and alumna. The professors are always happy and willing to help. Additionally, it's well known that Michigan has a huge alumni network. I reached out to some alumni and they were happy to help," Huang said.
She started the fellowship in the CDC's Influenza Division shortly after graduating in 2020. Because of the pandemic, she has worked from home the entire time.
Her data management and analysis skills and experience studying respiratory viruses have come in handy as she helps with influenza surveillance, helping to track and monitor flu activity across the US throughout the year.
I have learned a lot and enjoyed the fellowship, which is an educational program that runs for one to five years. It's a great experience to have, especially if you are interested in working with the CDC."
In time, she hopes to find a different experience to learn what it might be like working in a state public health organization as a state epidemiologist or branching out beyond epidemiology and working in the private sector in data analytics. Whatever she does, she knows helping others through public health will be important.
---
Tags