Living with chronic disease 'driving force' in alumnus' love of nutrition, public health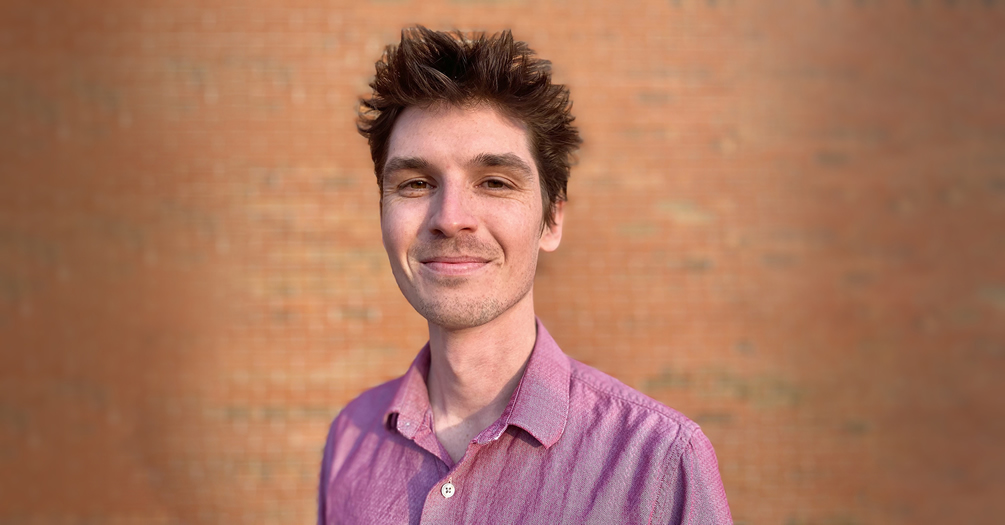 Phil Hartley
Nutritional Sciences
Phil Hartley, MS '22, was diagnosed with an idiopathic disease at a young age, so the importance of quality health care has always been a big part of his life.
His condition—an idiopathic disease is a disease of uncertain or unknown origin—and the challenges he anticipated facing motivated him from an early age to think deeply about how to live a full life and make a positive impact on others.
"This was definitely a driving force in my decision to dedicate my time and energy toward improving the quality of life for others through public health, education and research," said Hartley, who earned a Master of Science in Nutritional Sciences with a specialization in Dietetics Concentration when he graduated in April 2022.
Navigating life with a chronic disease definitely has been a challenging experience for him. Good health insurance and quality care become necessities, and the potential financial burden makes pursuing certain life goals difficult.
"In the past, I have also been prone to feeling depressed for long periods of time," Hartley said. "Thankfully, I have learned how to push through fear and doubt to instead focus on all the positive elements of my life. I ultimately turned my depression into motivation for pursuing greater success and happiness in life. I'm also very fortunate to have friends and family who have been extremely supportive of me throughout my endeavors. Without them, I'm not sure if I would be where I am today."
Taking his personal experiences and a deep interest in nutrition science, Hartley wanted to work in the field of public health because it provides a "unique opportunity to improve the quality of life for others while pursuing a healthier and more equitable world."
"Nutrition science is especially interesting because diet plays such a major role in the prevention or development of chronic diseases," he said. "It's an element of public health that is very tangible, and the concept of what constitutes a healthy diet seems to be gaining a lot of interest in the general public.
I'm also very interested in public health research. Ongoing research is crucial for improving our ability to prevent and treat diseases, and to increase our understanding of the deeply rooted inequities that function as barriers to creating a healthier world."
Hartley was born and raised in Big Rapids, Michigan, and he stayed close by to earn a bachelor's degree in communication from Ferris State University. He wanted to stay in Michigan while attending graduate school because it was important to him to stay close to his friends and family.
While taking prerequisite courses to enter a master's program, some of his professors recommended that he apply to the University of Michigan because of its well-regarded Nutritional Sciences program.
"After reading about the University of Michigan's School of Public Health and its robust curriculum, I knew this would be a great place to prepare for a career in dietetics," Hartley said.
Outside of the classroom, along with his family, he has been heavily involved in the fine arts. Hartley was an actor in plays throughout grade school and played drums in the pit orchestra for musical productions at Ferris States for four years.
"Growing up, I also was a tap dancer for 14 years," he said. "I tried to stay involved in music while obtaining my master's degree and I still play drums for multiple performing groups."
In addition to playing music, Hartley takes to the outdoors whenever possible, whether it's hiking, kayaking, camping or just relaxing on the beach. He also loves to embrace his "nerdy side" by playing board games and video games with friends.
Nutrition, though, is something he could talk about as much as any of his favorite hobbies and activities.
"I have always loved learning about nutrition; the biochemistry and physiology of nutrition science is complex and truly fascinating," Hartley said. "I always get excited whenever I have an opportunity to teach others what I have learned, which is why I want to enter the field of nutrition education. I also think it's important to focus on preventative medicine in public health, and diet plays a huge role in the prevention of many chronic diseases."
There is a lot of potentially harmful misinformation about nutrition circulating online, he said, so it is crucial that properly trained registered dietitians who use an evidence-based approach to help others develop dietary patterns that are appropriate for their specific goals or needs.
After completing a dietetic internship, Hartley will take the exam to become a registered dietitian.
"I plan on working clinically as a RD for a while, but I ultimately want to work in the field of nutrition education as a professor/researcher," he said. "I look forward to expanding my knowledge while I explore the various opportunities that are out there such as clinical work, education, research, advocacy, policy, etc."
---