Loved ones' health struggles drive MPH student to improve care for all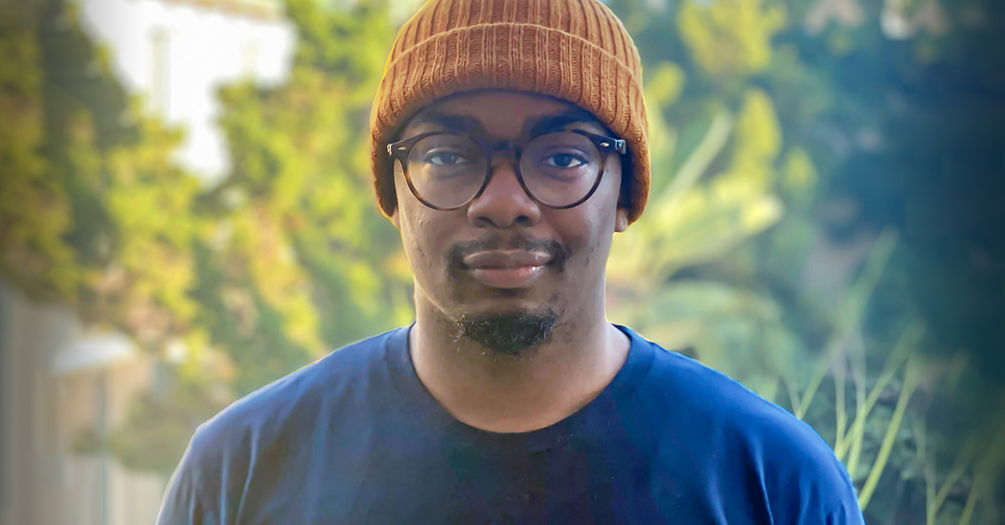 Geremy Lowe
Master's Student, Online Population and Health Sciences Degree Program
Suffering led Geremy Lowe to public health. He witnessed his friends with HIV/AIDS suffer through their illness, and it left him questioning. How does health care access, policy, and quality of care impact my friends? These are big questions, and he started to find some answers in undergraduate courses at University of California - Berkeley. "It helped me discover what public health looked like in practice and how that actually helped communities," he said.
Now Geremy is a full-time graduate student, and he is pursuing health expertise from multiple angles. Not only is he earning his MPH in Population and Health Sciences at the University of Michigan School of Public Health fully online, he's also working on a doctoral degree focused on the History of Health Science at the University of California San Francisco.
His goal is to make a meaningful impact on health in vulnerable communities and populations. "I want to uncover some of the racial inequities within health and use data to inform policies that will re-invent or create new care facilities in communities that need the help."
He says that understanding the historical precedents of health care, while learning to implement population-based health interventions, will lead to more significant health improvements on a large-scale.
He recently completed his first term in the MPH program and was surprised by his own interest in biostatistics within population health.
Having hard data can demonstrate to others how much diversity, equity, inclusion is needed in the health fields.
"I never really looked to biostatistics as a field of interest," he said. "But seeing how it could generate real data and analyze the ways in which vulnerable communities navigate public health systems, such as getting vaccinated or getting access to care, speaks volumes to the amount of work that can be done and is necessary. Having hard data can demonstrate to others more clearly how much diversity, equity, inclusion is needed in the health fields."
He says understanding population-level biostatistics will be vital to his future career in a public health department. "It is so necessary for research to happen at a larger scale. Earning my degree and gaining skills in biostatistics research is a perfect way to learn to use research to inform policy." He hopes that his combined academic workload, along with his PhD, will equip him with the ability to analyze patterns in the history of healthcare and connect that to current data and practice to encourage better, more reliable policy. "I can take everything that I learn to engage further in researching the data related to vulnerable communities to help navigate how policies shift, change, and hopefully move toward implementing new policy."
The policy issue that he's most passionate about is the adoption of universal health care in the US. "We have to collectively agree that healthcare is a human right," he said. "As a global society we simply have to make sure that every person on this planet has access to affordable health care."
That's a big motivation for him to study population health, and learn how to improve care for whole populations, especially vulnerable groups.
"Universal health care is a big issue for me because there are still folks that have to navigate medicine and healthcare in a way that it's not really beneficial to them," he said. "People, justifiably, have fears about the institution of health care, the cost of healthcare is still a barrier, and even though the Affordable Care Act was a great policy implementation, it also created its own barriers."
Geremy wants to help remove those barriers by influencing health policies. He knows first-hand how alleviating health care-related stressors could impact the lives of individuals and the people they love.
"My first term started off a bit rocky. I dealt with a lot of familial challenges where I had to take care of my elderly grandmother, and then my mom got sick and needed ongoing care."
The education that I was getting from these Population and Health Science courses, was really essential to my lived experience.
Despite these stressors at home, he saw great benefit in continuing to learn about topics like the social determinants of health, nutrition, and biostatistics during this time. "It was challenging dealing with family health issues, but it was also rewarding in a way — I could bring back what I was learning and implement that in ways that would help my family navigate the medical system. The reward was that the education that I was getting from these Population and Health Science courses, was really essential to my lived experience."
Managing these responsibilities and school full-time was trying but would have been impossible in any other program, he says. Throughout his first term, Geremy needed to go back and forth from Chicago to California to help with his mother and grandmother's care, "I'm grateful to have gotten that flexibility to be there with my family."
Geremy says he's found a lot of comfort and confidence in the fact that his Michigan Public Health professors are 'walking the walk' of how we ideally want to approach our health, with empathy and understanding.
"I'm impressed at the ways in which professors engage with the students. These are empathetic people." He says the support system in the program mimics the way public health professionals view those they're serving: they are getting to know a community and creating interventions and resources that make sense for their specific needs so they can have an effective experience. "They understand that we are all doing different things and have busy lives, and that understanding component, that empathy component helps students get through rough times, like I've been going through recently, and still accomplish the end goal."
One day soon, Geremy hopes he'll be able to support communities in need in that same way.
---