Advent of a new alumni approach in a changing era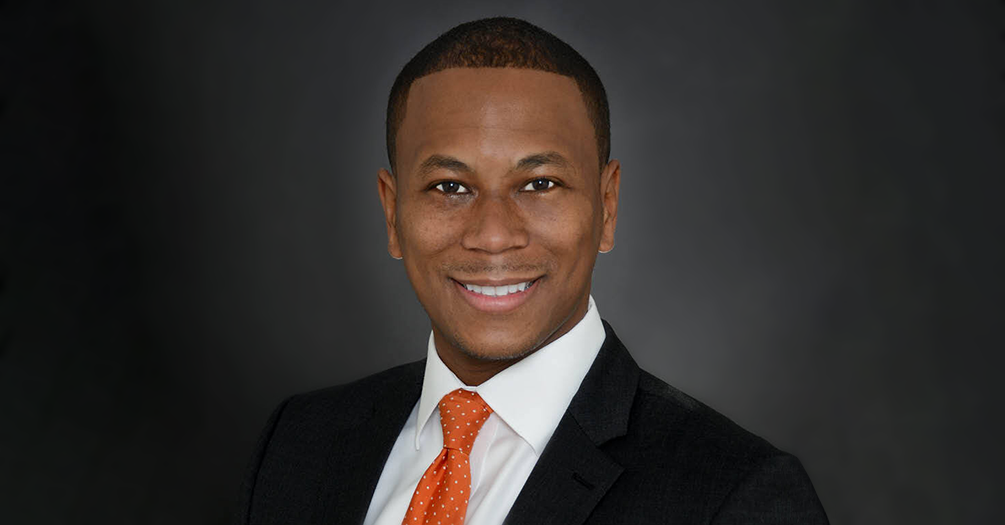 Gyasi C. Chisley, MHSA '00
Alumnus to speak at annual PHSAD Conference
Gyasi Chisley wears many hats, and one of them is always Maize and Blue. It stems from his passion to transform health care and bring like-minded individuals with him on the journey — as well as his love for the University of Michigan.
"Obviously, as an alumnus, I love the university and everything that it has done for me," he said while traveling for work. "I get to Ann Arbor often for speaking engagements and to aid in student development and strategic recruitment initiatives not only for the School of Public Health but throughout the university."
Chisley earned a Master of Health Services Administration (MHSA) in 2000 from the University of Michigan School of Public Health and has a Master of Business Administration (MBA) from the university.
"In the fourth quarter of last year, I founded a venture called Square2, which advises minority companies on various business and funding opportunities," said Chisley, a former executive at several major health care organizations, including UnitedHealthcare, Methodist Healthcare and the Mercy Health network. "I also serve on several boards for startup companies through private equity, and I just recently assumed the managing director/head of corporate healthcare role at PNC Healthcare, a subsidiary of PNC Bank—the fifth largest commercial bank in the country."
Chisley will be the keynote speaker for the 35th Annual Health Equity Conference presented by the Public Health Students of African Descent (PHSAD) on March 31. PHSAD is the oldest sponsored student organization at the School of Public Health.
PHSAD was instrumental in helping Chisley, who received bachelor's degrees in biology and psychology from Morehouse College in Atlanta, familiarize, ingratiate, and assume leadership roles while at the University of Michigan.
"The matriculation into the University of Michigan was somewhat difficult," he said. "Coming from a Historically Black College/University (HBCU), I was certainly prepared academically, but I don't think I was prepared emotionally or culturally. PHSAD, as a group, as a reference point, and even as a familial presence—because many members of PHSAD eventually became family at some point—was super important to me. It helped me thrive during my tenure at the School of Public Health and has sustained me throughout my career. I think that was really cool, and I still keep in close contact with a lot of the PHSAD membership. From both an academic and career perspective, this is hard to recreate especially when many of the relationships were organic."
'Health care is my ministry'
Being from a community of color and what has been dubbed "marginalized," Chisley always has had a fervent interest in public health.
"Communities of color have been negatively affected by the lack of access to many of the basic social determinants of health for generations. I saw first-hand how that changed my family—so it hit very close to home," said Chisley, who was born in Chicago and grew up in Milwaukee. "I've always been drawn—called even—to health care; health care is my ministry; it's my muse; it's the way that I impact social norms and the ills of society.
"The School of Public Health, particularly as it relates to Health Management and Policy, was completely aligned with my own values, hopefully eradicating some of those social stigmas, particularly for disenfranchised communities."
This passion led Chisley to write his first book, "Healthy Disruption: The Benefit and Burden of a Black Healthcare Executive in America" (Heritage), which was published in October 2021.
After being recruited by many graduate programs, Chisley chose the School of Public Health because of its top-rated status, and he was enamored by the faculty as well as the alumni network.
The faculty was stellar and worked to take the practicum and put it into practice
"We weren't just studying in academics or engaging in didactics, we were applying things that we knew to be true within the healthcare arena, and it had a very plighted and involved alumni network."
Chisley saw a chance to change the world through his experience at Michigan. "Michigan served as the starting point behind the hunger to influence not just health care, but the world, and welcome diverse input. It was an opportunity to examine the amalgamation of the clinical side with the business perspective, while being exposed to the social side of medicine—which is often overlooked or ignored," he said. "The study of epidemiology, which is extremely important—now more than ever—especially at the behest of the pandemic, and the study of biostats, which is the engine to any strong public health program, tethered to my desire to study Health Management and Policy along with my background, rounded out a very comprehensive program and an opportunity to add and offer dispositions that are rarely heard."
Chisley pointed to the stark differences of life expectancy in the neighborhoods of Chicago as an example of why equity in health care is so important.
"In a city like Chicago, there is a 33-year gap in life expectancy between the north side and south sides of Chicago," he said. "That represents a 16- or 17-block radius—so, we're talking roughly a one to two-mile difference. If you are from the north side, you have a 33-year higher life expectancy than if you're from the south side. Your zip code tends to be a far greater determinant of your quality of life than your genetic code."
"I think that this must be not only seared into the country's consciousness, but we must promote equity in health care as much as we can. In my mind, equity has a stark and inextricable tie to controlling and to having some interest in businesses and communities as well as the overall health care delivery method within our communities. I think this is what has propelled me to do whatever I can to transform health care. Given that's what we've had to overcome the last two years with the pandemic, protest, and profit loss in this country—it all has an indelible impact on people's health and approach to healthcare—both life and business is all about timing and I think there is a stronger appetite for change and even more empathy across the health care landscape for communities that have been disenfranchised for quite some time. Now is the time to join forces for change and the School of Public Health can definitely help in that regard."
Students keep him sharp
Chisley lends his voice to the School of Public Health as often as he can.
"I like to come back because I think the students keep me sharp," he said. "I offer whatever I can to them because it's not only about learning an academic discipline, it's actually applying that academic discipline once you start your career—or continue your career—that's important to me."
He has found Michigan alumni to be a good source for career advice and feedback.
"My phone is essentially a digital Rolodex. I've got a lot of executives that I call on often, not only to serve as a sounding board for things that I've done—the book, new business ventures, investments, etc.—I bounce those things off Michigan alumni all the time and they truly invigorate me.
"Even more so, I like to help as well. I hope I serve as some support for new endeavors that other Michigan alumni are working to execute."
Perhaps the most important lesson Chisley has learned during all his successful endeavors is to help others along the way.
"It was Dr. Martin Luther King who said it best: 'Life's most persistent and urgent question is: What are you doing for others?'" Chisley said. "I think that's the ultimate metric or measure of success. Whether it's in or outside Michigan, on a national platform, or at the community level where true transformation occurs, it's important for me to ensure that I reach back as I climb. That's what warms my heart, having the opportunity to continue to mentor the next generation of leaders. It's what I am most proud of in my career and I hope I can continue to do so as long as I have air in my lungs and a few thoughts in my head."
With everything Chisley is endeavoring to execute, he maintains his roots, respects where his perspectives were honed, and values where his leadership skills were cultivated. Chisley epitomizes the alumni spirit and serves as inspiration for current and future School of Public Health students alike.
---