Native Detroiter strives to find public health solutions for health inequities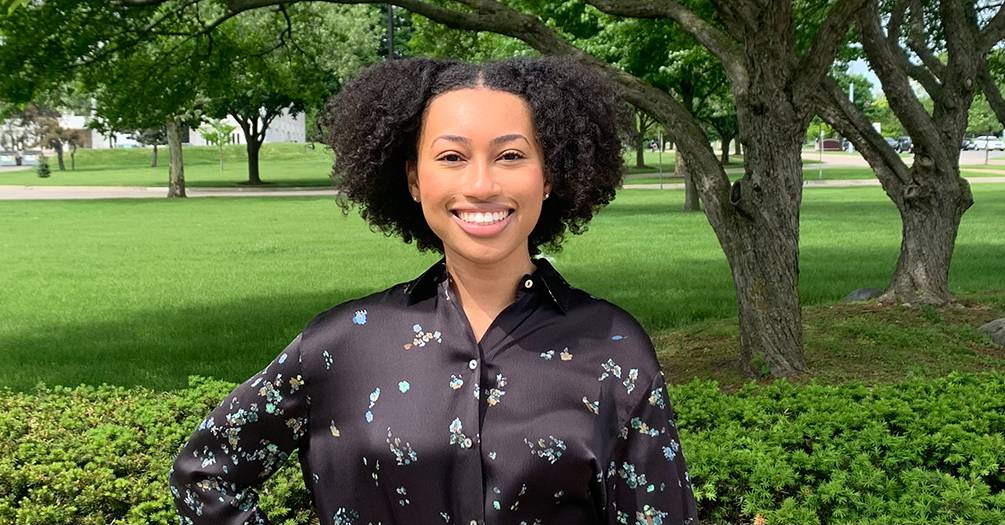 Makala Conner
Master's student, Health Behavior and Health Education
Growing up in Detroit, Makala Conner moved between public schools and private schools, and she witnessed the structural differences in the lives of her fellow students. There were stark contrasts between the inner city and suburbs.
"There's a tale of two cities going on, and I was on the lesser end of that," said Conner, a master's candidate in the Department of Health Behavior and Health Education at the University of Michigan School of Public Health. "Public health provided a framework that helped me understand the institutional and structural mechanisms for how these stark differences came to be and inspired me to think about changes I could make for the betterment of others in similar environments."
As a first-year, pre-med student at Loyola Marymount University in Los Angeles, Conner participated in a volunteer day. Students boarded a bus and drove from the suburbs to the tent cities of skid row.
"What stands out to me is getting off that bus and walking along the streets where there are tons of health disparities happening," she said. "There are people for whom this is their life, this is their city. It is a whole different community that exists and thrives as well. They're surviving in conditions where they have to live without shelter."
After serving food at the Midnight Mission shelter, students took a tour. At the end, the tour guide revealed he had lived on skid row. Conner felt jarred by the realization that at one time he had come to the shelter for help, but now he was able to provide help to others.
"He was giving back and helping others in that position," she said. "That day changed how I thought about the world. I saw poverty in a whole new place and in another state. I felt there was a lack of interventions in Detroit."
Conner took a class at Loyola called Health Services in Marginalized Populations to learn more about services and interventions.
"We went to rehabilitation centers in downtown Los Angeles and to a halfway house," she said. "I was able to see firsthand how these interventions were happening. I thought, this is what I want to be doing."
Through a public health research program at Loyola, Conner met Heather Tarleton. The research examined "cancer survivorship and mental health outcomes of women who are breast cancer survivors in Los Angeles County."
At the time, Tarleton was the only Black female professor in the School of Science and Engineering. Conner gravitated to her and her work.
"She looked similar to me, and that was very comforting," she said.
She is an inspiration to me, and she opened my eyes to this new sector of public health."
The intersectionality of being a black woman from Detroit has posed challenges.
"White supremacy and patriarchy have constructed societal boxes that I do not fit into," Conner said. "Ultimately, I feel this is my greatest strength. I am able to shed light on issues that often don't have a face. I plan to use this disadvantage as an advantage and leverage my position to expand my knowledge of other underserved populations and strategize further interventions for populations that are similar to my hometown."
After earning her undergraduate degree in 2019, Conner returned to Detroit for an AmeriCorps service year.
"I did environmental justice and sustainability projects with youth in Detroit Public Schools," she said. They planned a school garden project. The pandemic forced her to change plans; she delivered garden kits to students' homes instead.
Conner's experiences growing up informed her choice of master's program.
Public health told the stories of my life, my family, and my community."
"The research I was exposed to and what I was learning was more than just numbers and words," she said. "That's what made me want to take a deeper dive into the phenomena I was seeing, such as poverty, food deserts, and other high levels of health inequities."
The University of Michigan had been Conner's dream school, and the School of Public Health offered a second chance.
"I chose Michigan Public Health because I am very interested in research, and it is a top research institution," she said.
Social determinants of health is an important interest for her.
"The life course perspective is a public health theory I've gravitated to recently," Conner said. "It details how health is a cumulative reflection of your life experiences. It takes into consideration your family history, geographic location, and life events."
For her future career, Conner wants to combine health, research, and intervention, as well as be in the communities she serves.
"The world is much bigger than my hometown of Detroit, and there are far-reaching effects of colonization, racism, and oppression that infiltrate many major cities across America and around the world," she said. "As a public health professional, I plan to contemplate solutions to fill in inequitable health outcomes. One day, I hope to not only influence the health of marginalized populations domestically, but also globally."
---