From Taiwan to Ann Arbor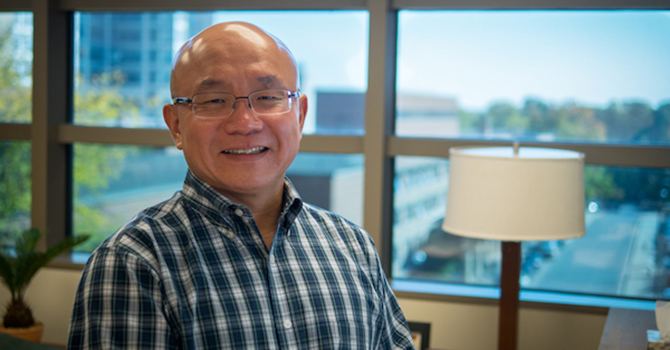 Shoou-Yih Daniel Lee
Professor and Associate Chair, Health Management and Policy; Faculty Lead, Griffith Leadership Center
From Taiwan to Ann Arbor
When Shoou-Yih Daniel Lee first arrived at the University of Michigan in 1990 to pursue a PhD degree in health management and policy, it was his first time in the United States.
Lee grew up in Taiwan, where he and his three brothers worked at the restaurant that his parents ran. He was the first in his family to graduate high school and the only one to attend college and pursue an advanced degree.
"I always felt hungry for knowledge," he says. "Pursuing an academic career was completely foreign to me. I didn't know anyone who had gotten a PhD. But I knew I wanted to learn."
Discovering Public Health
In Taiwan, Lee studied zoology in college. While he enjoyed classes like physiology, endocrinology, and biochemistry, he realized it wasn't the career path for him. He liked working directly with people more than spending time in the lab or in the field.
"I considered becoming a physician," he says. "But I didn't want to work with just one patient at a time—I wanted to have a greater impact."
That's when he discovered public health. He applied and was accepted to a Master of Public Health program in Taiwan. Upon completing it, he managed a hospital-based clinical biochemistry lab and worked on promoting newborn screening and other preventive health programs for about two years.
But his desire for knowledge only grew stronger. He wanted to learn more.
There were no PhD programs in public health in Taiwan back then—he had already reached the top of his field there—so he applied to PhD programs in the US, and decided to attend the University of Michigan. Soon, he was on his way to Ann Arbor for the very first time.
Learning a New Language and Culture
Upon arriving at Michigan, Lee says his English was so limited that he didn't understand conversations happening in the classroom. He would record classes and listen to them again and again.
"The assigned reading between classes would sometimes be one to two books," he says. "I had to look up almost every word in the dictionary, so I could barely finish seven or eight pages before the next class."
Moving to America was a cultural adjustment, too. "Football, sports, music—these kinds of things were really hard for me because I didn't grow up here," he says. "I started watching sitcoms just so I could make small talk."
The first semester of his PhD was difficult for Lee.
"I felt a lot of pressure," he says. "I borrowed a lot of money from friends and family to pay for my tuition. The possibility of failing and going back to Taiwan without a degree would be a huge disgrace to my family. Being successful was not just an individual thing—it was a family thing."
But by Lee's second semester at Michigan, things started to improve. He got his first A+, and he started getting used to expectations and the way learning occured inside and outside the classroom. His English began to improve.
Around that time he also began working with Jeffrey Alexander, then the Richard Carl Jelinek Professor of Health Management and Policy at Michigan Public Health. Alexander would eventually become Lee's advisor, mentor, and dissertation chair.
"Jeff was an extremely prolific researcher and a tremendous mentor," Lee says. "He brought me into one of his projects, and I started learning about research from him."
Lee soon developed a love of research that led him to pursue an academic career himself.
Returning Home
After graduating from Michigan Public Health, Lee went on to hold faculty positions at University of Illinois at Chicago and the University of North Carolina.
He then found himself back at the University of Michigan in 2010, where he filled Alexander's position when he retired.
"That was my greatest honor—filling my mentor's position as a tenured associate professor," Lee says. "Jeff was the person through whom I identify my career in academia."
With his return to Michigan came Lee's first experience of being the sole instructor for a master's level course.
"Teaching master's students gave me a second identity," he says. "Previously, I thought the way I could make an impact was primarily through research. The opportunity to design and conduct a master's course made me realize I could also make a difference by changing and improving students' lives, by shaping classes in a way that changed the way they thought about things."
In 2015, Lee had the opportunity to go back to the University of North Carolina to chair the Health Policy and Management Department at the Gillings School of Global Public Health.
"I had always been a student of management and organizations," he says. "I saw this as an opportunity to practice what I preach. I could test my theories to see if they had real-world value. It was also a chance to learn something different, to be in this leadership position."
This was when he realized a third way he could make a difference—by creating an environment that allowed people to do their best work.
After the passing of his beloved wife in February 2017, Lee came back to Michigan Public Health, where he hopes to use all three of his skill sets—research, teaching, and leadership—to make a difference at the school where his American academic journey began.
"Returning to Michigan felt like I was coming back home," he says. "Even though I grew up thousands of miles away, Ann Arbor has always felt like home to me."