Finding Balance: Health Care CEO Juggles Work, Family, and School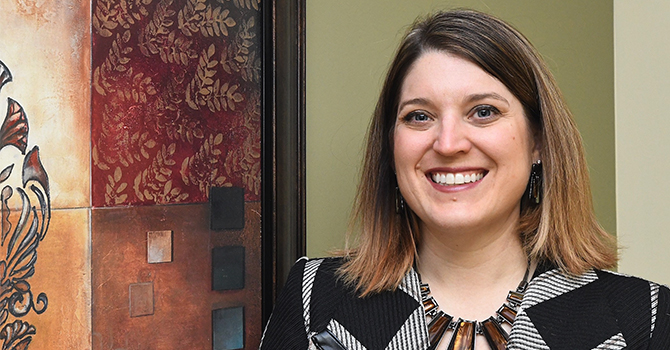 Alexandria Lueth
MHSA Candidate, Executive Master's Program, Health Management and Policy; CEO, Centra Care
Originally, I wanted to be an accountant. After getting my bachelor's degree in accounting and my CPA, I worked for Plante Moran, where I found myself auditing primarily for hospitals and long-term care facilities. I didn't have a specific interest in health care then, but that turned out to be serendipitous.
In 2012, I left Plante Moran to become the CFO at CentraCare, based in Battle Creek and Kalamazoo, Michigan. CentraCare is a PACE program, which is a national model that stands for Program for All-inclusive Care for the Elderly. I had worked with some PACE clients in my previous job, and I was specifically looking for a job at a PACE program because I believe deeply in the model of care.
Our patient population includes adults 55 and older who are sick enough to qualify for nursing home care. However, we are able to keep them at home with the help of an interdisciplinary team made up of doctors, nurses, social workers, physical and occupational therapists, dietitians, transportation providers, and others. We also offer an adult day center, rehabilitation services, and an outpatient clinic—all together in one location.
We have a capitated model funded by Medicare and Medicaid. That means we get paid a certain amount of money for each patient we serve, regardless of the health care services they receive. We're compensated on quality, not quantity.
I think this value-based delivery model is the future of health care. My dream is to someday make this model available to many more people.
Three years ago, I was promoted to CEO of CentraCare. My main priorities have been to strengthen the infrastructure of the organization and get the right people in the right job. We take care of very sick people and it can be very hard—health care workers experience a lot of fatigue. I believe in creating a good working environment, and I try to remove barriers that make it harder for people to do their jobs well.
I had wanted to get my master's degree for a while, but when I moved into the CEO role, I knew I needed to take the next step in my education. I have a strong financial background, but I wanted to strengthen my understanding of other aspects of the health care industry.
One of my favorite things about the program is the opportunity to learn from my classmates, who come from a wide range of pathways and bring so much expertise.
The Executive Master's Program in Health Management and Policy was a perfect fit because it combines online learning with face-to-face interaction and has allowed me to pursue my MHSA while continuing to work full-time.
One of my favorite things about the program is the opportunity to learn from my classmates, who come from a wide range of pathways and bring so much expertise. I especially enjoy the opportunity to take classes with physicians, whom I have learned so much from. I think we need to involve doctors more in health care administration. As leaders we need to listen to the people who are out there doing the work.
The program has broadened my perspective in many ways. For example, I took a public policy class. While I don't see myself legislating in the future, I do interact with legislators as part of my job. The class was eye opening. Now I know the basics of the political system and advocacy—I know how to figure things out and make the right connections.
Running an organization, getting my master's degree, and being a wife and mom all at the same time is challenging, but it's not impossible. It's about finding balance and managing your time—sometimes that means scheduling time to just be fully present and play with my 4-year-old daughter. I'm also grateful that I have a really supportive team, both at work and at home. I couldn't do this without them.