Giving the Best of Himself by Giving Back: Rashid Njai's Public Health Mission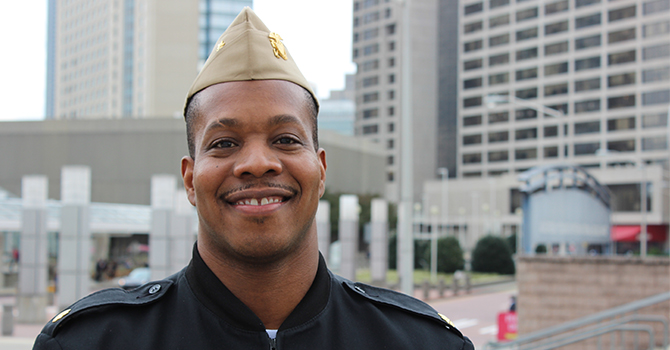 Lt. Commander Rashid Njai PhD, MPH
Centers for Disease Control and Prevention, Health Scientist; USPHS Commissioned Corps
Wherever Lt. Commander Rashid Njai's career takes him—from Michigan communities like Flint and Detroit to the frontlines of public health crises internationally—it is his drive to help people, an unwavering commitment to the truth of his calling and his science, that guides the course of his public health work. Grounded in a sense of altruism instilled during his time at Michigan Public Health, Njai's is "a 24/7 passion," an effort built on meeting the communities he serves where they are, and on putting their needs at the forefront of decision-making.
Complimentary roles—as a Lieutenant Commander in the US Public Health Service (USPHS) Commissioned Corps, a Health Scientist at the Office of Noncommunicable Diseases, Injury, and Environmental Health (ONDIEH) at the Centers for Disease Control and Prevention (CDC), Office of the Director, and former Epidemic Intelligence Service Officer—allow Njai to put that philosophy to practice each day.
"Public health is altruism," he says. "We are really here to serve other people and put other communities first—that's point number one."
A Harmonized State of Research and Science
Njai's work at the CDC touches populations large and small, bridging disciplines, research areas, and public health issues from chronic disease, mental health, injury prevention, and birth disorders to marijuana and alcohol use. At ONDIEH, he supports the Senior Advisor for Science in harmonizing the interactions of different CDC divisions and centers in the US and across the globe. His goal is to drive cross-collaborations and communication, honing research and practice efforts in communities with a special focus on the social and behavioral epidemiology of mental and physical health disparities.
Sometimes those collaborations span nations, and in an organization the size of the CDC, it can be a struggle for Njai and his colleagues to remain in step, to avoid a "siloing" effect in research and practice. Says Njai, "I think one of the biggest challenges at the CDC is that we often have so much on our plate it's hard to prioritize. Sometimes you can get tunnel-vision and only focus on the job and task at hand. When that happens, you have to remember that there are so many amazing scientists here, that you can learn so much from talking to other divisions. Even though you might be focused on asthma, when you talk to someone looking at HIV, you might be able to glean some very important ideas and apply them to your situation."
Asked how he manages the load, Njai turns to his Michigan Public Health education. "It reminds me of the work we did in Health Behavior and Health Education, when we were doing group work. You have limited resources, and limited time and really need to get down to the brass tacks of it all. It makes you realize you have to meet people where they are."
For Njai that part of the job is a continual learning experience, one that reminds him that public health work at its best is a constant exercise in humility and teamwork. "Ensuring collaboration in public health relies on humbling yourself—admitting what you know, considering how you can look at a problem in a different way, or just asking someone for help: 'Hey, can you collaborate with us on this?'
The Path to Public Health
When Njai graduated from Penn State University as a biology major, he knew he wanted to help people, but public health wasn't yet part of his picture. Active in community-based work, and the president of the Black Caucus during his time at PSU, Njai spent his undergraduate years searching for a path that would allow him to map meaningful social justice/policy work onto research. He wanted to be a scholar as well as an activist, but he didn't know how. At the time, medical school emerged as the logical choice, and his goal when he graduated as a Nittany Lion was to become a pediatrician.
But an interview at the University of Michigan, on his way to applying to the Master of Public Health program here in Ann Arbor, brought with it new possibilities, and the promise of a direction closer to the one he'd imagined for himself as a young college student. Chatting in person with Woody Neighbors, renowned researcher and Emeritus Professor in the Department of Health Behavior and Health Education (HBHE), he felt he'd found something special. Michigan Public Health was, as Njai puts it, "speaking my language." He knew then that public health was his passion. "I thought, I can help so many more people, I can have so much more impact. That's what sold me on public health."
A Special Place
With mentors like Neighbors and Professor Cleopatra Caldwell at Michigan Public Health, Njai discovered the "cross-cutting training" he'd been searching for, both as a master's student, and later, as a doctoral student in the Health Behavior and Health Education department.
"Michigan is a special place," he says, "I got trained in the school of psychology, school of sociology, school of education, and I even took classes at the business school. I was really trained in collaboration." With access to all those disciplines, Njai was always pushing his academic goals, criss-crossing Ann Arbor and the university with "18 credits, the maximum, every semester."
As a result, he came out of the PhD program a social epidemiologist, but with skills far beyond the title. "Now I am able to understand the distribution and impact of an epidemic, any disease, and, pulling my skills from HBHE and social epidemiology from Michigan, I can apply them to real-time public health emergencies."
Fighting Ebola in Sierra Leone
In 2013, that cross-cutting Michigan education gave Njai the tools he needed to face a particularly harrowing, and personal, challenge. In his role as an USPHS officer, he traveled to Sierra Leone, his father's birthplace, where he spent 30 days during the height of the Ebola outbreak.
"It was a return home for me, and my father was there during the outbreak." With his father at his side, and "a cultural leg-up, being able to be recognized as a countryman," Njai drew on the skills he'd honed at Michigan in the midst of the active crisis. "I am able to understand the distribution and the impact of an epidemic and disease, and with my skills from HBHE and social epidemiology from Michigan, I was able to apply those real-time to a public health emergency."
Looking back, Njai calls his time in Sierra Leone "one of the hardest things I've ever done, but one of the most rewarding." When he returned to the US, Njai admits he was emotionally exhausted, but found fulfillment and hope in the impact he knew he and his colleagues had made.
"When I left Sierra Leone, there was a part of me that felt defeated because the epidemic was still going on, but I know the work I did made an impact and helped a group of people that are still impacted." With the support of his colleagues at the CDC—part of a "village mentality" he compares to Michigan Public Health—his training and commitment as a public health first responder helped him process the profound experience. It was a picture of public health action Njai carries with him in all he does, at the CDC and elsewhere. "The public health work we do, even though we may not notice it in the moment, when you look back, it always has a tremendous impact."
Giving Back
When he isn't on the CDC's campus in Atlanta or deployed with the USPHS, Njai's focus rests both on family—he and his wife welcomed a baby girl in 2017—and the cultivation of future generations of public health leaders. "It's about giving back," he says. "It's about continuing that bridge, bridging back and bringing on the new cadre of public health professionals. I'm where I am because of great mentors." To that end, he teaches public health courses at Morehouse College's Biology Department/Public Health Sciences Institute and supports community and youth empowerment activities across his home city of Atlanta.
All the while, Njai remains a Wolverine at heart, never far from the supportive Ann Arbor culture that inspired and trained him. "Whenever I get to different cities, I always have a Wolverine to reach out to to talk science, and to talk life. We're everywhere—everywhere in public health. When you say 'Go Blue' down the hallway at the CDC, you're going to hear 'Go Blue' right back."