Bridging Public Health and Urban Planning to Build Healthier Cities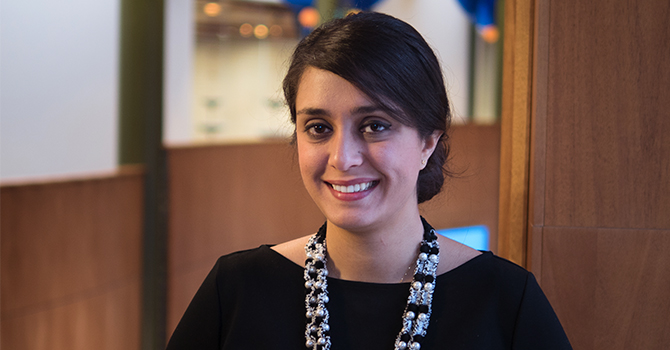 Roshanak Mehdipanah
Assistant Professor, Health Behavior and Health Education
When Roshanak Mehdipanah talks about cities, you can hear the excitement in her voice.
"Cities are actually living organisms," says Mehdipanah, an assistant professor of health behavior and health education at the University of Michigan School of Public Health. "They are constantly changing, and that's normal. But we can direct that change toward benefiting people rather than harming them. Those are the opportunities that really get me excited."
Mehdipanah was born in Tehran, raised in Toronto, and did her PhD in Barcelona. Her fascination with cities has taken her across the globe, both for work and pleasure.
A Desire to Learn More about Detroit
After completing her PhD, she went back to Toronto and started a consulting firm focusing on urban planning and public health. A few years later, when she learned about an opportunity for a faculty position at the University of Michigan, it immediately piqued her interest.
"I have always been really interested in learning more about the city of Detroit," she says. "It's one of those cities that has experienced many changes, but through it all, the community component has remained really strong. Community is the driver that makes programs successful and sustainable. I wanted the opportunity to come to Detroit and do that work, and I knew a position at Michigan would allow me to do that."
In a project funded by Poverty Solutions at the University of Michigan, she and her colleagues are looking at ways to improve access to Detroit's Homeowners Property Tax Assistance Program, a poverty tax exemption policy that aims to prevent tax foreclosures for low-income families across the city.
"We are working to frame how the prevention of tax-foreclosures not only saves families from eviction but also helps maintain neighborhood stability and reduces costs associated with blight and vacancy that further burden the city," she says.
While the desire to work in Detroit brought her here, the university's interdisciplinary nature is one of the things that Mehdipanah loves about Michigan.
"My work is all about collaboration, and Michigan makes it easy to do that," she says. "Mcubed encourages it, grants like Poverty Solutions are focused on interdisciplinary work, there are definitely the mechanisms here."
Building Cities with People in Mind
Whether it's researching the connections between housing and health, going to city development meetings, or teaching students about healthy built environments, Mehdipanah is committed to bridging the gap between public health and urban planning.
Are we building cities for the sake of buildings, or are we building them for people?
In fact, the two fields are inherently interconnected, she explains. For example, some cities seem to be constantly constructing new skyscrapers. But tall buildings block sunlight, and lack of sunlight exposure is a major cause of depression, Mehdipanah says.
"It used to be that it was acceptable for an urban planner to talk about public health issues, but not the other way around—often because the money is on the development side," she says. "But that approach misses an important perspective. Are we building cities for the sake of buildings, or are we building them for people?"
Fortunately, Mehdipanah says, that attitude is shifting. And the University of Michigan is doing its part to create more collaboration between these disciplines.
In 2017, the university began offering a Graduate Certificate in Healthy Cities, which gives Michigan graduate students the professional skills and competencies to promote human health in urban contexts. The program brings together students from Michigan Public Health, the Taubman College of Architecture and Urban Planning, and the Ford School of Public Policy.
Mehdipanah, one of the program's five faculty mentors, says she wants students to master the basics of what makes a city run and use that foundation to assess the human elements of urban planning, including public health concerns.
"We think it makes sense for public health researchers to be involved and engaged with urban decisions from the earliest stages of planning, as early as the initial planning conversations," she says. "And we want to prepare our public health students to step right into those processes."
What We Can Learn from Benches
Sometimes the intersection of urban planning and public health is complicated. Other times it's right in front of our eyes. For Mehdipanah, looking at a city's benches can tell you a lot about its priorities.
Some cities put bars in the middle of benches to prevent homeless people from sleeping on them. "These are band-aid solutions to bigger issues," she says. "Rather than helping homeless people, cities are taking away places to sit."
When Mehdipanah was living in Barcelona from 2010 to 2014, the city began replacing its long benches with pairs of individual seats that were about three feet apart.
"In Spanish culture, older men and women love to sit on benches chat and watch others," she says. "They were a kind of security system. They know everyone—if someone they don't know comes into the neighborhood, they tell everyone."
"Once the benches were replaced, the older couples stopped sitting on them because there wasn't much room and when there was, they couldn't sit close enough together to hear each other," she adds. "So, you've taken those eyes off the street, creating the potential for crime to increase."
As a public health practitioner, you need to learn to be creative. There are so many hurdles. If you're not able to be creative and work around those, you're not going to be successful.
Creativity and Compassion in the Classroom
When teaching the next generation of public health leaders, Mehdipanah stresses the importance of creativity.
"As a public health practitioner, you need to learn to be creative," she says. "There are so many hurdles. If you're not able to be creative and work around those, you're not going to be successful."
"In urban health, you don't always know who is sitting at the table with you and what their values are. You need to be able to think on your feet and adapt to the needs of your stakeholders. I try to teach those skills. Many of my students already have the research skills, but these other soft skills will help set them up for success."
Mehdipanah says she has also learned a lot from her students, particularly when it comes to inclusion and compassion.
"I have learned the importance of seeing past the student and understanding what has happened in their lives before they came to Michigan," she says. "It makes me more aware of some of the topics I cover in class—that one or several of my students may have been impacted by issues like housing insecurity, discrimination, or gentrification."
Before every class, she asks her students to write a paragraph about the topic they will be discussing and any personal connection they might have to that topic. "I feel honored that many of my students have decided to share openly with me in those paragraphs," she says. "I always provide opportunities in class to discuss some of these reflections —if they are comfortable—and they often do. Books can only teach you so much. You learn a lot more from hearing other people's lived experiences. It really elevates the discussion."
And it reinforces her drive to help build cities that promote health for all residents.