Future Physician Discovers the Power of Public Health Training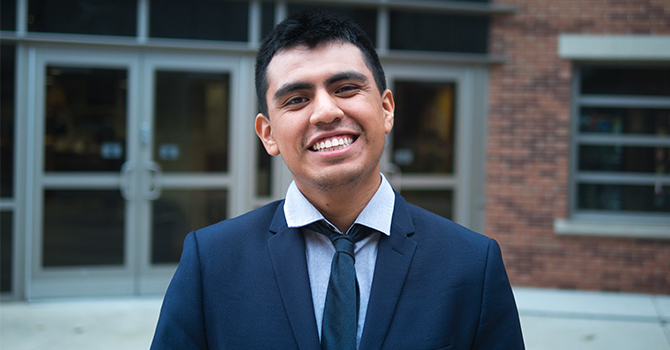 Edward Arenas
MPH Candidate, Epidemiology
I've always wanted to be a doctor. While at the University of Rochester, I was pursuing a biomedical engineer degree. But I took Introduction to Public Health as an elective. I didn't know what public health was, but I came to understand that it was about preventative population health instead of individual treatment. I thought that it was pretty big and impactful.
My interest in health comes from my own experiences with my family. My younger sister had osteomyelitis, which is an infection in the bone of her ankle. She is fine now, but watching what she went through while we were both young was scary. As she went through physical therapy and learned to walk again, I thought it was so interesting to see how medicine helped her. Later on, my grandfather moved in with us. He was a type-2 diabetic. My mom and I provided a lot of care for him, and I really wanted to learn more about what I was doing for him. From there, I started volunteering at clinics and helping out where I could.
Public health really clicked for me right away. From a medical standpoint, you have the patient information, but understanding population risk factors could help them avoid health issues, and I realized that's something that I could implement as a physician. I was able to get research internship experience at the Crohn's and Colitis Foundation in 2015. While there, I took a little dip into the water of public health, and it made me want to jump in.
Then I experienced the Future Public Health Leaders Program (FPHLP) in the summer of 2016 here at Michigan. During my time in FPHLP, I worked with Wayne County Head Start. I was able to make personal connections with public health professionals, and that made me think Michigan could be a potential landing spot for grad school.
I didn't originally have plans to move to the Midwest, but I am happy to be here. I was excited to come to Michigan after my experience in FPHLP. I knew there would be a lot of opportunities here. Plus, everyone is really friendly. In New York, people don't stop to say "Hey, how are you?"
I was a part of the PHAST (Public Health Action Support Team) team to deploy to the Virgin Islands in November. Overall, I had a wonderful experience and it was a privilege to visit the islands and work with the CDC. I was in awe of how government agencies collect and analyze their data. These types of skills are key to being a professional in the public health world. This experience also strengthened my communication and public speaking skills because I was able to speak genuinely with the island residents. While I still think there is plenty of work to be done at the island, I found it remarkable the amount of hope and unity the people have.
One of my dreams is to run my own hospital. I originally wanted to work with health disparities, diabetes, and Latino populations, but now I'm shifting more to understanding how a hospital system works from the perspective of my background in epidemiology.
Being open-minded in public health is important because the field is so broad and things are always changing. I've taken a piece of all of my experiences with me and that's gotten me to where I am today. I'm not sure what kind of medicine I want to go into, but my public health background will help me analyze populations and will make me a more skilled physician.