You Have Health Insurance—Is It Working for You? The Burdens of Access, Money, and Stress in Managing Care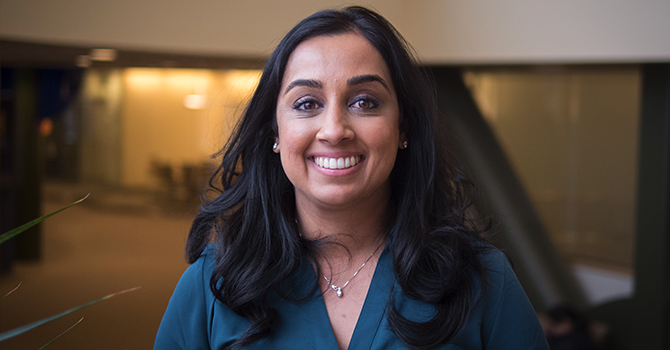 Minal Patel
John G. Searle Assistant Professor of Health Behavior and Health Education
Minal Patel first gained an appreciation for the complexities patients with chronic disease face while working with them in situations where other forces made decision-making challenging.
As an undergraduate at the University of California (UC)-San Diego, Patel worked at a sleep clinic at the UC-San Diego Medical School. She worked with clinicians to analyze home sleep tests of people with sleep apnea and assisted them in helping patients get started on their continuous positive airway pressure (CPAP) therapy.
Interacting closely with over 500 patients in the span of a few years gave Patel new insights into chronic disease management. She observed two remarkably consistent themes: "First, people had a hard time committing for life to this beneficial and non-invasive treatment. Second, getting the medical equipment associated with treatment was incredibly challenging for people despite having health insurance. And the difficulty in access to equipment was not isolated to people with fewer resources."
A spouse of a patient—someone Patel knew had financial resources—saw his elderly wife benefiting from CPAP therapy and did something she will never forget. "He bypassed the front desk staff one day and stole one of our trial machines because he felt his wife's life depended on it and insurance was delaying them from having their own machine," she remembers.
These experiences deepened Patel's motivation to pursue a career in public health, where she could work on practical, scalable solutions for individuals to manage their health care efficiently and with dignity. "What I saw in those clinical settings planted a seed for my profound curiosity around access to care, navigation of care, and chronic disease management. I developed a desire to unpack these problems and to provide solutions that would have broad impact," she says.
Patel's coursework at UC-San Diego also reflected her growing passion for public health. She was drawn to courses focused on sociology, behavioral psychology, and social issues. "My next step was to pursue a master's degree in public health, and that's what brought me to Michigan."
Planting Roots in Michigan
Since Patel arrived in Ann Arbor in 2006 to begin her MPH, she hasn't left. "Coming to Michigan from California, I felt extremely welcomed at Michigan Public Health, from admitted student day through the entire program," says Patel. "I enjoyed working with and learning from my advisor, Noreen Clark, so much that I applied to do doctoral work here with her."
Clark was a former dean of the school and was the Myron E. Wegman Distinguished University Professor of Public Health. Connecting with experts and mentors like Clark and other colleagues has enriched Patel's professional journey. "I'm surrounded every day by people I can learn from, not only here at the school but around the university and region. It's exciting to work here, and we have lots of resources to do our work," she says.
Patel's research focuses on how to optimize health care for patients, especially those living with chronic disease. One in two individuals in the US now manages a chronic disease, and one in four manages multiple. Most chronic diseases require long-term management with complex therapeutic regimens that include routine self-monitoring and follow-ups with health care providers.
Patel has led multiple studies looking at financial burdens as barriers to chronic disease management. "Individuals with chronic disease may be burdened by making decisions about sick days and difficulties managing health insurance—time-consuming things like correcting erroneous medical bills, general financial stress from housing costs, paying monthly bills, maintaining a healthy standard of living, and food insecurity. All are things that contribute to financial burden," Patel explains.
Simply worrying about finances can impact a patient's ability to complete their treatment, even when it is fully covered. "Scientific literature on psychology and stress shows that patients' perceptions of their own life situations largely influence behavior and outcomes in care," Patel says.
Patel tested this hypothesis in two studies that used asthma management as a case condition. She found that perceptions of financial burden were associated with poor outcomes regardless of access to care and available resources. "Those who perceived financial burden," she says, "also reported lower quality of life, more urgent health care visits, and poor disease control, regardless of their type of health insurance."
Better Communication Means Better Care
Patel's work pushes us beyond the idea that simply having health insurance makes people healthier. "We often think of health insurance as a quick fix, that simply by making insurance available, we will easily improve health for people with chronic disease," she says. "But access is much more complex than that. We still have a lot to do at the policy level. But in the meantime, how do we use insurance effectively and obtain health resources not traditionally covered by insurance? That's where behavioral approaches become really valuable."
She focuses on developing and testing interventions that improve communication and navigation between care teams and patients. "Health care provider training has historically prioritized skills in diagnosis and treatment above skill development in communication and patient-centeredness," Patel explains.
Patel's work underscores the need to identify, discuss, and address health-related financial burden in clinical encounters. Those conversations might occur directly between patients and providers or in other ways and at other times during the clinical experience.
"If we can develop effective interventions that work well for those who need them most," Patel says hopefully, "then we can improve outcomes for people managing chronic disease."