Navy Veteran Pursues Career in Nutritional Sciences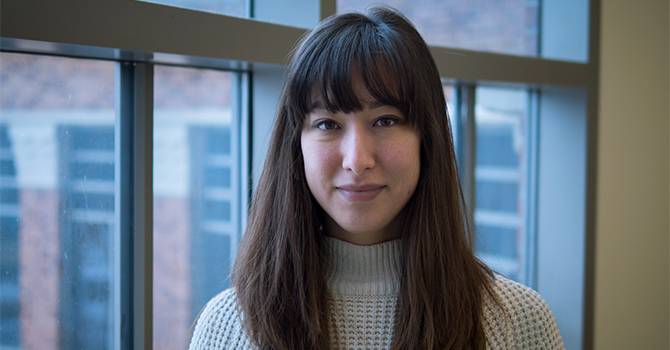 Isa Kujawski, MPH '18
I joined the Navy when I was 18. I didn't have family in the military, and it was never something that had crossed my mind. I was doing some soul searching, and one day I received a brochure in the mail. I didn't know what I wanted to do with my life at that point, but I was interested in the opportunity to see the world and do something different. So I thought, what have I got to lose? It just clicked, and I knew my path was set.
During my 9 years of active duty, I lived in many different places and traveled a lot. I was stationed in Korea, San Diego, and Washington, DC. I also had the opportunity to travel to locations such as Okinawa, Guam, Iraq, Nepal, India, Thailand, and Germany, among many other places.
I've always had a passion for health, wellness, and mental wellbeing. In the Navy, I saw colleagues—even some of my mentors, and sometimes myself—struggle with work-life balance. We were working really hard, but our health and wellbeing were taking a backseat. I knew health was a relevant issue that needed more attention.
I love how nutrition—something we do every day—can have such an impact on our wellbeing in so many different ways.
I'm especially interested in the connection between nutrition and mental health. Common mood disorders such as depression and anxiety are not acknowledged as often as things like the cold or flu. I like looking at these issues from more of a physiological versus an illusory standpoint. Your brain is part of your body and, just like any other organ, it can get sick. What you eat has a direct connection to that.
When I decided to pursue grad school, the University of Michigan was an obvious choice for a number of reasons. Not only is it one of the top public health schools in the country, but it also has a vibrant culture composed of so many great and talented individuals. I'm also close to my mom geographically, which wasn't always possible when I was in the Navy.
I was excited to go to a school like Michigan, since I didn't have the traditional undergrad experience. I love the spirit, energy, and pride that ebbs and flows with the seasons.
I've met many people at Michigan Public Health who have backgrounds that have forced them to overcome challenging odds to be here. That's been very humbling to me.
I have been so impressed by everyone here. There's an air of intelligence but also openness. Everyone lifts each other up.
Last summer I interned with the department of Innovation and Social Entrepreneurship. The internship was focused on using design thinking to help get faculty research into the real world in a scalable way.
During my internship, I worked with Dr. Ken Resnicow, a professor of health behavior and health education who does research around motivational interviewing, which is becoming more widely adopted as a counseling technique for patients. Exposing myself to entrepreneurial frameworks helped me view problems from a new lens.
Eventually, I'd love to start my own business and spread the message of health to a wide audience through writing, podcasting, or other media. I'd also like to develop workshops around health and wellness for communities of high stress that traditionally don't have a focus on health as part of their everyday culture, such as police, firefighters, and veterans who suffer from PTSD.
---
Catching Up with Isa
We caught up with Isa Kujawski in the fall of 2022 to hear about her journey and ask if her perspectives on Michigan Public Health had evolved. Here's what we learned –
Isa chose Michigan Public Health because of its remarkable reputation, and because of U-M's track record of interdisciplinary excellence. Isa wanted to be surrounded by like-minded people who would inspire academic and developmental success, and "that is exactly what I got out of my experience."
Just after graduating from Michigan Public Health, Isa was in nutritional private practice as well as functional dietitian for veterans with TBI/PTSD. Now she owns her own nutrition business; Mea Nutrition LLC.
Her passion leads her to help people improve their mental health through functional nutrition. She says her passion has not changed very much; she came into this field with a focused, purpose-driven passion.
---