Collaborating Across Campus and Across the Globe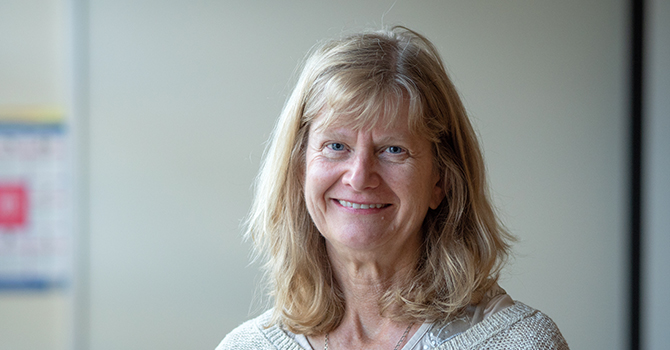 Zora Djuric, MS '80, PhD
Research Professor, Nutritional Sciences; Research Professor in Family Medicine, University of Michigan Medical School
I was trained in Toxicology at Michigan Public Health. The focus of my work was on how chemicals can cause damage that leads to cancer, and early in my career I developed an assay for oxidative DNA damage. That really kickstarted my academic career and provided a biomarker of cancer risk that can be useful is short-term studies. Cancer research is a difficult arena to work in for any researcher because cancer develops over such a long continuum. It turns out that chemical exposures are not the only way DNA can become damaged. There are also normal cellular processes that form damaging metabolites, and good nutrition is one way to minimize that. I am currently studying the interactions between dietary quality, cancer, and obesity.
A big challenge in cancer prevention research is how to optimize preventive strategies in the face of widespread obesity. Two-thirds of the population in America is obese. We know obesity increases the risks of a dozen cancers, so what can we do about it? A key is to look at adiposity in a more precise way. BMI is only a rough measure. Body builders, for example, have a high BMI but very little adipose tissue. We like to look at whether body fat percentage is above a range that is considered to be healthy, and the distribution of body fat. In addition, it is useful to look at metabolic health using blood measures such as cholesterol and glucose. All those factors are important in contributing to the inflammatory stresses that are known to increase the risk of cancer.
I have a joint appointment in the Nutritional Sciences department at University of Michigan School of Public Health and the University of Michigan Medical School's Department of Family Medicine because my research is so nutrition-oriented. For me as a researcher, being part of both schools is an important resource on many levels. I get to work with both clinicians and researchers in different departments, and with different skill sets. I look forward to collaborations across disciplines because it broadens my research into new areas that I might not have anticipated on my own. The lifelong learning is a big part of what makes research so exciting. The interactions we have are always valuable and keeps you coming up with new ideas.
The Fulbright Global Scholars Program is a huge opportunity to form international collaborations. When you're submerged in a different culture, where people have very different values and ways of doing things, you start to think differently and that's a very good thing. As we move towards a global community, we're going to have to work with people that have different views, different problems and different needs than we do. Having a deeper understanding of what that means helps us facilitate those collaborations. This program exposes you to the cultural aspects of working together with people in other countries, which is hard to do by email or web-based meetings.
My Fulbright projects span three countries, and they're all related to nutrition. I was able to identify researchers at locations in Guatemala, Serbia, and Australia who conduct research that overlaps with my interests. The challenge, however, is that the projects have a very short time frame - only one to two months at each location. My colleagues and I are working very hard to maximize the time available in each country. The goal is to at least one paper at each site. We're all interested in continuing our collaborations, so the papers will serve as the first step in a longer-lasting partnership and hopefully to grant applications. All three countries have potential not only for research, but also for the exchange of students, so I think that provides a lot of opportunities down the road. Now that I'm building these connections, I'll be able to help facilitate exchange of students and postdoctoral fellows. In summary, I view my research visits as a starting point for much more to come!