Working to Ensure a Healthy Workplace and Environment at the University of Michigan and Beyond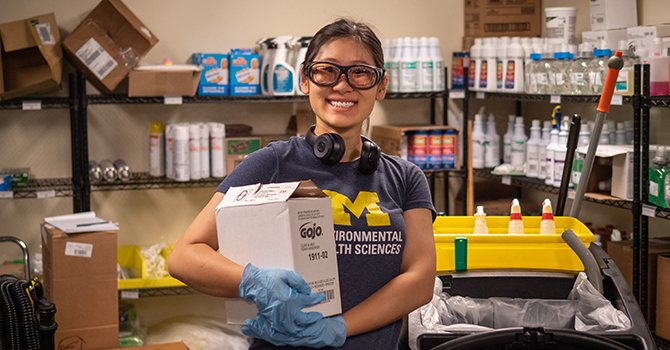 Xin Zhang
Master's Student in Environmental Health Sciences, NSF International Global Scholar
I was a nursing and psychology dual-degree student in my undergraduate years. In that framework, I was really focused on individuals — their health and their safety. But I realized that in those fields I could only focus on a small amount of people at any time. In my work, I'd like to deal with more people and make a bigger impact. With occupational health education, I can do that in the US and, someday, in China. The nurses in the Chinese health systems work incredibly hard every day but their health and safety issues are ignored. Bloodborne pathogens, back problems, and stress are all problems they face daily, but there aren't a lot of people trying to help them. I'm trying to figure out what I can do for them with my public health education.
It's been a huge jump from studying nursing to studying industrial hygiene and public health, but occupational diseases and toxicology are the bridge between those two disciplines.
My favorite course at Michigan Public Health so far has been Toxicology with Justin Colacino because the coursework is really related to the diseases I studied as a nursing student. It's been a huge jump from studying nursing to studying industrial hygiene and public health, but occupational diseases and toxicology are the bridge between those two disciplines. We learn how diseases are developed, how people get sick, and how we can protect them — whole populations — from those diseases. I couldn't do that as a nursing student. I couldn't really prevent disease, only treat it. So far at Michigan it's been those types of medically-based classes that I love and I want to take more of them.
I'm doing an internship at the University of Michigan's Environment, Healthy, and Safety department, working to ensure a healthy workplace and environment for staff, faculty, and students on the Ann Arbor campus. Most of the time that means I'm out using noise-monitoring equipment like a dosimeter or a sound level meter to measure noise around construction workers. Plumbers, carpenters, electricians — I work with all of them, and they're all both friendly and appreciative of what we do to help keep them safe. On a typical day, we place a dosimeter on a worker's clothing as they work for 8 hours, and then afterwards we go back and see what the noise level is that they're exposed to during their day-to-day activities. We also investigate and test the instant sound levels of certain tasks following worker complaints. If noise levels are over a certain number, we know that we need to take some action, like requiring workers to use dual hearing protection. We also enroll those exposed to high noise levels in the OHSA Hearing Conservation Program at the University. Beyond testing, with EHS I've also worked on indoor air sampling, health communication materials for campus, and improving confined working spaces.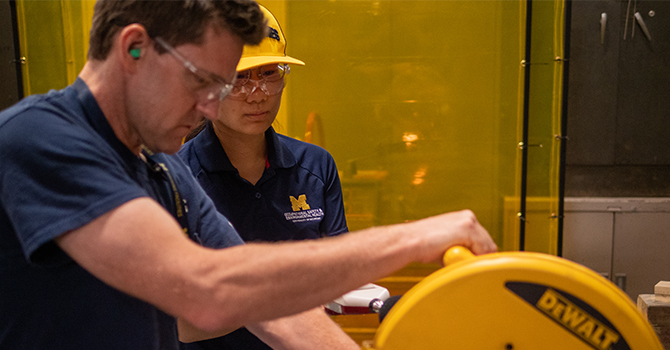 Before I came to Michigan, I wasn't a football fan but now I am. I've really come to love the sport and I adore the environment. I go to almost every game each season. As part of my work for the Environment, Health, and Safety department on campus each year, I actually do food and safety inspections for football games at the Big House, checking in on concessions and other parts of the stadium. Many people don't think about it, but the University has a special team that goes to each concession stand and tests the food temperature to make sure it's in a safe range. They also check the sinks and cooking equipment, and make sure cleaning chemical concentrations are in approved ranges. One of the best parts of that job is that when I finish my inspections, I get to watch the games - sometimes from the press box!
My biggest challenge as an international student at the University of Michigan is the language barrier and sometimes the culture. It has been an adjustment and it can be difficult to make real friends here, but student groups like the UMIHSA (University of Michigan Industrial Hygiene Student Association) have helped. With UMIHSA, we get to do things like the Hazwoper training every year, which is a pretty cool day when we travel to the state police station in Lansing, Michigan to train alongside state officials. Hazwoper is an abbreviation for 'hazardous waste operations and emergency response,' a set of guidelines produced and maintained by the occupational safety and health administration that regulates hazardous waste operations and emergency services in Michigan and the US. Outside of UMIHSA, I just love everything about campus. I especially love the snow.
I love to drive, and one of my favorite things to do is to go on road trips to national parks. This past summer I did a road trip all the way to Florida in a big loop, and along the way I visited more national parks than I can actually remember. My favorite National Park so far has been the Great Smoky Mountains National Park, along the borders of Tennessee and North Carolina. The views of the mountains are incredible, and seeing the sunset is something I'll never forget. Sand Dune National Park in Colorado was also wonderful. I went there in the winter so there was snow and sand at the same time, something I'd never imagine. I completed the trip with my boyfriend at the time, and now he is my husband.
My next step is to become an industrial hygienist. I would prefer to stay here in the United States and work, because I've learned the regulations inside-and-out and I would like to see how our systems put them into practice to protect workers in different industries. I think, overall, there is more emphasis on workplace safety and health in the US than there is in China right now. Once I'm further along in my career, I will think about going back to China and to work as an advocate for better industrial hygiene standards for healthcare workers, including doctors, nurses, and community providers.