Room to Grow: MPH Student Is Discovering Interests with Generalist Program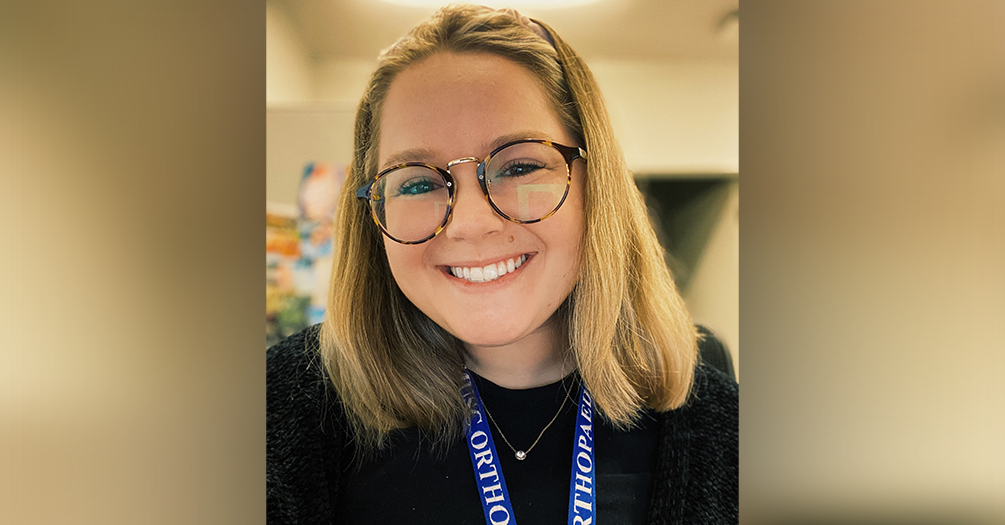 Erin Wilkie
Master's Student, Online Population and Health Sciences Degree Program, Research Coordinator at the Medical University of South Carolina (MUSC)
After completing undergraduate work in public health, Erin Wilkie was eager to continue to live and work in the new home she made in South Carolina. She had gotten a great job in the health field, working as a research coordinator within the orthopedic department of the Medical University of South Carolina (MUSC) but knew she wanted to continue taking steps to grow in her career and find out what she felt passionate about. Erin is now in her second year as an online MPH student in Population Health Sciences. Without uprooting her life, she says she's finding direction in her career, gaining practical experience, and building the professional network that she'd hoped for.
What made you want to continue to pursue an advanced degree in public health?
In undergrad, I was interested in doing exercise science or athletic training, but I realized those were very narrow fields with specific career paths. When I found public health, I found a perfect outcome. I wasn't totally sure where I wanted to end up but I knew public health would set me up with a lot of career options. Having a lot of options was still important for me as I considered pursuing a master's degree.
When I took my current job I knew it would be transitional: I would stay a few years and discover where I really wanted to go. I realized earning my MPH was actually the real next step that would get me closer to finding my dream job.
I found Michigan Public Health's online MPH, and liked how it could fit into the life I had already begun to build. I also have family connections to the University of Michigan and heard stories about the advantages that a Michigan education provides. I went to a smaller school for undergrad and the alumni base isn't as strong or as well connected. I was interested in taking advantage of Michigan's broad and connected alumni network along with the excellent education. The promise of connection was especially important to me given that I would be a few states away, participating online.
I learned how to advocate for a community, as well as work with other organizations towards a common goal.
What kind of work are you doing in your MPH program and how is it helping you better discover your interests in the field?
Getting to understand the real-life applications of what we're learning is an exciting aspect of my program. At the end of my first year we did a learning simulation around the opioid epidemic in Ohio for our Population Health class. We were able to take on the role of a public health professional in a community, looking at the community's population and figuring out how to best network our resources and connections to address the opioid problem in the given situation. We learned about their role and decided our actions as if we were that person.
This simulation really opened my eyes to the importance of collaboration and networking across agencies when it comes to addressing a complex problem state-wide or even nation-wide. I learned how to advocate for a community, as well as work with other organizations towards a common goal. For me, the project really did represent real-life situations that you would be in as a professional. It has been my favorite assignment in the whole program, and I will take the experience with me for the rest of my career.
The faculty have also helped enormously. Faculty members really do their best to support us in our interests and have even helped me to better articulate my career aspirations. They encourage us in so many ways, by providing us with connections, offering tips to help us take full advantage of the program, and even helping us find good collaborators for our capstone projects.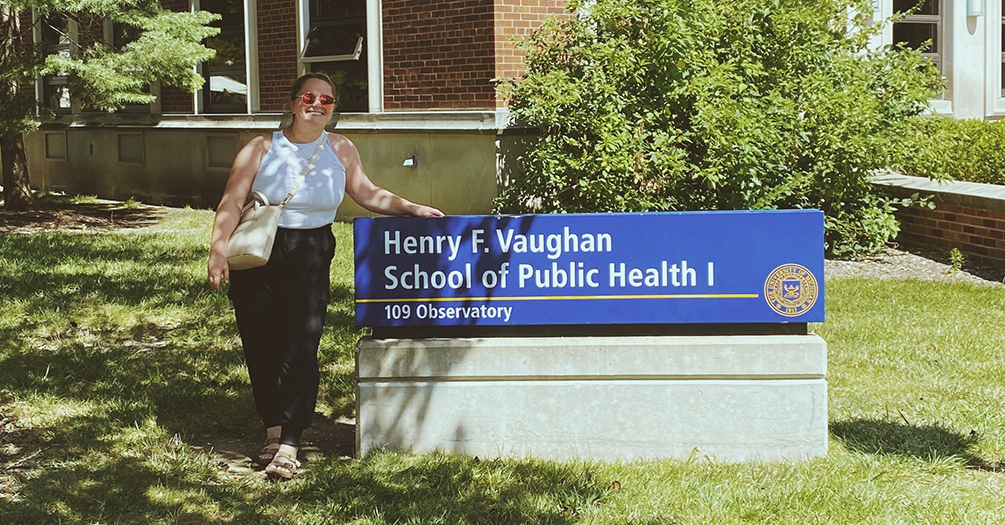 Erin visiting the School of Public Health in-person. | Photo courtesy of Erin Wilkie
As a working professional in a health-related field, how do you see what you're learning playing into your current role?
I am a research coordinator in an orthopaedic surgery department at an academic institution. My role involves research where I work closely with our surgeons and other physicians. I also explore how we can make improvements around patient care and patient education in our clinic. In a very practical way there have certainly been instances where my learning has played out in my job.
My research also involves long-term follow-up with our patients on their joint replacements. The reasons we have lost follow-up with patients are wide ranging but I've seen that they reflect what I'm learning about related to social determinants of health. For example, part of the reason for loss of contact might be our patient education, something like they don't know that they need to be checked up on every couple of years; or it could be something like not having access to transportation to be able to get the necessary care that they require.
That's just an example that I've seen in this role. It's made me realize that there are other, broader things that we can address in our specific clinic, besides a single patient's shoulder pain, for example, which illustrate the importance of understanding the social determinants that affect the populations we work with.
What's been exciting about learning and working is that I'm able to ask the physicians I work with about how things that we're learning in class apply to them in their practice − getting that added insight is pretty awesome. For example, with the opioid epidemic project and learning about the policies behind that, I was able to ask some of the physicians that I work for how the policies work differently in South Carolina versus Ohio, as well as ask them questions about their own thoughts on the issue.
I have been able to make connections with several of my peers who have provided endless support throughout the program.
You chose Michigan Public Health partly because of the network you hoped to build. Have you been able to build connections like this so far?
My time with the University of Michigan has already provided me with numerous peers and mentors to collaborate with, across different areas of the country and in many different career fields. I have been able to make connections with several of my peers who have provided endless support throughout the program. Being in a cohort that's never in-person encourages you to lean farther into collaborating with peers for help when you need it. Since we are all reaching for similar goals, we can provide each other with resources that only someone from across the country would even know of.
Simply getting to learn about things that other people in the cohort might be working on professionally has been so cool. For example, one of the people in my cohort works in the Georgia State House, and it's been amazing to hear from him about how things work within the government related to the public health issues we're discussing in class. In the classroom, we often consider policies that could get passed to do things like address disparities or make public health more accessible, but he's able to share with the rest of us how specific policies and programs really work and the challenges and successes in the real world. It's awesome to see people doing this work in real life and seeing how people in my cohort are taking this program and really applying it to their jobs or things that they see in their day-to-day life.
That's something I appreciate about the program overall: everyone is coming from a different area in the workforce so that you're really able to get so many different perspectives on a lot of issues from this amazing group of people.
Last spring Erin "took-over" the School of Public Health Instagram to share a "Day in the Life" of online student. View the story here.
---