Environmental Health Sciences Student Looks for Sustainable Climate Solutions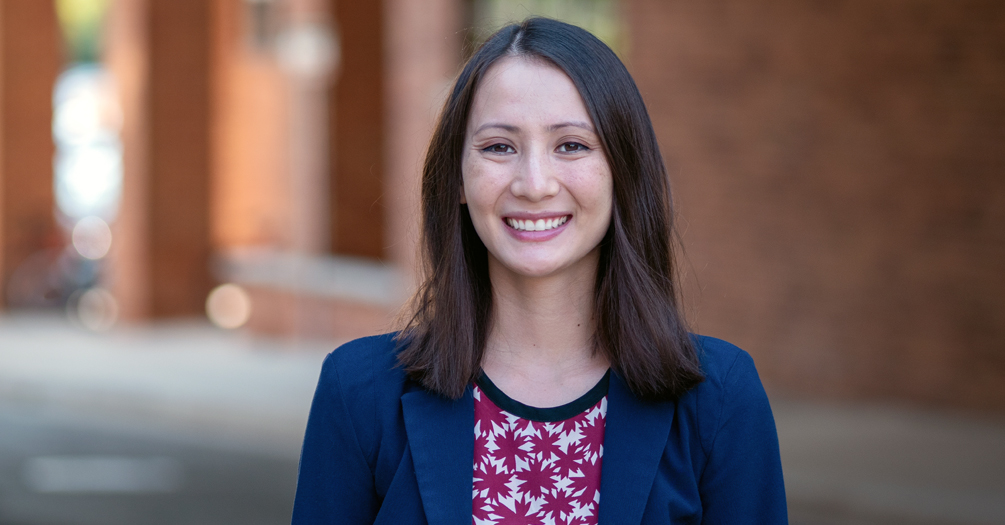 Lauren Balotin
Master's Student in Environmental Health Sciences, Dennis Paustenbach Scholar, Gelman Global Scholar
Lauren Balotin grew up in Atlanta, Georgia. "A bit far from Michigan," she notes, "but not too far."
As an undergraduate, Balotin studied environmental science. But with the Centers for Disease Control and Prevention in town, environmental health was never far from her mind. She completed an internship at the CDC and began to consider graduate study in public health.
"I chose Michigan for the Environmental Health Promotion and Policy track at the School of Public Health," Balotin says. "I get to take classes in environmental health, health behavior, environment and sustainability, and public policy. My degree is definitely about environmental science but also about applying it to policy and communications. I don't know of other environmental health programs that have all that."
Mental health is an understudied area. Few countries are talking about it compared to other health risks associated with climate change.
Balotin's main interest is understanding the health impacts of climate change and helping communities in developing countries adapt. In the summer of 2021, she did an internship—funded by the school's Office of Global Public Health (OGPH) and conducted in a fully remote way—at the United Nations Framework Convention on Climate Change (UNFCCC). She worked with a mentor to analyze the national climate plans various countries are producing as they work toward the goals of the Paris Agreement on climate change.
Balotin reviewed what each country said about climate-related health risks and health adaptation strategies and did quantitative and qualitative analyses of the risks and strategies that came up most often. Among the top climate change and health risk concerns were: vector-borne diseases, heat-related illnesses, malnutrition, and injury or death from extreme weather events.
Balotin's team also addressed mental health issues, such as those related to extreme weather or forced migration due to rising sea levels and other factors. "Mental health is an understudied area," Balotin says. "Few countries are talking about it compared to other health risks associated with climate change."
Balotin is a Dennis Paustenbach Scholar and a Gelman Global Scholar, and she has a Risk Science Fellowship. This range of support has made a tremendous difference. "I came from out of state," she points out. "The scholarship support helped make Michigan an option and allowed me to do a dual degree with the School for Environment and Sustainability."
Balotin was also part of an interdisciplinary team that received a Dow Sustainability Fellowship—part of a partnership between the university and the Dow Company Foundation. Balotin's team, which included students studying nutritional sciences, information, and engineering, had as their client the Washtenaw County Commissioner's Office. The county is in the early stages of developing a climate action plan, and the team supported them with greenhouse gas emission inventories, surveying residents, and recommending park facilities that could be climate resilience hubs. "The Dow project gave me on-the-ground experience with a client and a team that I would not have had otherwise," Balotin says.
Balotin graduates in December 2021. Her long-term goal is to work with an intergovernmental organization like the UN on climate change. "I want to do something internationally," she says. "I want to work across cultures and across communities. I think climate change is one of the largest public health crises of our generation, and I want to help communities adapt to climate impacts in a sustainable way."
---