A love of 'Star Trek' first sparked interest in infectious diseases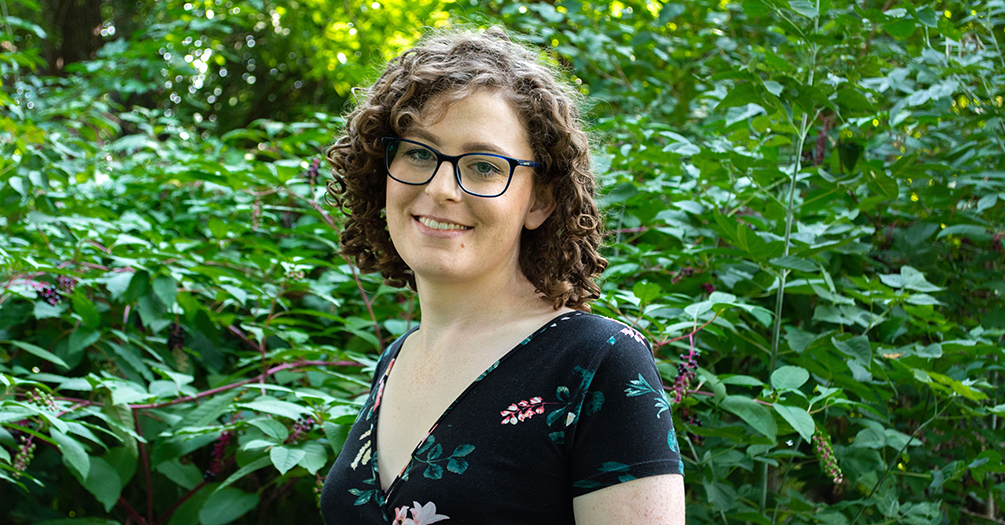 Danielle Stone
Computational Epidemiology and Systems Modeling
Danielle Stone is a self-proclaimed Trekkie.
After all, it was her love of 'Star Trek' that first led to her interest in infectious diseases.
"My favorite 'Star Trek' TV episodes were always the infectious disease episodes, where they have to solve it," said Stone, who was born in Texas and spent several years in Nevada and Washington state before moving to Michigan. "I still enjoy those episodes because I'm really interested in infectious diseases, especially emergent diseases."
Now she is boldly going where (virtually) no one has gone before: graduating with a Master of Science in Computational Epidemiology and Systems Modeling from the University of Michigan School of Public Health. She'll be among the first graduates from the new degree program.
Michigan Public Health's MS program in Computational Epidemiology and Systems Modeling program trains students to become highly skilled epidemiologists who can understand and analyze public health problems with mathematical and statistical models.
"'Star Wars: Episode V—The Empire Strikes Back' is probably my very favorite movie of all time," said Stone, a Sunway Trust Scholarship who also earned her Master of Public Health in Hospital Molecular Epidemiology in 2021. "I've worn out our VHS copies of the 'Star Wars' series over and over again—and then my second favorite movie is probably 'Alien.'"
Early interest in science
"I'm a huge nerd," said Stone, a huge fan of classical music and a movie buff who loves to play "Dungeons and Dragons" and video games. "Ever since I was young, I've loved all the sciences. I've always had an interest in space and in dinosaurs when I was really young. In middle school and high school, I loved biology and chemistry. Going into my undergrad, I thought that I wanted to be a doctor."
Instead, she earned bachelor's degrees in public health and human biology with a minor in chemistry from Utah State University. Then when deciding on her next move, her advisor suggested the Hospital and Molecular Epidemiology program at Michigan Public Health because he was an alumnus.
"It seemed to fit with my interests, so I ended up coming to the University of Michigan and studying with the HME program," Stone said. "While I was there, I met Dr. Andrew Brouwer from the Math-EPID group. I took his modeling course and fell in love with that, which is why I ended up doing the MS."
Brouwer's "Introduction to Mathematical Modeling in Epidemiology and Public Health (EPID 633)" was her favorite class.
"It was a Halloween-themed zombie apocalypse lab assignment, and we were supposed to model this parasite that was transmitted via a bite and how it would spread through a fake population," Stone said. "The assignment was fairly simplistic, but it really piqued my interest on how powerful models could be. It also shows how models can inform public policy and inform how best not only for experts to help craft effective interventions, but it also helps communicate to the public the reality of the situation.
The very first thing we learn in every single one of the modeling classes is that models are exceptionally useful—but every model is wrong.
"That's because every model makes simplifications and assumptions about the world around us. Modeling is kind of like predicting the weather. Weather warnings can save people's lives, but weather models miss things or predict it's going to rain when it ends up being sunny."
The frustration, she said, comes from the public assuming that if the model is wrong, then everything else is wrong.
"One thing I am very passionate about with science is that if you get it wrong, you fix it," Stone said. "If you take that new data and change your hypothesis and do further testing, it's always evolving."
Helping herself, others
One of the biggest obstacles for Stone during her time at Michigan has been her own mental health.
"Trying to find the courage to ask for help is very hard—and getting help and then the steps toward getting better—all of that combined with my academic load and personal things," she said. "It's been a journey."
Fortunately, as a student at the University of Michigan, plenty of help has been available to Stone.
"When I first got here, there were a few therapists who could fit me at the last minute, but CAPS (Counseling and Psychological Services) was able to fill that gap while I looked for a therapist outside of the University of Michigan," she said. "Had it not been for CAPS, I don't think I would've had mental health support for a long time."
Minority health also is important to Stone, who is going to pursue a PhD in Epidemiology at Michigan Public Health after graduation.
"I would like to combine my love for infectious diseases with my passion for helping minority and marginalized groups," she said. "I've always been very interested in minority health, especially LGBTQ, and how the models—whether intentional or not—have not always been very equitable in how they're built or the results. That not only involves the LGBTQ populations, but also racial and ethnic minorities and countless marginalized groups."
---