Health disparities influence undergraduate student's pursuit of Public Health Sciences degree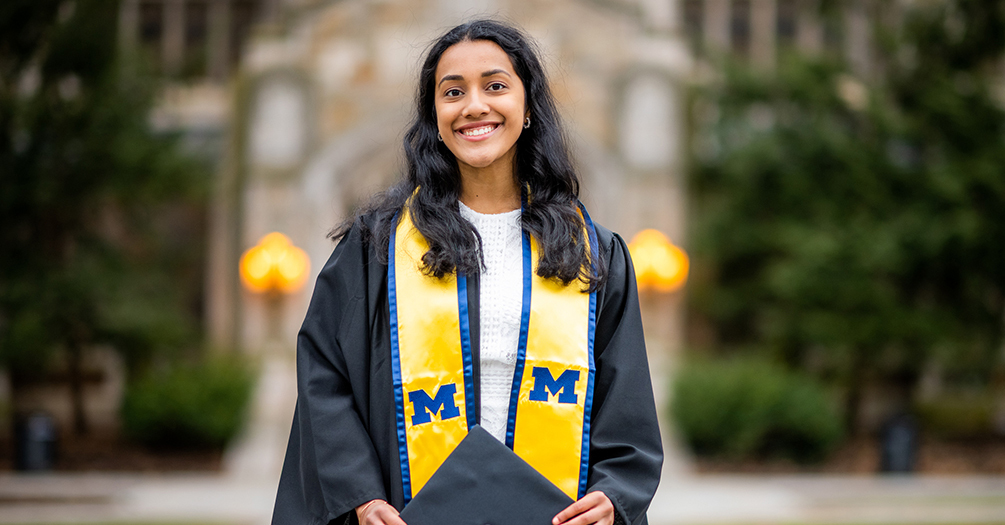 Lakshmi Meyyappan
Public Health Sciences
Health disparities between Lakshmi Meyyappan's hometown and where her grandparents live was a major factor in her decision to pursue a Bachelor of Science in Public Health Sciences from the University of Michigan School of Public Health.
"I've seen very stark health disparities between where I live in the United States and where a lot of my family lives in India," said Meyyappan, who is graduating this spring. "My grandparents and a lot of my family live in a rural part of South India, so it's a fairly small village where they don't have proper access to health care. Specifically, for some of my grandparents, if they want specialty care or for my grandpa's cardiology visits, they have to take a six-hour train ride to the nearest city just to have access to proper health care."
Meyyappan grew up in Troy, Michigan, and lived within a five-minute walk to a hospital.
"Seeing how there's different access in health care and how that also influences health outcomes made me really interested in public health," she said. "I realized my freshman year that everything I was interested in was related to public health. Not only was I interested in nutrition, but also how to shape healthy behaviors, the role of one's environment, access to health care, preventative measures to prevent chronic diseases—all of it fell under the umbrella of public health."
Meyyappan, who also minored in Music and Business at the University of Michigan, was interested in many health-related topics in high school as well. She studied nutrition in a high school club, which is what introduced her to the field of public health.
"I studied nutrition a lot in high school, and it made me really interested in how what you consume affects your health and the health conditions that you accumulate," she said.
She also wrote her capstone essay at the end of her senior year of high school that focused on the roles of industrialization and Westernization on the obesity epidemic seen in the US and the Pacific Islands.
Ultimately, Meyyappan chose to attend Michigan not only because of the proximity to her family but also the university's strong commitment to health care and public health through Michigan Medicine and Michigan Public Health, respectively.
"Michigan offered not only a great health care system, which would give me a lot of research and clinical opportunities, but I knew I would want to study public health in some capacity even coming into college," she said. "I wasn't sure exactly what I wanted to major in, but I knew that the School of Public Health was one of the top ranked schools in the country and would give me the opportunity to study everything I was interested in."
"Plus, the classes are so diversified. We took classes on biostatistics, population health, epidemiology, social justice—it got me to explore many different aspects of public health. Coming into Michigan, I was interested in health behavior and nutrition, but the more classes I took the more I realized I had other interests in public health too—I took a class on environmental health my sophomore year before I applied to the program. It made me realize how much there was to public health and how participating in the major and taking all these different classes would give me such a broader view of how everything we do in our life influences our health in some way."
Nutrition affects everyone
Nutritional needs vary so much throughout our lifetime, from the second you're born to our elder years, Meyyappan said. Everything a person consumes has an influence on health.
Not only do the different nutritional needs change throughout your life, but also what you eat directly affects your health.
"What you consume affects the diseases, or chronic conditions, you might get, but then also proper nutrition offers a pathway to better your health."
Meyyappan is currently doing an independent study with Olivia Anderson, clinical associate professor in the Department of Nutritional Sciences, that also crosses over into epidemiology to better understand why South Asians in the US have disproportionately higher rates of cardiovascular disease.
"The idea of epidemiology to me is the monitoring and surveillance of communities at the broader population health level, and I think it pairs really well with nutrition and environmental health," she said. "Epidemiology builds us a lot of important insights about metrics about population health."
Interests outside of public health
Music is another of Meyyappan's passions, having played the violin since a very young age.
"I've gotten involved in music in different forms here at the University of Michigan: academically through the minor, but then also through campus orchestras and chamber music," she said. "It's given me a way to connect with individuals across campus over our shared love of the instruments we play and the music we can make together."
Meyyappan also is involved in several health care-related clubs. Through these clubs, she co-founded a non-profit with her peers that focuses research and workshops on South Asian American health. Further, she works with the Gift of Life Marrow Registry as a campus ambassador, presenting to college students across campus about this bone marrow registry. She encourages them to possibly save a life by becoming a donor for those battling blood cancer, since this is a cause close to her heart. She also conducted research with Michigan Medicine that focused on improving clinical outcomes regarding pulmonary hypertension.
"I'm also the co-president of the Pre-Med Hub, a website where we give advice to all prospective pre-meds on their journeys," she said. "We have weekly advising hours, a Q&A, blog posts, and we hold workshops for people of all grades—freshmen through seniors—discussing various aspects of the pre-medical education and application process. "
Another project that's close to Meyyappan's heart is Project RISHI (Rural India Social and Health Improvement), a national non-profit organization with a University of Michigan chapter whose mission is to promote the sustainable development and growth of rural Indian communities. In partnership with local community members and social enterprises, Project RISHI identifies issues central to its target communities and provides the resource to implement solutions through extensive field research and on-campus initiatives.
"We work within the southern part of India on a sanitation hygiene initiative," said Meyyappan, vice president of the organization. "One thing we noticed in talking with residents from that village is that a lot of them don't have access to household toilets—adding in my public health background—which for me was really important because rural India is a place I've visited a lot and I have a strong connection to."
Combining her passions
In the short term, she plans to take some time off from school after graduation while working as a Business Analyst at McKinsey & Co. in Chicago to gain more experience within the healthcare business and management sector, since this is an area of interest for Meyyappan. Her long-term goal is to go to medical school, and potentially pursue a Master of Public Health.
"Ideally, I'd find a way to incorporate both public health and medicine into my future career, even business principles too," Meyyappan said. "Being a physician who works with the mindset of public health, but also working with the community either through research or community advocacy/engagement in a culturally sensitive way to better their health."
I believe a lot of impactful change within the health care system comes from the management side, so I'm interested in potentially pursuing this area as well.
Now that Meyyappan is set to graduate, she is thankful she chose to pursue an undergraduate public health degree at Michigan Public Health.
"After I took public health classes and enrolled in the School of Public Health, I realized how much more there was to health care than I'd ever known, and especially that passion for environmental health," she said. "I never would have realized I had that passion or even realized what environmental health was—but then to somehow tie that into my future career and realizing how everything we do at the end of the day impacts our health. I believe that to be a good physician or public health professional, it's really important to realize how much of our population's health is affected by their environment."
---