Nutritional Sciences graduate wants to help others build positive relationships with food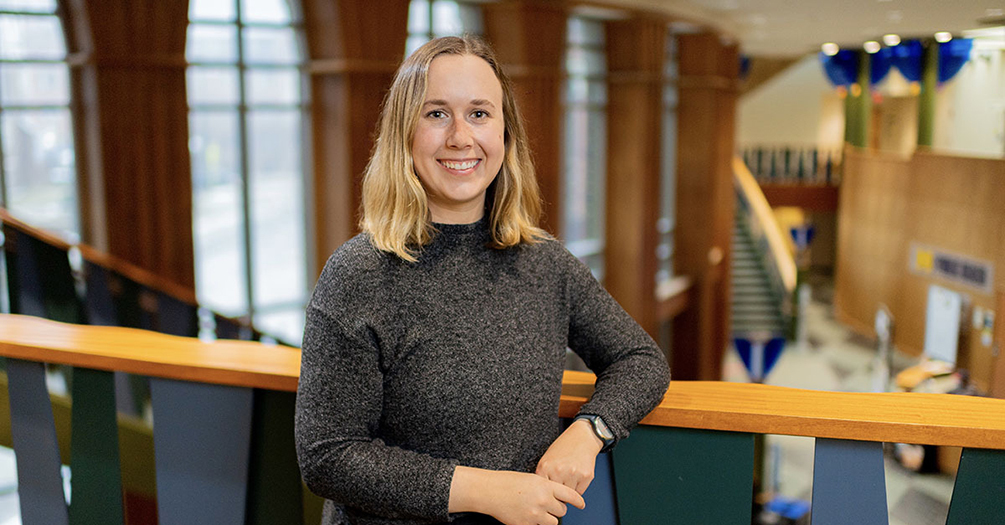 Lindsay Green
Nutritional Sciences
Being a nurturer comes naturally to Lindsay Green. It's a big part of her personality, especially with those she cares about.
"What I like about public health is how it applies systemic thinking to something as fundamentally human as nurturing people," Green said. "Public health work is primarily focused on taking care of people before people are sick and supporting changes in the environment and providing resources to give more equitable access to things like food, health care, community support systems, etc. In this way, public health allows communities to uplift their residents so they can be healthy and then succeed in other areas of their life.
It's that preventative mindset of public health that I find really interesting and hopeful.
That personal fascination has led Green to earn a Master of Public Health in Nutritional Sciences as she graduates from the University of Michigan School of Public Health this spring.
An MPH in Nutritional Sciences is intended for students who wish to pursue careers in the field of human nutrition in a wide range of clinical, community, advocacy, research, policy, and governmental settings.
Her interest in public health blossomed during her early undergraduate years.
"I had an unstable family situation growing up, and I think that just gave me a lot of interest and empathy for people who have situations that are out of their hands and how they can take care of themselves," said Green, who grew up in the Ann Arbor area. "What ultimately led me to public health is, I wanted to have a better understanding of how people could take care of themselves despite growing up in situations that are unstable. That led to an interest in preventing some of those things from getting worse in aspects of mental health and things like that."
The University of Michigan was an obvious choice because she grew up in the area and already was involved in the community. She also received a Bachelor of Science in Evolutionary Anthropology in 2016.
What made her choice even easier though, especially when choosing a graduate school, was the faculty in the Department of Nutritional Sciences. She had several conversations with Susan Aaronson, Didactic program director, and Carole Durgy, Student Services coordinator for the Department of Nutritional Sciences.
"They were just really supportive," Green said. "When I came to Michigan Public Health, I had a really wide range of interests when I was looking at graduate programs. I wasn't sure if I wanted to go into education, environment, or public health. Having those conversations helped me realize how interdisciplinary the Nutritional Sciences program is and how much room there is to explore outside of the program too, if desired—that was really attractive to me. They were just so awesome and easy to talk to that I walked away knowing that this is going to be a great community to be a part of."
Personal experience a factor
Green said she chose the Master of Public Health over a Master of Science because the MPH pathway really addresses the "big picture of environment and health behavior."
A good example: When she started to make more of her own choices as a young adult, Green really started to pay attention to what she was using to fuel her body and how much food she was using for that purpose.
"I started to recognize that there is so much power by properly fueling your body with enough food and also an overall well-balanced diet," she said about being interested in nutrition. "It just added so much improvement to my own physical and mental well-being. The other part of that is just recognizing that as I started to put more time and energy into what I was eating, I started to recognize how much time, energy, and resource it takes to do this. I couldn't even imagine how people in less privileged situations were able to manage their nutrition. At the time, I was living at home, and so I wasn't paying for my living expenses and had little idea how money factored into food choices.
"I began to really understand that It's astronomically more difficult to make nutritional choices a priority because people so often have many other things going on in their lives that make it difficult to do that. From juggling work and personal responsibilities, and paying the bills to taking care of children and finding time to take care of themselves."
Green said a lot of the solutions for nutrition issues that doctors will talk about or are marketed on social media aren't feasible because it takes so much "time, energy, education, and privilege to feed yourself in the way that people suggest." Examples include cooking all meals at home and not depending on fast food or frozen food.
"That's just not the way that people live, and it's so impractical," she said.
Getting past the pandemic
Dealing with the COVID-19 global pandemic during her first semester in the program was "really stressful" as she dealt with some anxiety and some time management issues.
"We were all remote for the first year and I think I really struggled to parse out, 'this is my work environment, this is my school environment, and this is my rest and relaxed environment' because they were all in one physical environment," Green said.
I felt guilty when I wasn't working and I experienced burnout pretty severely in my second semester.
"I think my biggest obstacle in grad school was just learning to balance my time. I had to prioritize my mental health. Grad school comes with high expectations. There are so many things to learn and ways to put forth an effort, but it's also really important to take care of yourself in other aspects of your life—that's a big lesson that I learned."
Dow Fellowship, teaching
Her second year was much smoother in the NS program. She was a Dow Fellow in the Graham Sustainability Institute and served as a graduate student instructor.
"My Dow Fellowship was pretty intensive last year," said Green, whose project specifically focused on four different crops in Michigan. "I put a lot of things on my plate in the second year that I wouldn't have been able to handle the first year."
Outside of the classroom, she is into running, yoga, and cooking and then just doing anything outdoors and finding ways to connect with her friends.
After graduation, Green plans to pursue a dietetic internship and then her licensing exam to become a registered dietitian.
"I don't know exactly what area I want to specialize in after that, but I know that I'm really interested in working with pediatric populations, and, overall, I really want to work as a registered dietitian who practices weight inclusivity. I want to help others build positive relationships with food. If I can make it less overwhelming by fitting food into people's lives rather than making people fit into ways that don't really work for them, I'll be more than grateful."
---