Achieving health equity is MHSA student's passion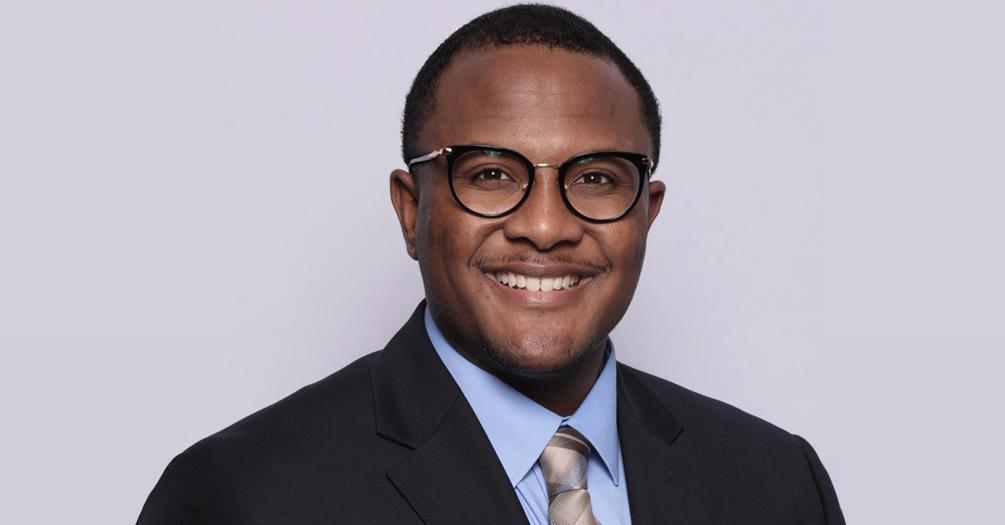 David Fuller Jr.
Master's Student in Health Management and Policy
David Fuller Jr. attributed his passion for public health to his childhood in metro Detroit.
"My upbringing here exposed me to the health disparities and health inequities that persist in the local communities and in my family," he said.
Despite earning his bachelor's degree at the University of Michigan-Dearborn in public health, Fuller entered his undergraduate studies with a different plan in mind.
"As a child, I dreamed of one day being a cardiologist," he said. "When I first started at UM-Dearborn, I was on the pre-med track and studied biology for half of my undergraduate career before changing my major to public health. This decision was a transformative and pivotal moment in my life. Having the opportunity to create a larger impact—beyond individual clinical care—to address population health and public health was my new call to action."
In the summer of 2019, Fuller participated in the University of Michigan Summer Enrichment Program in Health Management and Policy (UMSEP). During this program, he learned about health disparities, healthcare organizations, the healthcare system and public health through meetings with health administrators, School of Public Health alumni, U-M faculty and other program preceptors.
During his participation in UMSEP, he completed a summer internship in healthcare administration at Henry Ford Health, working in their Women's Health Services department; he also received a Health Equity Research Certificate.
Upon graduating from the University of Michigan-Dearborn in December 2020, Fuller worked full-time as a Community Health Worker for Western Wayne Family Health Centers, a federally qualified health center in Wayne County. During this time, he worked in Dearborn and Inkster conducting COVID-19 contact tracing, providing health education and promotion, and addressing patients' social needs. He then decided to continue his studies at Michigan Public Health.
"I chose to attend the University of Michigan School of Public Health because I had the opportunity to learn from the leaders and best in the industry," Fuller said. "I knew that coming to this school would give me the necessary knowledge and training to make a difference in the world. It is a privilege to be in an environment surrounded by the most intelligent and accomplished faculty and peers."
It is a privilege to be in an environment surrounded by the most intelligent and accomplished faculty and peers."
Now in the Health Management and Policy program, Fuller said he has connected with alumni who are working to advance public health practice and research and leading systems forward to create equitable change and justice. He also delved deeper into his interests through the connections between education, research and practice.
"One of my staff roles is working with Dr. Ebbin Dotson as a research assistant for the Health Equity Leadership Pipeline Collaborative," he said. "The Collaborative provides innovative and scholarly research on health professions and education training methods to increase the impact of healthcare leadership on equity issues."
His commitment to health equity also led him to Public Health Students of African Descent (PHSAD), a student organization that dedicates itself to cultivating a community for undergraduate and graduate public health students of African descent. Fuller is now the Vice President of the organization.
"PHSAD is important to public health because through our work, we strive to disseminate and exchange information regarding the concerns of marginalized groups in the field of public health," he said. "We also aim to serve as a network and support system at the University of Michigan and beyond. I am proud to lead this organization and elevate the inclusion and sense of belonging for students of African descent within Michigan Public Health."
After graduating in the spring with his Master of Health Services Administration, Fuller will begin an administrative fellowship with Henry Ford Health in Detroit. He said his purpose is to improve the health of historically underserved and marginalized communities by improving access to innovative, equitable and high-quality, patient-centered care.
"I am passionate about advancing health equity through healthcare delivery," Fuller said. "I am also committed to addressing health disparities and eliminating the health inequities that exist within our healthcare system. My ultimate goal is to advance the work that is being done across the nation to achieve health equity."
---