Biostatistics PhD alumna's research is 'motivated, driven by ultimate goal to create better, fairer precision health'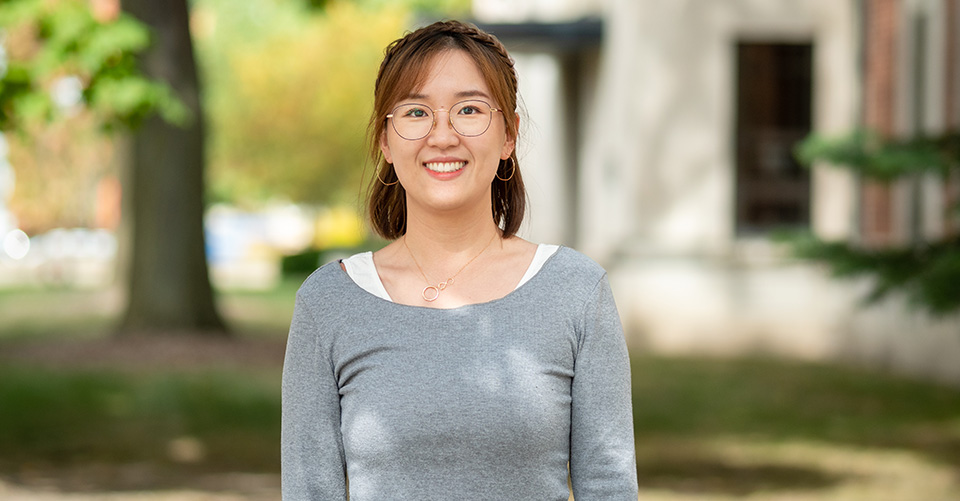 Tian Gu, MS '17, PhD '21
Biostatistics
Serendipity has steered Tian Gu, MS '17, PhD '21, from China to the United States, mechanical engineering to statistics, and corporate work to academia.
Through all the lucky breaks or happy chances, Gu has discovered her niche in biostatistics. Though she said, "It was Michigan Biostatistics that chose me," when she was pursuing a graduate degree program in statistics.
Now as a post-doctoral research fellow at Harvard University after earning both master's and doctoral degrees in Biostatistics at Michigan, she uses biomedical data and statistical innovations to help doctors, clinicians and medical science researchers solve real-life medical issues.
The work goes beyond "just analyzing biomedical data. We believe that statistical innovations can create more precise and equitable healthcare, and we are trying to deliver an improved and fairer standard of care to diverse populations. Making a difference with biostats is what motivates me," she said of her career path.
Her initial area of study in college was mechanical engineering, but she soon discovered her skill sets aligned better with math and statistics than with physics and mechanics.
When she switched her major to study statistics at East China Normal University in Shanghai, Gu's grades and confidence improved. She learned that math and statistics provided the foundation to build and apply logic to solve problems. And that was something that resonated with her.
She chose a 2+2 collaborative undergraduate education program between her Chinese university and Colorado State University in Fort Collins. The opportunity allowed Gu to come to the United States, where she enjoyed the academic and international student community.
Gu took every opportunity available to do undergraduate research.
I wanted to explore different possibilities. Because stats can be applied to anything, I tried different areas. I got involved in environmental health-related projects and liked that."
During her second year in the US, Gu was accepted to help with a Carnegie Mellon University research project. The project involved data collected using the computer to teach students basic math. She conducted a pathway analysis on how students behaved and reacted, given different degrees of help from computers.
The research "was useful in helping to reveal those patterns in human-computer interactions and how to guide the future improvements in machines and software development," she said.
Each opportunity got her a little closer to work in a meaningful field, such as public health, where she could make a difference. When it came time to apply to graduate school, however, Gu kept her options open. She applied to programs that ranged from pure statistics to human-computer interaction and applied statistics to biostatistics. When the University of Michigan School of Public Health Biostatistics offer came, it felt like the right fit.
At Michigan, she immediately found a welcoming community and expert faculty who cared about their students.
"With over 100 students and over 40 faculty members, we were a big, close-knit community that had events throughout the year where we could talk to faculty, friends and peers. It's what I miss most since graduating," Gu said.
She credits her dissertation advisers—Jeremy Taylor and Bhramar Mukherjee—for providing an interesting and important area of research in data integration, offering great counsel when she needed it most and modeling strong leadership skills.
Gu's dissertation involved developing statistical methods in data integration by using individual patient data and incorporating data generated in the external environment to make the best science-based decisions.
"We developed statistical methods to improve existing risk prediction models by incorporating external, well-established model results," she said. "There is new data being generated and new potential to improve the current model, but those data are usually collected from a small sample size because of the clinical study, financial and other applicable reasons."
The small sample size has more variables that might be useful to predict the disease outcomes, but it might not be as powerful as a larger data set that is more robust, efficient and reliable.
After Gu received her PhD in July 2021, another twist of fate led her to work with Dr. Rui Duan in Harvard's biostatistics program. She decided to use a post-doctoral fellowship to gain additional training and experience in academia before becoming an independent researcher.
Duan visited Michigan while Gu was working on her PhD. That's when Gu first became interested in the depth and focus of Duan's research. Gu applied for Duan's fellowship position and later learned that Duan "heard of my research and knew our research interests aligned," Gu said.
"My life is full of knowing amazing people by accident. I moved to Boston and started to work on risk prediction in underrepresented populations such as African ancestry—a new, yet related, direction to address biases and unfairness caused by the lack of representation using data integration methods," Gu said.
They are building risk prediction models that will play an important role in doctors' decision making for prediction, prevention and disease diagnosis in clinical settings.
"I had a fruitful first year working with Rui, who is a good friend and mentor," Gu said. "She has been so generous to share all her resources with me to ensure my success in transitioning to independence. This unprecedented experience—plus my Michigan mentors and friends' constant support and encouragement—helped me decide to stay in academia."
She plans to look for a tenure-track or research-track faculty position, build her own research lab and expand her research topics in the broad data integration field.
My research is motivated and driven by the ultimate goal to create better and fairer precision health. In 10 years, I hope to be doing impactful research with passionate and hardworking people around the world in a hopefully work-life balanced environment."
---
Tags