Student Advocates Take Gun Violence Research Findings to Lansing to Influence Policy Discussions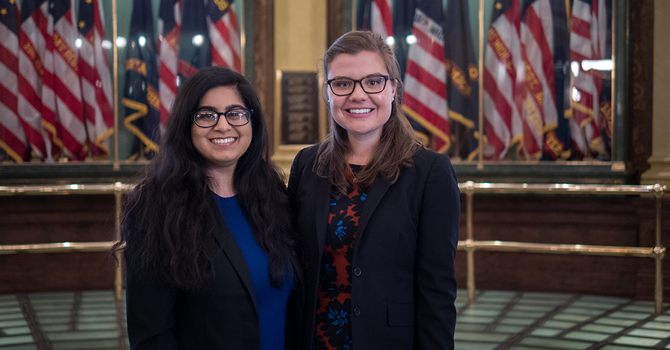 Fifteen students from the University of Michigan School of Public Health spent Tuesday, March 6, in Lansing meeting with lawmakers and their staff to share research findings and advocate for policy changes based on data and evidence.
Armed with concise summaries of relevant research findings, the students took a day off from their studies and other commitments and traveled from Ann Arbor to the State Capitol early that morning to advocate for a public health concern they had identified as timely and vital—preventing gun violence across Michigan's communities.
The students provided research-related information in advocating for House Bill 4706, which would provide safety measures for individuals at extreme risk of harming themselves or others, and for Senate Bill 293, which would implement child access prevention measures in an effort to keep firearms out of the hands of minors.
"We did our best today to make the discussion about a public health issue rather than a partisan issue."
—Tianna Morgan, Master's Student in Health Management and Policy
This experiential learning opportunity was the culmination of a one-credit independent study focused on effective public health advocacy. The students—representing the Department of Health Management and Policy and the Department of Health Behavior and Health Education—participated in three hands-on training sessions in preparation for the Lansing Day. Training sessions focused on process rather than substance and provided a robust understanding of the steps in effective advocacy:
Identify a public health issue and the advocacy goal, including acceptable compromises
Develop arguments for and against that goal
Identify decision makers and target audiences
Select and cultivate a policy champion
Build effective coalitions, including a professional network of colleagues
Develop the message, including substantive and political contexts
Employ various types of media to share the message, including social media and grassroots outreach
Execute strategy through effective advocacy meetings
Follow up effectively and continue to build relationships
Jenifer Martin, director of government relations at Michigan Public Health, has taught advocacy and policy writing courses at the school for more than a decade. "Success in effective advocacy is dependent on both a substantive policy goal and the relationships necessary to advance that goal," Martin said. "A thorough understanding of the steps in developing a successful strategy is essential in how we share our public health expertise with policymakers in Lansing and Washington, D.C.—with the goal of using data to inform policy debates."
In Lansing that day, Martin's students employed their new skills to approach lawmakers in hopes of moving forward pending legislative proposals they believe will make Michigan's population safer and healthier. "We did our best today to make the discussion about a public health issue rather than a partisan issue," said Tianna Morgan, an MPH candidate in Health Management and Policy and president of the Health Policy Student Association.
To kick off the day's activities, State Representative Yousef Rabhi, Ann Arbor's constituent representative, welcomed the students to Lansing and shared his personal story of how he became involved in local and state politics. Following his remarks, State Senator Rebekah Warren, author of Senate Bill 293, explained how she chose to lead efforts to enact gun violence prevention legislation. Students were able to talk with both legislators, asked questions about the policy process, and received the latest updates available on the bills they had researched.
The students spent the rest of the morning and all afternoon shuttling between the Anderson House Office Building and the Binsfeld Senate Office Building for individual meetings with state representatives and senators about their findings and the policy changes they are recommending.