Department of Health Management and Policy Recognized for Excellence in Leadership Development | News Center | University of Michigan School of Public Health
Department of Health Management and Policy Recognized for Excellence in Leadership Development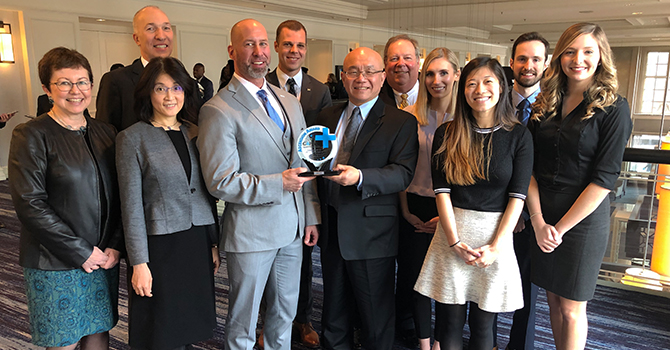 The Department of Health Management and Policy at the University of Michigan School of Public Health has received the CAHME/Ascension Award for Excellence in Healthcare Leadership Development from the Commission on Accreditation of Healthcare Management Education (CAHME).
The award recognizes the department for its curriculum, which places a heavy emphasis on leadership development, including a required year-long course that focuses on both personal and organizational leadership.
"A good leader in healthcare needs to understand that there aren't bright lines between areas," said Richard Hirth, chair of the Department of Health Management and Policy. "We sometimes think of healthcare delivery, public health, management, and policy as being boxes that people are in. Leaders have to transcend those boxes and work across traditional boundaries. That's what we prepare our students to do."
The department was honored at the 2019 CAHME Awards Luncheon on March 3, 2019, during the American College of Healthcare Executives (ACHE) Congress in Chicago.
"Reviewing the applications for the CAHME/Ascension Excellence in Healthcare Leadership Development award gives me a sense of optimism for the future of healthcare," said Anthony Stanowski, DHA, FACHE, president and CEO of CAHME. "The commitment to leadership development—embodied by this year's winning program from the University of Michigan—means that we are developing a strong new generation of future healthcare leaders."