New Research Reviews Opioid Misuse Prevention Policies Across the United States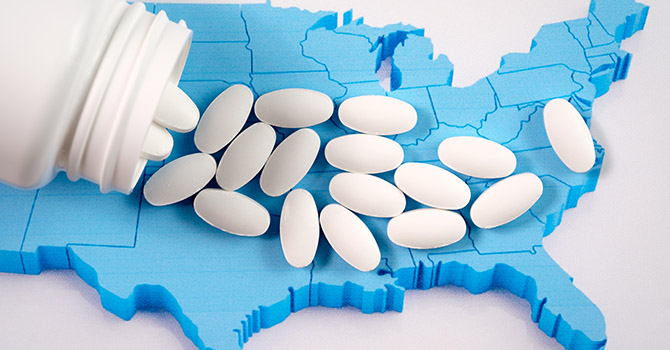 New Research from Amanda Mauri and Tarlise Townsend
The United States is in the midst of an opioid crisis. In 2017, there were over 70,237 drug overdose deaths—nearly 48,000 of which were attributable to opioids. Michigan alone experienced 2,695 deaths due to drug overdose, almost 28 drug overdose deaths per 100,000 people.
In an effort to combat the opioid crisis, states are implementing an array of preventive measures to address the health consequences of opioid misuse and addiction. In recently published research, University of Michigan School of Public Health PhD students Amanda Mauri and Tarlise Townsend aggregated the various types of interventions into a single paper and review the findings.
"Our review informs decision-making around which opioid misuse prevention policies public officials should implement," said Amanda Mauri, PhD student in the Department of Health Management & Policy and first author on the paper. "Specifically, public officials can use our findings to determine which policies will likely be most effective at addressing opioid prescribing and overprescribing."
The research suggests that drug supply management policies, such as policies requiring prior authorization for specific opioids or dosages reduced overall opioid prescribing and dosage prescribed. Robust prescription drug monitoring programs (PDMPs) such as those with multiple provisions (use and registration mandates and delegate access), were also found to reduce prescribing. Unfortunately, due to low study numbers and quality, evidence was insufficient to draw conclusions regarding interventions targeting patient behavior and patient health outcomes, Mauri said.
In addition to looking at current intervention policies where current data is available, the review also highlights areas where future research should concentrate. "The majority of the included articles assessed prescription drug monitoring programs. We recommend that researchers consider focusing on other interventions that have not received sufficient evaluation, such as Good Samaritan Laws and naloxone access laws," Mauri said. Another opportunity for researchers to explore are unintended consequences of opioid misuse prevention policies and differential policy effects across populations.
"There is growing evidence that some efforts to reduce opioid prescribing contribute to increased use of heroin and other illicit opioids. We therefore need more research on the effects of opioid prescribing policies on health outcomes like overdose mortality," Townsend added. "We also need to ensure pain patients receive alternative forms of pain management, and to vastly improve access to evidence-based addiction treatment. Among other things, this would aim to reduce uptake of illicit opioids when prescribing-related policies reduce people's access to prescription opioids."
Much of the research aggregated comes from growing interest in the effects on opioid misuse policies. Over half of the 71 studies included in this research were published between 2016-18. As more studies continue to be published, "the hope is that other researchers will consider updating the review to include more recent evaluations of included policies," Mauri said.
The full review and research can be found in The Milbank Quarterly. RAND Corporation policy researcher Rebecca Haffjee was also a co-author on the research.
---