COVID-19 and the Disproportionate Impact on Black Americans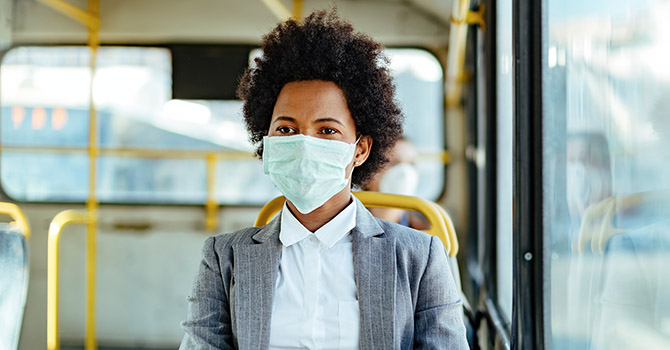 Q&A with Enrique Neblett
Professor of Health Behavior and Health Education
Why is the coronavirus pandemic causing Black Americans to be disproportionately affected by COVID-19 and what can we do at the individual and community level to dismantle the systemic racism at the root of these health disparities? We spoke to Enrique Neblett, professor of Health Behavior and Health Education, to learn more.
In what ways has the Black population in the United States been uniquely affected by COVID-19?
There are a few ways in which people have talked about how Black Americans have been affected by the pandemic.
One has to do with higher rates of hospitalization, infections and mortality rates. From very early on in the pandemic, we were appalled by data that showed Black Americans disproportionately represented for these outcomes relative to their percentage of the population.
Milwaukee and Chicago are two examples that come to mind. African Americans in these cities are about a third of the population, but represented over 70% of the deaths. Similarly, in Georgia, African Americans make up a third of the population but represented 80% of hospitalizations. Unfortunately, we see the same things here in Michigan, where African Americans are roughly 14% of the population, yet they represent 33% of the cases, and 41% of deaths.
The second area is the psychological impact of the pandemic. The Black population is among a large group of the essential workers, and many have to make tough decisions with regard to staying home if they get sick or risking lost wages—or even unemployment—in addition to situations such as having to deal with the loss of family members or taking care of family who may be sick. A recent poll found that Black Americans are nearly three times as likely to personally know someone who has died from the virus than white Americans. In some cases, we're talking about the emotional toll of having to make excruciating decisions about whether to risk getting sick or work while sick and other financial considerations, while also coping with premature and unexpected death and loss.
Why is COVID-19 impacting the Black population disportionately?
There are a complex set of factors that account for why the pandemic is disproportionately affecting Black Americans, but it is important that we name structural and systemic racism as drivers of COVID-19 disparities. There was speculation early on in the pandemic about chronic underlying conditions and how some are more likely to succumb to COVID-19 when they have diabetes or other underlying conditions. Unfortunately, we know that Black Americans are more likely to have high rates of cardiovascular disease and other chronic conditions than whites, in part, due to structural inequities in access to critical resources necessary to maintain health.
Another factor is occupational vulnerability. Black Americans are more likely than white Americans to hold jobs that are essential to the function of critical infrastructure. These are jobs that require continuous interaction with the public and, in some cases, don't offer benefits such as paid vacation or the option to work from home.
Availability and access to testing is another important factor. In the initial stages of the pandemic, there were many places where testing was limited or unavailable, or there were significant delays in processing the test results. Lack of access to adequate testing and timely results can both be liabilities in getting urgent and needed medical care.
Poverty is another social determinant of health, structured by institutional and systemic racism, that has played a role in COVID-19 disparities. Lack of access to medical care to seek treatment, quality health insurance, healthy food, standard housing, and clean water are all factors that can indirectly contribute to heightened vulnerability to exposure and infection and lead to negative COVID-19 outcomes.
It is critical that we take a close look at how racism and longstanding structural inequities and practices—past and present—shape these factors and contribute to negative COVID-19 outcomes.
If systemic racism is the root cause of COVID-19 related and other health disparities, how do we need to work together to end it?
There are several strategies that can be mobilized in working against systemic racism and, in turn, the impact of COVID-19 on Black Americans. A multi-pronged approach must inform the action steps that we can take as individuals and communities.
Listening to one another, self-educating, reading, and learning about systemic racism and how it operates are a great start. At the individual level, I've also seen people using their voices and privilege to raise awareness and propose concrete actions for eradicating racism by writing op-eds, letters, and making phone calls to lawmakers. Community groups and organizations possess valuable knowledge and expertise, represent critical assets, and are also well positioned to write letters and make calls.
Other strategies for mobilizing include investing in capacity building and helping communities to build their infrastructure in order to be able to respond to disasters like COVID-19.
I've been really fortunate in my role as associate director of the Detroit Community-Academic Urban Research Center (Detroit URC) to discuss mobilization efforts with community partners in Detroit. It's important that we work together to share resources and information with the residents who need them most. Also, it is important to remember that eradicating racism and promoting health equity will require the execution of concrete, specific and measurable actions that will lead to lasting systemic and structural change.
---