U-M partnership with Michigan nail salons promotes better environment for workers, clients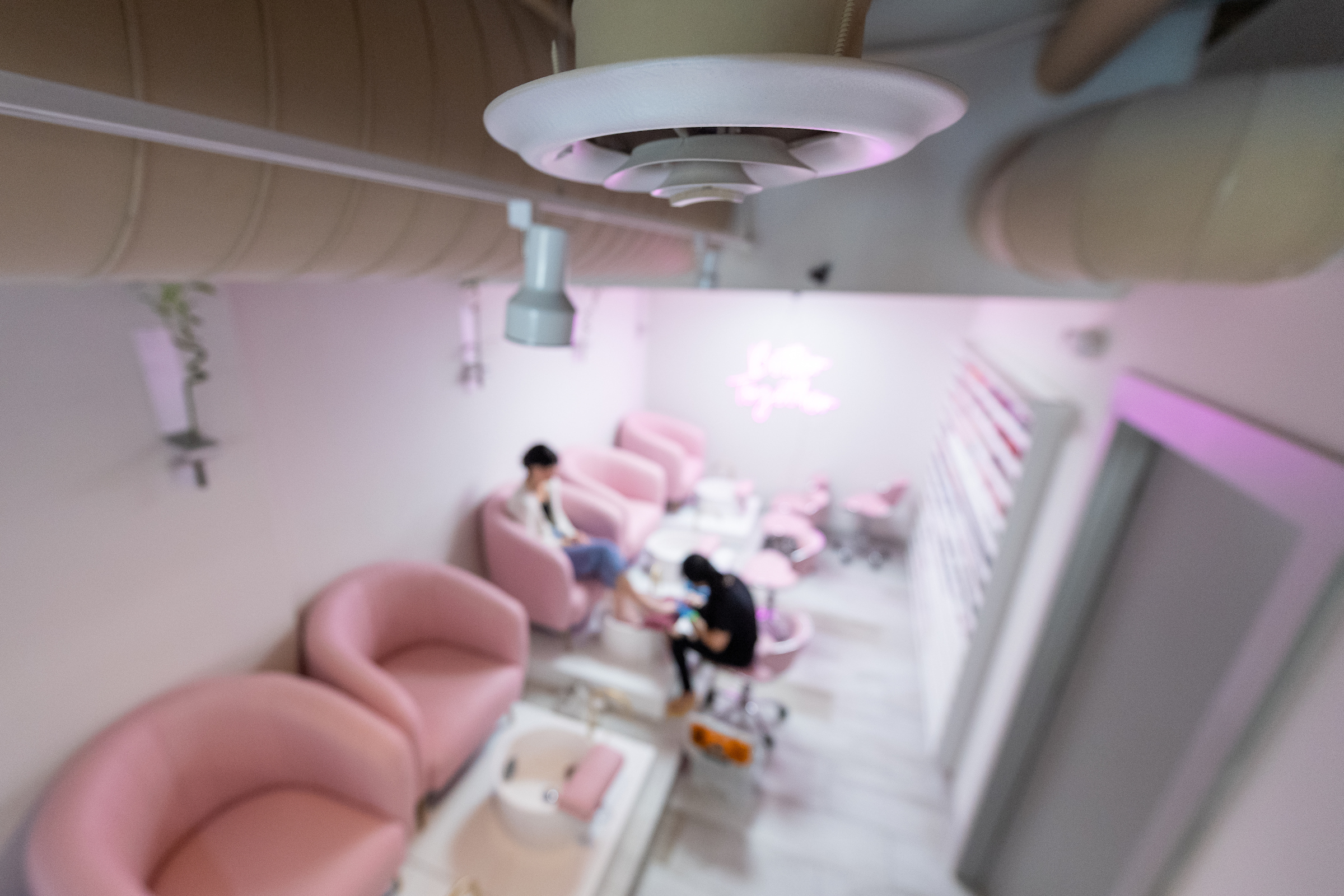 New Project from Aurora Le
John G. Searle Assistant Professor of Environmental Health Sciences
Three times a day, Sonca "Camilla" Luu goes around BeeQ Salon and Spa opening doors to let the air out.
On a hot, humid day, the owner of the nail salon looks outside as she explains her daily routine.
"It costs a lot in heating and cooling, but it brings in fresh air, improves ventilation, and that's important for my employees," said Luu, who, along with her nail salon technicians, participated in the first training by the Michigan Healthy Nail Salon Cooperative earlier this year.
Funded through a catalyst grant from the U-M Graham Sustainability Institute, the online, mobile-friendly training module teaches salon owners and employees how to mitigate exposure to chemicals and volatile organic compounds that are ubiquitous in nail salon products like polishes, removers, artificial nails, adhesives, glues and hardeners.
Since then, Luu says, she's been applying some of those techniques to improve the working environment for her workers.
"As a salon owner, one of my top priorities has been to create a sustainable environment for my customers but especially for my employees," she said. "A customer might come once or twice a month, but an employee is here every day, day in and day out."
The cooperative has worked to raise awareness of the health and safety issues nail salon owners and employees face through education, advocacy and research since 2016, said Aurora Le, the former John G. Searle Assistant Professor of Environmental Health Sciences at U-M's School of Public Health.
"A lot of workers in this industry are women, often recent immigrants who don't speak the language and might not be aware of the risks they're exposed to. For many, working in nail salons is the only thing they can do to earn a living," she said.
Le co-leads the Michigan Healthy Nail Salon Cooperative with Marie-Anne Rosemberg, assistant professor at the U-M School of Nursing.
"Our goal is to serve as a source of support and advocate for the workers and educate them, their clients and the community about the importance of having a safe nail salon workforce," she said.
In the last couple of years, that work has meant working with salon owners and workers during the pandemic, through the shutdowns and the waves of anti-Asian sentiment that have hurt the industry in general, and the people depending on it in particular.
Nationwide, the nail salon industry employs between 120,000 to 400,000 workers, 80% of them women and 80% of them immigrants, with a large proportion of them being from Vietnam.
In Michigan, there are more than 3,000 nail salons with about 12,000 licensed manicurists offering everything from mani-pedis, nails applications and acrylic nails to gels and nail wraps. With those services come exposure to chemicals such as toluene, formaldehyde and dibutyl phthalate, which are known to cause cancer and damage the liver and kidneys, and some also are dangerous for pregnant women.
Working with the community to strengthen protections
Luu, the salon owner, said as a young girl in Vietnam she'd always been interested in the power of beauty and fashion to uplift someone's spirit.
But it wasn't until she emigrated to the United States with a business degree—but very limited English proficiency—that she turned her passion for beauty into a way to earn a living. She started working as an apprentice at a nail salon.
"I will never forget the smile my first client left with. She was headed to surgery and wanted to get pampered. She was so happy. That's what I love about my work here," Luu said. "People leave feeling pretty and powerful."
For the next two decades, she worked in the industry and it was in the midst of the COVID-19 pandemic that she opened the nail salon.
Located on Church Street near South University Avenue in the heart of campus, the salon is neatly decorated, with single bamboo stems on a tiny glass adorning the wall behind the pink pedicure chairs that match the pink neon sign "Better Together" hanging on the back wall.
Working for, and with, the community
Luu said she learned about the Michigan Healthy Nail Salon Cooperative training through her sister, who works at the School of Nursing, and signed up, along with her employees. The virtual training—which was mobile compatible—consisted of short lessons after which participants were able to take quizzes.
Katherine Claypool started her work at BeeQ as a nail technician about a year ago after relocating from Washington, D.C. She says she was excited to participate in the pilot testing of the program.
"I think it was really important because there's not a lot of education out there on safety with very specific chemicals," she said. "I understand formaldehyde is obviously not very safe. I don't think (we knew) how common it is in lots of different nail supplies so we've been trying to switch to more natural-based products like dip powder, soft gel, poly gel that don't emit lots of fumes and improve ventilation.
"I used to do acrylic almost all day every day and almost nothing else. I didn't always wear a mask unless I was filing the acrylic and there were particles flying on my face. Now most of us tend to wear a mask while doing an acrylic service and have a fan on and the door open, so we can provide that service—because it's such a classic nail service—without making ourselves sick in the process. And we always tell people if you don't need tips or don't want longer nails, we can try other products like a dip or a soft poly gel.
"A lot of our customers tend to be U-M students. They have been happy to listen. I think it gives them peace of mind to know that we continue to educate ourselves, as a business, for their safety."
Salon client Emma Melendez agreed.
"If they're implementing a program like that, I'd be definitely more comfortable going to a nail salon not only for myself but for my nail tech as well. I think it's important," she said.
That's music to Rosemberg's ears.
"Our ultimate goal is to actually have a program called 'Safe Nails,' in which all the salons that collaborate with us and take the training get a recognition they can put on their windows," she said. "And then the clients can say 'Oh, these salons are operating in a safe manner.' So it can help them with their clientele as well. We can say not only are we helping protect your workers, but could also help bring in clientele."
---
Contact

Andrea LaFerle

Director of Public Relations and Marketing

University of Michigan School of Public Health

734-764-8094
---