For Future Generations: A Diversity of Passions Propels a Military Professional forward in Public Health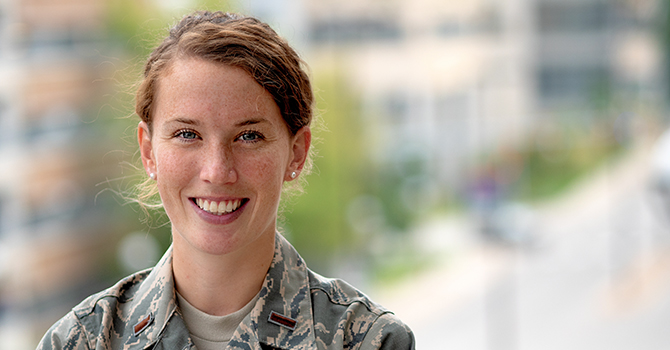 Sarah Falvey
Master's Student in Nutritional Sciences
I am an active duty Air Force officer, and pursuing a biology-related master's degree is my current assignment. I chose Nutritional Sciences at Michigan Public Health because of the school's commitment to both research and education, the innovative opportunities it fosters, the strong faculty and staff, and its proximity to my family in Plymouth, Michigan.
Michigan has provided me the rare opportunity to study all the things I'm passionate about—nutrition, public health, eating disorders, college athletics, and the military. I'm working in Dr. Kendrin Sonneville's lab, which has given me the chance to research eating disorders in the military. I didn't come to Michigan planning to focus on the military, but the topic is a great combination of my interests.
As with mental health issues, both civilians and military personnel struggle with eating disorders and the stigmatization that can be associated with it. I am passionate about the military population and eager to develop knowledge that serves them and the world beyond.
Specifically, I am analyzing the potential underdiagnosis of eating disorders in the military. I think stigmatization can cause patients to avoid disclosing their struggles to doctors, so a big piece of this is to find out whether eating disorders are underdiagnosed in this population. The goal of my research is to help identify barriers to treatment and ultimately help individuals get the treatment they need. Integrating my military background into my public health work is a unique opportunity, and I am extremely grateful to Michigan Public Health for working with me in this way.
I want my research to continue outside of Michigan Public Health, and I hope I can use my findings to have a positive impact on those serving in the military.
My interest in science and public health started at a young age. I come from a family of nine children—five of whom were adopted from the Detroit area. We were also a foster home for 15 other children. We are a wonderful mix of racial backgrounds and experiences.
That direct connection with people from a variety of socioeconomic backgrounds and races gave me insight into the disparities different populations face—including the interplay of genetics and nutrition. We received similar nourishment and nurture, but my siblings possess different genetic profiles and had a range of body types. Seeing these differences created a special place in my heart for public health and formed a desire to give back to the Detroit community and surrounding areas through my professional work.
As an undergraduate student, I attended the US Air Force Academy (USAFA) where I studied biology and played soccer and basketball. That's where my interest in public health became focused on nutrition. Nutritional sciences are important to everyone. Food is a necessity. We all make daily choices about what we eat, and we share many of the same struggles relative to those choices. I learned at USAFA that I can make a positive impact on a lot of people's lives through the pursuit of a degree and career in nutritional sciences.
At the conclusion of my master's program, I will start my assigned Air Force job as a personnel officer at my next base, which should last approximately three years. Then, I will return to USAFA where I will teach in the biology department for four years. That will conclude my current obligations to the Air Force, at which time I could continue my Air Force career or become a civilian and focus solely on my work in the field of nutrition.
At the moment, I know I want my research to continue outside of Michigan Public Health. And I hope I can use my findings to have a positive impact on those serving in the military. As a new mother, I am also inspired to make the world a healthier place for future generations.