Community Driven Master's Student Seeks to Crush Mental Health Stigmas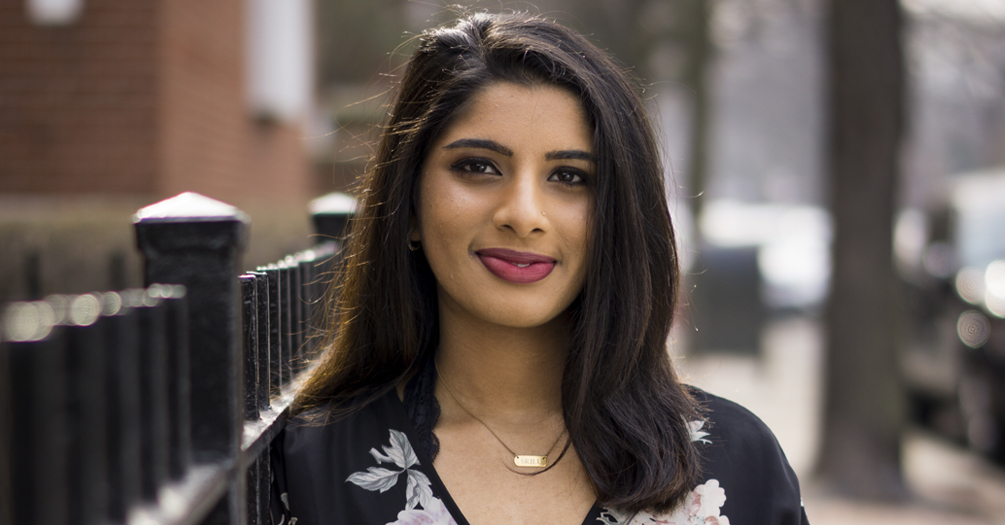 SriLasya Reddy
Master's Student in Health Behavior and Health Education, Nedra Overall Agnew Scholar
Pacific Northwest native SriLasya Reddy is far away from her beloved hometown now that she lives in Ann Arbor, but there has never been a doubt in her mind that Michigan is where she should be.
In 2020, when the COVID-19 pandemic sparked a global lockdown, Reddy was a biology pre-med student at the University of Illinois at Chicago and had already applied to public health graduate schools.
"I hadn't yet made a decision about where I was going to school for my master's degree and COVID definitely played a huge factor in where I wanted to be for my graduate program," recalls Reddy. "I wanted to go somewhere that had an impact on the world and had global connections. That's what drew me to Michigan. It's such a vibe. I love hearing about what faculty and fellow students are doing. It's so engaging and I'm learning so much just in conversations, let alone in class or doing research. The opportunities seem endless at a place like this."
How Community Shapes Mental Health Perspectives
Reddy was raised in the suburbs of Seattle, Washington, in a tight-knit community. And it was there she first became conscious of the different ways people approach mental health.
"I am Asian American. My parents were first-generation immigrants from India. I grew up in a neighborhood that was very culturally comfortable in our roots, but mental health was something that I saw a lot of people struggling with," explains Reddy. "But there were never any conversations about it at all. I became interested in access to mental health care and having those conversations to break down that stigma."
"It's Okay to Not Be Okay."
Unfortunately, two tragedies struck Reddy in her junior year of college and those incidents further moved her towards a career in mental health. "Two of my friends passed away. One of them was from suicide and the other one was actually killed. It was so hard to understand what he was going through, but I was also seeing how their deaths impacted the people around us," shares Reddy. "Nobody was seeking mental health care because it was just not okay in our community at all. I knew this had to change. Our parents' generation is a lot different than ours right now because the kids grew up in America and we're exposed to a lot of social media messaging like it's okay to not be okay or going to see a therapist is okay."
It was around that time in her undergraduate years that Reddy cemented her desire to pursue a master's degree in public health. For her, the degree is an opportunity to do community-based work, break down stigmas, and help her community access mental health care.
Packed Calendar
Reddy's career ambitions are reflected in her robust daily calendar. Five jobs/internships/volunteer positions fill up her days. "Google calendar is my best friend," jokes Reddy. "I think for me it's really important to have that hour-by-hour schedule written down because otherwise, I don't know when I'm actually free. The thing I hate most is when I'm relaxing and realize I have something I forgot to do."
And there's no shortage of things for Reddy to do. One of her positions is as director of marketing and public relations for the Ann Arbor-based organization Lunar Doula Collective, which offers free assistance to women in Southeast Michigan.
As a brown woman myself, I think that lots of kids and adults would feel more comfortable opening up to somebody that looks like them.
"People usually think that doulas are just there helping women through delivery, but that's not the only thing," explains Reddy. "We have doulas for grief and loss and any other thing that a woman experiences during the pregnancy such as a miscarriage, stillbirth, or abortion. They're trained for the whole spectrum of what a woman can go through during that time."
Reddy's emphasis on hands-on community work is also reflected in her research assistant and clinician roles at the EMBRace Lab, headed by Riana Elyse Anderson, assistant professor of Health Behavior and Health Education.
"The EMBRace program is incredible," exclaims Reddy. "I think Dr. Anderson is such a wonderful person to work with. Essentially we work with families in Detroit and we encourage them to use racial socialization strategies like getting more comfortable discussing race, racism, and discrimination at home because that's been linked to improving mental health outcomes, especially in kids."
The program lasts several weeks for each family and uses tools to measure results and progress. Like many other activities, EMBRace has had to be virtual over the past year that Reddy has been involved, but she greatly appreciates the chance to work in the space.
As for life after Michigan Public Health, Reddy intends to stay deeply rooted in the community. "I am interested in going into healthcare and clinical work. I'm really passionate about that," Reddy asserts. "As a brown woman myself, I think that lots of kids and adults would feel more comfortable opening up to somebody that looks like them."
---