Exploring public health from outside and within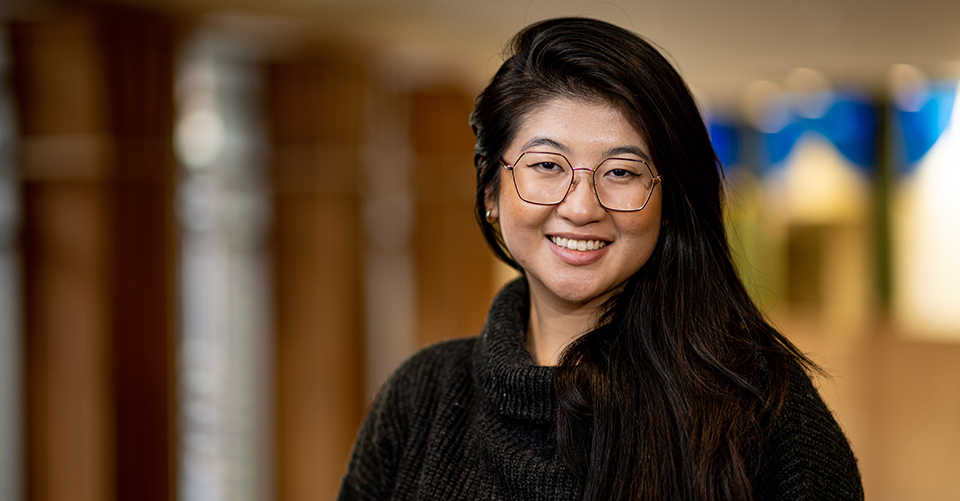 Claire Liu
Health Behavior and Health Education
Claire Liu is pursuing a dual degree from the University of Michigan with a Master of Public Health in Health Behavior and Health Education from the School of Public Health and a Master​​ of Science in Physiology from Michigan Medicine.
She currently serves as president of the Rackham Student Government and test prep program director for Central Student Government on campus and lead insurance and referral counselor at the UM Student Run Free Clinic. She also has sat on DEI committees for Health Behavior and Health Education and Rackham and the Dean of Students Advisory Board. While at Michigan, Liu has received support from the Sunway Trust Intership, Lawren H. Daltroy Memorial Fund and Michigan Public Health Internship Transition Fund.
Through transitioning from Biomolecular Science in undergraduate studies at New York University Tandon School of Engineering to Michigan Public Health as a graduate student, she embarked on a journey to study the intersections of medicine and inequities driven by social justice issues.
We spoke with Liu to learn more about her passions and how her education has aided her interests in public health.
What inspired you to pursue public health?
Growing up in a predominantly white neighborhood, like many other Asian Americans, I felt like an outsider. This spawned feelings of isolation and anger, but it inspired me to seek change and foster stronger relationships in college. I wanted to change not only the way that I interacted with community spaces, but I also want to change the structure of community spaces so that all people feel loved, supported, inspired and motivated. I've embraced service and advocacy to pursue those goals.
What led you to join the School of Public Health?
I think a hallmark trait of being a student at any university nowadays is to be socially and politically engaged. It is really something that every student goes through—and that is what drew me to public health. As an undergraduate studying engineering I did a lot of coursework on the basic sciences and introductory engineering courses. However, the deeper I dove into biomolecular science, the more unfulfilled I became because we weren't talking about people; we were just talking about science and mechanisms. Those things are extremely important, but they're not the only piece of the puzzle. Toward the latter half of my undergraduate experience, I began engaging more in public health, public policy and anthropology, and I sought out service opportunities and community partnerships with people who were actually doing the work and making the impact for social, gender and racial change.
Why were you interested in Health Behavior and Health Education?
I think one of the most important things that anyone can do is to serve and educate others. It's not necessarily about a group of people finding the solution, but rather that everyone is part of the cause. The way to do that is through education; to not only spread awareness of certain conditions, habits or policies, but also to have people actively engaged in those discussions. I was a part of Alternative Breaks at NYU, where we spoke a lot about how community members can become more involved and invested in meaningful change. What is great about Health Behavior and Health Education is, we dive heavily into health and behavioral change theories, how to motivate people to act and what are the different internal and external motivations that would propel someone to act. Ultimately, that's what I am most interested in: thinking critically and strategically about how education can be used as a platform for people to make their own decisions—and result in healthier outcomes.
What areas of interest are you drawn to in public health?
I'm really passionate about social, gender or racially based health conditions. Immediately, when you kind of come across that term, you think of various injustices. Through my undergraduate career, I was very involved in addressing gender-based violence and human trafficking. Specifically, I was a part of NYU's EMPOWER, a research and advocacy lab. The lab focused on finding potential interventions for survivors and producing educational materials for those working in women's health. I will never forget when I conducted patient interviews with survivors of genital cutting. Although I cannot change their experiences, I can aid them in protecting themselves and their children. When I came to Michigan, my interest definitely shifted a little bit but still in the same realm of injuries science.
Are you involved in any projects with Michigan Public Health that engage with your public health interests?
The opportunity to have an internship at the Injury Prevention Center and Institute of Firearm Injury Prevention is very meaningful.
What can we do to reduce gun injury and mortality? It's such a crucial conversation. I studied the topic and now I'm actively involved in the research; I feel very fortunate. It's so easy with these really large issues to feel kind of helpless, but the fact that I'm able to be engaged in this space is really astounding. The project that we're working on at Dr. Patrick Carter's lab is looking at different emergency department interventions for youth who come in with a firearm injury. The intervention that we introduced in the emergency departments at various urban areas in Michigan uses a method of behavioral coaching and motivational interviewing to get the patient to come to the realization that they can change certain risky behaviors or attitudes in regards to potentially violent or dangerous situations, and we've seen some pretty positive data. That's just one intervention but that excited me to continue toward injury prevention studies, and also doing more to alleviate health inequities.
How has your passion for public health impacted your campus experience?
I think my motivations for public health go hand in hand with many of the roles that I've taken in student organizations and especially, as president of Rackham Student Government. I have always been drawn to student life because our responsibility as students is not just to meet the academic requirements that we have to fulfill our degree, but really thinking intentionally about how we engage in a community and to explore different areas of our interests and what we can offer the world and vice versa. That's the kind of role that I see student governments having a hand in.
The University of Michigan, through the Okanagan Charter and Well-being Collective, is trying to be very intentional about how our university can be a wellness-centered institution and have a more proactive response to general student, faculty and staff well-being and that's essentially what public health is—finding solutions focused on the social determinants of health. We are looking at how the environments and policies that impact how people work, live and play have an impact on their well-being.
I have been at Michigan for three years. The first was back in Fall 2020 when we didn't even have a COVID vaccine. To see U-M through the pandemic and emerging as the powerhouse that we all know it is has been a great experience. A large part of the efforts have been rooted in student leadership and activism. Students were behind mandating a COVID vaccine, setting up financial relief efforts, adopting a Pass/No Record COVID grading system, and creating ways to show up for each other in big and small ways. Through the initiatives that I have been a part of with many outstanding leaders on campus, we are looking to reframe the ways we engage in and within academic settings to allow for better methods of research, scholarship and mentorship.
I really believe that my participation and interest in student government has propelled my interest in public health and I aim to pursue a career in health advocacy. Specifically, I do want to be a public health physician. Having the knowledge and expertise of medicine—but also thinking about how we can organize to create meaningful social change—can only help in the long run.
What's next for you?
My education has largely been all about community organizing and helping address inequities, so down the line I do want to go to medical school. There's a lot of room for change and improvement within the clinical sector, but I also hope to see where public health and medicine can become strong partners and see how we can empower patients to be informed, educated and to have a stronger stake in their overall health outcomes.
---