Public Health Sciences major wants 'to leave a better mark on the world'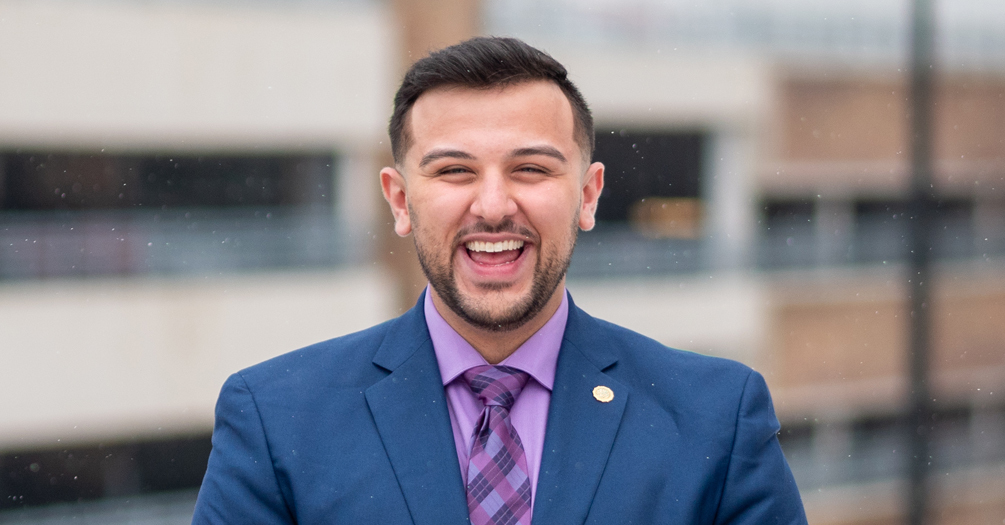 Kaveh Ashtari
Public Health Sciences
If not me, then who? It's a question that Kaveh Ashtari frequently asks and quickly answers, especially when he sees people in need.
He doesn't believe in waiting for someone else to step up to do the work. It's not that he's impatient, but when there is work to be done, he sees it as his duty and a call to action that can't wait.
For the University of Michigan School of Public Health senior working toward a Bachelor of Science in Public Health Sciences, that call to action usually involves helping people. For as long as he can remember, he has been compassionate and empathetic toward friends, family and even strangers.
Public service and giving back run deep in his family. Ashtari is motivated by his family's examples of leading selfless lives. There are countless stories, he said. His father grew up in Iran and was 10 years old when he lost his father. He worked to help provide for his family, and he never complained. A great-grandfather, who was a physician in Iran, helped patients who were struggling financially by leaving money anonymously for them or paying for prescriptions.
I wanted to make sure if I was going to be helping someone that I help them in a way that makes them feel safe and included. I wanted to be able to get at the challenge that needs solving."
Family also contributed to Ashtari's decision to attend the University of Michigan. He grew up in West Bloomfield, Michigan, in a family of many Michigan alumni.
"I was surrounded by the Wolverine legacy," he said. "The University's tradition of excellence in learning, teaching and growing, and their commitment to public service and giving back are in line with my values. I knew Michigan was the perfect match."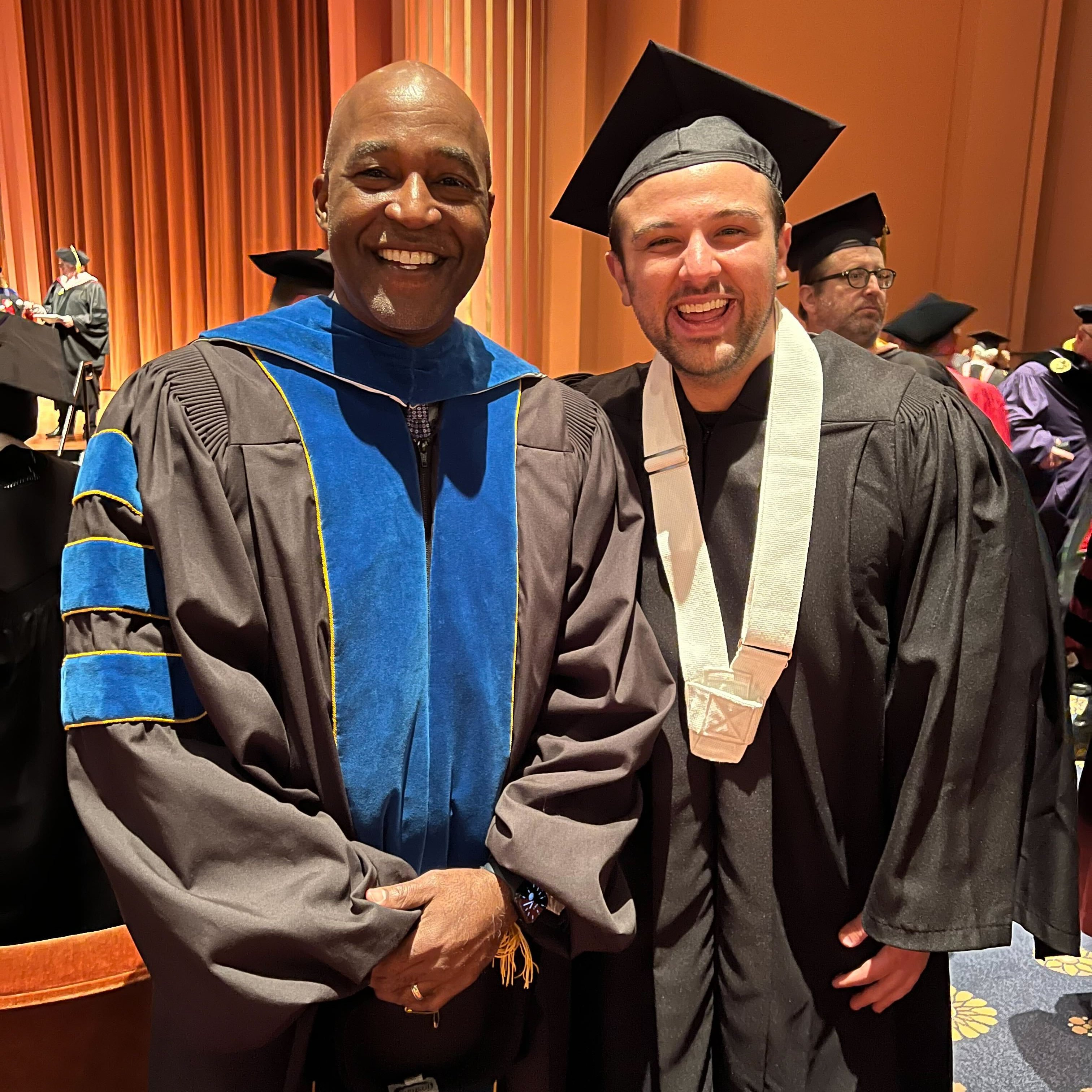 Ashtari chose to study public health during his sophomore year rather than a pre-med track focused on the sciences. He realized that public health was more than just vaccines.
"A large part of public health is rooted in understanding the individual before treatment," he said. "Those elements really spoke to me. I wanted to make sure if I was going to be helping someone that I help them in a way that makes them feel safe and included. I wanted to be able to get at the challenge that needs solving."
As a member of the Iranian American community, Ashtari has seen the challenges of disparities in the quality of care for his and other underrepresented communities. He took the Population Health Determinants and Disparities course taught by Enrique Neblett, professor of Health Behavior and Health Education and faculty co-ead for Diversity, Equity and Inclusion, to better understand disparities and start working toward solutions.
The class was in Winter 2021, as COVID-19 and the pandemic were wreaking global havoc.
In the class, as well as in the media and medical establishment, there was a lot of talk about "vaccine hesitancy" in different minority communities.
"I remember hearing about vaccine hesitancy, but I also saw it back home," he said.
Ashtari acknowledged that his privilege as a student at the University exposes him to research and knowledge that many people don't have access to.
"We knew with a significant level of confidence that the COVID-19 vaccine would be a tool to help people, but we needed to communicate that."
There was an urgency to the situation and a big call to action staring him in the face.
He researched the issue of vaccine hesitancy and discovered the biggest challenge was an issue of trust.
"Public health and medical systems have had different challenges of trust, from the Tuskegee syphilis study to the immortal cells of Henrietta Lacks," he said.
Ashtari also said the vaccine messaging seemed to shame individuals, calling them selfish or ignorant, even if they were just wanting to be extra careful. The messaging dissuaded a lot of people from wanting to get vaccinated.
Compounding the problem, at least for the Middle Eastern community, was that in February 2021, when the vaccine push was on, there was no updated information in Arabic on any of the major informational websites. This was a classic disparity when the most up-to-date information for a community doesn't exist.
"The websites were saying basically that no vaccines were out yet and you should stay put until the vaccines become available," Ashtari said. "How could it be that the latest information was not available in one of the most commonly spoken languages in the world?"
He decided not to wait for the information to be updated. He worked with a team of colleagues and friends within the community to create a video to address—in Arabic—the most common misconceptions. The video dispelled such rumors such as the vaccine containing pork gelatin and that taking the vaccine during Ramadan would break a fast. The video gained a lot of attention and proved that action can reduce some of the disparities for communities.
I'm just trying to leave a better mark on the world because I'm grateful for what I've been given because of the sacrifices my family made by coming to the states and putting an emphasis on education."
"I truly believe that the next generation of public health is one that requires putting research into action. That's why I've included entrepreneurship in my studies," said Ashtari, who is a member of the University's Entrepreneurs Leadership Program and a 2022 recipient of the Fadell Scholarship.
"Collaboration is what draws me to entrepreneurship—the ability to work with others, get other perspectives is how to make things happen," he said. "Entrepreneurship isn't just about building a business. It's a process of trying to overcome a challenge and solve a problem with the resources you have."
Ashtari appreciates the scholarship and mentorship of the School of Public Health and the Entrepreneur Leadership Program communities. He can move forward with his dream of being able to achieve health equity for all individuals.
"I'm just trying to leave a better mark on the world," he said, "because I'm grateful for what I've been given because of the sacrifices my family made by coming to the states and putting an emphasis on education."
---