Advancing Care: Nurse Practitioners, At-Risk Communities, and the Ever-Expanding Education that Puts Nurses at the Heart of Serving Communities in Need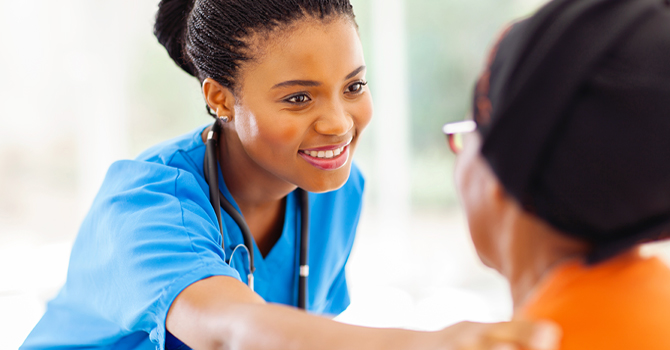 Nurses have been playing a unique and vital role in our battles against infectious disease at least since the career of Florence Nightingale and the life-saving innovations she brought to soldiers during the Crimean War of the mid-nineteenth century.
Nightingale was a nurse not only in the clinical sense but was known as an expert manager, communicator, advocate, and statistician—all competencies in which nurses are trained today. Nurses today play a significant role in providing basic health care services, leading and managing public health services, communicating about public health, and managing and reducing the burden of chronic disease for individuals and communities.
Since the 1960s, nurses in the US have been at the forefront not only of health care services but also of health care administration and management. Around the country, nurses have been evolving their skills and the nursing profession itself to meet needs beyond even their own imaginations and comfort levels.
The Nurse Practitioner Movement
The field of nursing underwent a major evolution 50 years ago with the deployment of advanced-practice nursing exploding in the US. Increasing the qualifications and responsibilities of nurses was a necessary response to an increased specialization of medicine, a resulting shortage of primary care physicians, and the need to continue providing access to essential primary care in communities across the nation.
In 1965 at the University of Colorado, Loretta Ford, professor and chair of public health nursing, and Henry Silver, a professor of pediatrics, began the first nurse practitioner (NP) training program—a pediatric NP—in the US in response to the need for primary care access for children. The joint program of Colorado's Schools of Medicine and Nursing formalized a revolution in nursing and focused the field on preparing nurses to provide primary care in clinical settings.
"The NP was built on the foundation of public health nursing. While the NP movement started with a need for community-based pediatric services, this advanced practice innovation quickly was applied to other populations, including at-risk minority population and the elderly," says Violet Barkauskas, MPH '68, professor emeritus of Nursing at the University of Michigan.
"Nurses have an excellent quality and safety track record in settings where they are operating independently, under their own license—that is, not under the direct supervision of a physician, as well as in settings where they are integral members of a health care team," Barkauskas says.
Scope of Practice
Maximizing available medical resources and ensuring access to care for all populations was the foundation of the NP movement. "The need for primary care in rural and all at-risk areas—including urban settings—drove the field to develop formal NP education. It quickly became a sustainable graduate-education model, primarily because of the rigorous NP educational programs," says Barkauskas, whose research focused on nurse-managed care centers.
In the early days of NP training, a masters-level degree was not required. "Today, all advanced-practice nurses require at least a master's degree. And many NP programs are now taught in what nursing calls a doctorate of nursing practice, which includes clinical, leadership, and business training," says Barkauskas.
In addition to clinical rotations, NP curricula include courses in epidemiology, health promotion, pathophysiology, advanced health assessment, diagnostic reasoning, pharmacology, statistics and research utilization, measurement of quality outcomes, policy, leadership, and disease management. Doctor of nursing practice (DNP) programs include advanced work in biostatistics, research methods, clinical outcome measures, care of special populations, organizational management, and health care policy and economics.
Controversy around Advanced-Practice Nursing
Early resistance to advanced-practice nursing came from both physicians and nurses. "Nurses resisted early on because they felt the NP role was not nursing," says Barkauskas. "It's an internal obstacle we still live with, but many have now realized this was not an attempt to usurp acute care from physicians nor basic patient care from nurses but rather was an avenue to do the nursing we'd always wanted to do."
Decades of data on care outcomes have proven the value and excellence of NPs. "Study after study has demonstrated that advanced-practice nurses are highly effective, with excellent patient health outcomes in some of the most challenging settings, whether practicing independently under their own license or in teams with physicians and other health professionals," says Joanne Pohl, NP, emeritus professor of Nursing at the University of Michigan, whose scholarship focused on outcomes and cost of care in nurse-managed health centers.
In many at-risk communities, people are actually sicker and need more advanced care, not less.
—Violet Barkauskas, MPH '68, Professor Emeritus of Nursing
Barkauskas notes another significant adjustment in how we think of the work NPs do. "Initially, the movement was a response to needs in at-risk communities, and that's where NPs were employed. But in many at-risk communities, people are actually sicker and need more advanced care, not less," she says. "And NPs working with these complex patients had excellent outcomes. Individuals and family systems in poorly resourced communities have more complex needs, so today NPs are used across populations, with specific role assignments based on a variety of considerations."
Flexibility, Opportunity, and Advocacy
The breadth of training nurses receive provides a skill set that helps them succeed in a constantly evolving field and in complex settings experiencing deep need. Sarah Stoddard, assistant professor of Nursing and Health Behavior and Health Education at Michigan, has worked extensively in community-based settings, served as Minnesota's Adolescent Health Coordinator, and does research on risk, resilience, and future-orientation factors in youth and young adults.
"You can see in my career alone the tremendous variety that fits within nursing."
—Sarah Stoddard, Assistant Professor of Nursing and Health Behavior and Health Education
"Each experience builds on the other and gives us competencies and skills we can use in other settings," says Stoddard. "My first job was as a public health nurse in a county health department. My focus was on maternal-child health—conducting home visits for pregnant women and providing child and teen checkups and immunizations—but I also worked on infectious disease outbreaks in the community, including supporting disease investigations around E. coli and meningitis outbreaks in our county."
"You can see in my career alone the tremendous variety that fits within nursing," Stoddard notes. "In graduate school, I worked as a sexual-assault nurse examiner, doing crisis intervention and forensic collection. As a nurse practitioner in community- and school-based clinics, I've been the sole primary care provider. In other settings, I've shared duties as an equal with a physician.
A blended workforce of primary care providers will need to include skilled nurses with advanced practice, education, and training.
Nurses have the broad competencies needed to address the country's rapidly changing health delivery system. Access to care in the US is increasing, and so are the incidence of chronic disease and the age of the population. With fewer physicians choosing primary care and large numbers of NPs prepared as primary care providers, recent literature supports the key role NPs are and will be playing in the primary care of the nation. A blended workforce of primary care providers will need to include skilled nurses with advanced practice, education, and training.
---