Public Health Student Part of Winning Team at Campus-wide Entrepreneur Competition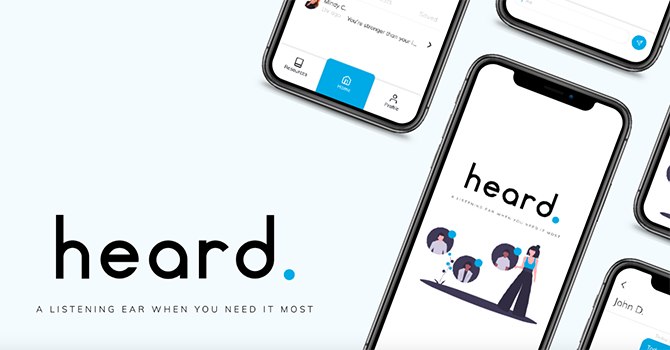 Innovation in Action at the University of Michigan is a campus-wide student competition centered on developing solutions for real-world challenges. Anthony Dang, a School of Public Health student studying nutritional sciences, earned the top prize with his teammates in the competition with their company Heard. The four-person team behind Heard designed a system to digitally connect individuals with chronic illness to peer support.
Along with Anthony, the Heard team includes Julia Dinoto (School of Information), Elisabeth Fellowes (School of Information), and Anne Fitzpatrick (College of Literature, Science, and the Arts).
The team earned the $10,000 first prize from a panel of industry judges to invest in their product.
What is Heard and how did you come up with the idea?
Anthony: Chronic illnesses and their symptoms are varied, but one thing many have in common are flare ups—unpredictable worsening of symptoms. Our product, Heard, is a platform that connects people with chronic illness to positive, on-demand, peer-to-peer support during a flare up.
Feelings of isolation have a domino-like effect and can lead to increased rates of depression, inflammation, and overall poorer health outcomes. Heard aims to short circuit the cycle by connecting our users to people who truly understand what they are going through: others with chronic illness.
The journey to get to Heard included many pivots as our research evolved and led us in new directions. Initially the problem space was focused on invisible illnesses among women. After we conducted 15 interviews with women with various invisible illnesses, we noticed that a strong common thread was feelings of isolation during flare ups.
Through another round of interviews, secondary research, and many iterations of our problem statement, we landed on our new audience: All people with chronic illness, but specifically targeting the flare up stage of a user's journey. The design phase was long and required many brainstorming sessions, a fully functioning pilot that helped real people with chronic illnesses, wireframe development, and iteration upon iteration until we got to Heard.
We figured amidst the COVID-19 pandemic, now more than ever, Heard is needed by those with chronic illnesses to reduce social isolation.
How does this work align with your studies at the School of Public Health?
Anthony: Prior to my arrival at Michigan Public Health as a Nutritional Sciences student, I worked at a private practice of doctors for four years where we provided care for many patients with chronic illness, including many gastrointestinal-related illnesses that were triggered by diet. I initially started working with Julia, Elisabeth, and Anne for Innovation in Action because of their interest in invisible illnesses which encompassed gastrointestinal illnesses.
Although GI disorders were not our focus, I found my private practice experience, public health background, and particularly the skills I've gained from my monitoring and evaluation course particularly helpful. I am also confident that the user-centered design skills I gained from Innovation in Action will be transferable to whatever career path I choose in the future.
What did you learn from this experience?
Anthony: Through the Innovation in Action process, we learned social isolation was an extremely common feeling for people who have a chronic illness, especially during times of flare up. This commonality stems from not being able to find support from friends and family, whether it's because they don't fully understand what a flare is like, or the person with chronic illness doesn't want to feel like a burden. Current support options are not ideal and leave large gaps in patients' needs. They are often energy intensive to access, can be negative—particularly in online environments—may not be timely, or do not provide empathetic support. In addition, people with chronic illnesses often have to turn down social events because of heightened symptoms.
This isolation causes emotional stress which can then trigger more flare symptoms creating a vicious cycle.
Your team is very interdisciplinary. How do you view collaboration across disciplines as an asset?
Anthony: Our backgrounds were varied; Julia in product design; Elisabeth in user experience; Anne in mental health research and mine in public health.
Elisabeth: The differences in our strengths means that we have a larger understanding and perspective of the world when we collaborate. This allows us to view problems in a more nuanced manner, leading us to stronger solutions. Our team excelled at utilizing all of our strengths. Each of us have different backgrounds and communication styles but we always made sure to reach a common understanding, which resulted in an atmosphere of respect and comfort that allowed us all to do our best work. Having a range of skills between the four of us made for a good team, but our ability to draw out and build upon each others' strengths made us an unstoppable one.
What's next for Heard?
Julia: With the current state of the world right now, we see a rising need to address social isolation and we are passionate about helping the chronically ill. We've currently discussed a few options, but at the moment we are giving ourselves a small break. Once we resume we will be researching our resources at the university that can help us determine our next steps before we head off into the summer.
Students from Michigan Public Health were also on the second and third place teams, including Shelbi Lisecki (second place), Jamison Koeman (third place), and Emma Watters (third place).
---